US President Joe Biden narrowly avoided a sliotar while watching a camogie match during a demonstration of Gaelic games in Dublin's Phoenix Park on Thursday afternoon, April 13.
Biden and Taoiseach Leo Varadkar were watching a demonstration of GAA from a group of children from Castleknock, St. Brigid's, and St. Oliver Plunkett's Eoghan Ruadh when a girl hit a sliotar in Biden's direction. 
The sliotar whizzed by Biden's shoulder and the President walked after the ball as if to retrieve it, only to stop when the child ran past him. 
US President Joe Biden had a near miss when a stray sliotar went his direction while watching a camogie demonstration by young players at Farmleigh in Dublin | Read more: https://t.co/W34QbbYZWf pic.twitter.com/A3dor7yhGv

— RTÉ News (@rtenews) April 13, 2023
The Gaelic games demonstration came after Biden held a bilateral meeting with Taoiseach Leo Varadkar at Farmleigh House.
Ahead of Thursday's meeting, Biden said: "I just think that it feels so good to be able to have this emerging and stronger and stronger relationship between the United States and Ireland.  
"I think our values are the same, and I think our concerns are the same. 
"So I'm really looking forward to continuing to work with you."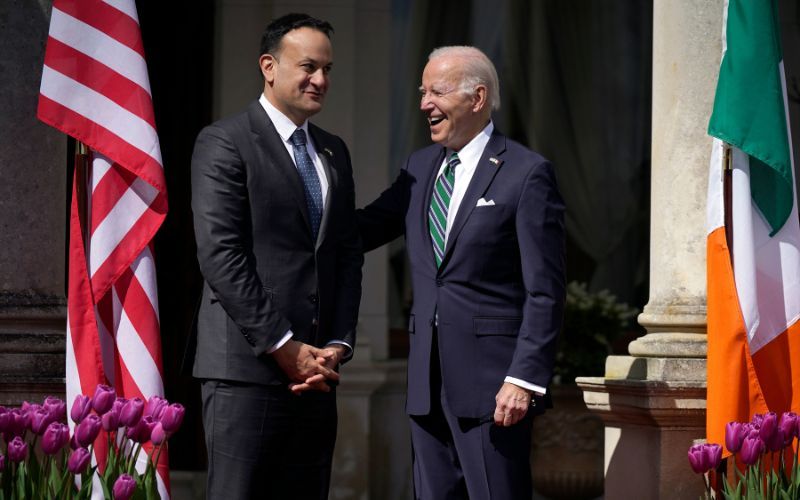 2
Varadkar praised American leadership since the Russian invasion of Ukraine and thanked Biden for America's continued support of the Good Friday Agreement.
Biden said: "I think there really is an opportunity to make serious progress not just because of the accords that were signed 25 years ago, but I mean just in terms of the way you're leading Ireland."
Varadkar said he discussed Northern Ireland and the return of power-sharing during the bilateral talk, adding that Biden said he wanted to play a supporting role in Northern Ireland, rather than an interfering one. 
Meanwhile, the White House said Biden and Varadkar discussed US-Irish cooperation on a wide range of issues, including food security, the challenges posed by China, and support for Ukraine. 
Elsewhere on Thursday, Biden met with President of Ireland Michael D. Higgins and delivered a historic address during a joint session of the Oireachtas. On Thursday evening, Biden will be the guest of honor at a banquet dinner at Dublin Castle.