Two men have been charged with the murder of 29-year-old journalist Lyra McKee in Derry in April 2019. 
PSNI confirmed on Thursday night that two men, aged 21 and 33, have been charged with the murder of McKee, as well as possession of a firearm and ammunition with intent to endanger life, riot, possession of petrol bombs, throwing petrol bombs, and arson. The 33-year-old man was also charged with robbery.
A third man, aged 20, has been charged with riot, possession of petrol bombs, and throwing petrol bombs.
Detectives from our Major Investigation Team have charged two men with the murder of journalist Lyra McKee. Lyra was shot dead by terrorists in Derry/Londonderry in April 2019 pic.twitter.com/wRXv32wDzH

— Police Service NI (@PoliceServiceNI) September 16, 2021
Gearoid Cavanagh, 33, and Jordan Devine, 21, both from Derry, appeared via video link at Derry Magistrates' Court on Friday where they were charged with McKee's murder. 
Prosecuting lawyers told the court that Cavanagh and Devine were the gunmen who fired the fatal shot that killed McKee in the Creggan area of Derry on April 18, 2019. 
Meanwhile, lawyers representing Cavanagh and Devine argued that the evidence against their clients was weak. 
District Judge Barney McElholm granted both men bail before another court appearance on October 7. 
A third man, Joe Campbell, 20, has been charged with riot, possession of petrol bombs, and throwing petrol bombs, while a fourth man arrested during the investigation was released pending a report to the Public Prosecution Service. 
Campbell was also released on bail and will appear in court again on October 7. 
Northern Ireland Secretary of State Brandon Lewis welcomed the news and applauded the PSNI for their hard work. 
"The tragic murder of Lyra McKee was a reminder that a small minority of individuals continue to seek to cause harm to communities," he said.
"This was an utterly senseless and shocking crime and I applaud the continued work of the PSNI to bring those responsible to justice."
The news comes just two days after the PSNI announced that it had arrested four men in connection with the murder under the Terrorism Act. 
The men were interviewed at the Serious Crime Suite at Musgrave Police Station on Wednesday and Thursday before they were charged with the murder. 
PSNI Detective Superintendent Jason Murphy said: "These arrests are the culmination of a detailed two-year investigation into Lyra's murder and the events which preceded it.
"The local community have supported the Police Service of Northern Ireland through the course of this protracted investigation and I wish to thank them all for their continued support and patience whilst this phase of the investigation is ongoing."
In March 2020, Derry man Paul McIntyre was charged with McKee's murder, as well as possessing a firearm with intent and belonging to a prescribed organization. He denies the charges. 
Another man, Christopher Gillen, has been charged with throwing and possessing petrol bombs, hijacking, arson, and rioting on the night of McKee's death.
In June, both McIntyre and Gillen appeared at a Preliminary Inquiry. They were both returned for trial to the Crown Court on a date to be fixed and released on continuing bail.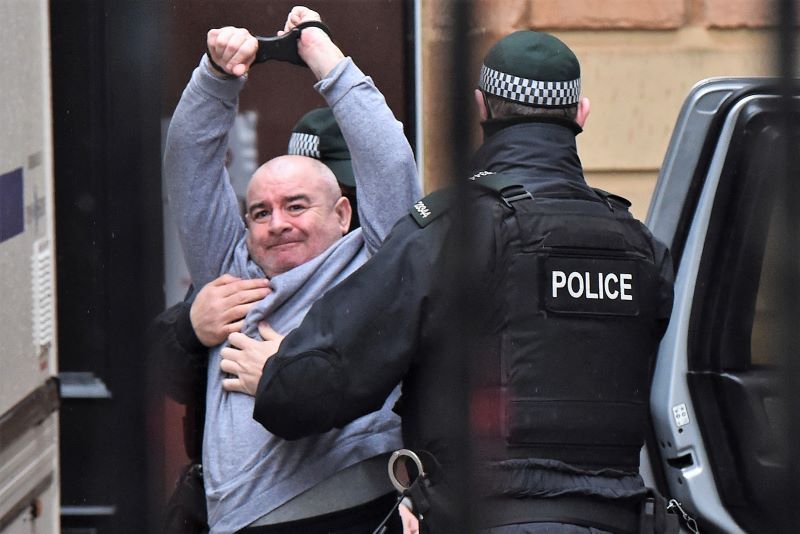 2
On April 18, 2019, Lyra McKee, a journalist, was shot and killed while observing rioting in the Creggan area of Derry in Northern Ireland. She was 29.
A few days later on April 23, the Irish News published a statement from the New IRA which said: "On Thursday night following an incursion on the Creggan by heavily armed British crown forces which provoked rioting, the IRA deployed our volunteers to engage.
"We have instructed our volunteers to take the utmost care in future when engaging the enemy, and put in place measures to help ensure this.
"In the course of attacking the enemy, Lyra McKee was tragically killed while standing beside enemy forces.
"The IRA offer our full and sincere apologies to the partner, family, and friends of Lyra McKee for her death."
On what would have been McKee's 30th birthday, and just days before the second anniversary of her death, McKee's family launched the "Justice 4 Lyra" campaign encouraging people to come forward with any information about the events that led to her death.