Taoiseach (Irish leader) Leo Varadkar and the United Kingdom's Northern Ireland Secretary Chris Heaton-Harris laid wreaths at a Remembrance Sunday ceremony, in Enniskillen,  County Fermanagh.
Hundreds attended the Royal British Legion event for the Remembrance Day ceremony and observed a two-minute silence at the World War One memorial in Enniskillen,  County Fermanagh. The silence was to honor the 12 people killed by the IRA bombing which took place just before this ceremony in 1987.
Remembrance Day, observed in the United Kingdom and other Commonwealth nations, is a memorial day dedicated to honoring the members of the armed forces who lost their lives in the line of duty during World War I and subsequent conflicts. Casualty figures from World War I are staggering. Estimates vary, but it is believed that around 10 million military personnel lost their lives, and an additional 7 million civilians died as a result of the war.
Northern Ireland Secretary @chhcalling lays a wreath on behalf of His Majesty's Government during the annual Remembrance Sunday commemoration in Enniskillen earlier today.  #LestWeForget #WeWillRememberThem pic.twitter.com/1S8PJf5CwJ

— Northern Ireland Office (@NIOgov) November 12, 2023
Over 200,000 men from the island of Ireland served in the British military during the First World War. Around 35,000 lost their lives, the Irish National Army Museum reports.
This Sunday, Varadkar laid a green laurel wreath at the war memorial. The new Police Service of Northern Ireland's Chief Constable Jon Boutcher and the Head of the Northern Ireland Civil Service Jayne Brady, also joined Varadkar and Heaton-Harris.
Britain's King Charles III's representative, the Lord-Lieutenant for County Fermanagh Viscount Brookeborough, as well as other representatives from Enniskillen also placed wreaths.
The tradition of an Irish leader attending the Remembrance Day memorials service was started by former taoiseach Enda Kenny in 2012. This was seen as an action symbolic of greater recognition afforded in the Republic to Irishmen who fought and died serving in The Great War.
IRA bombing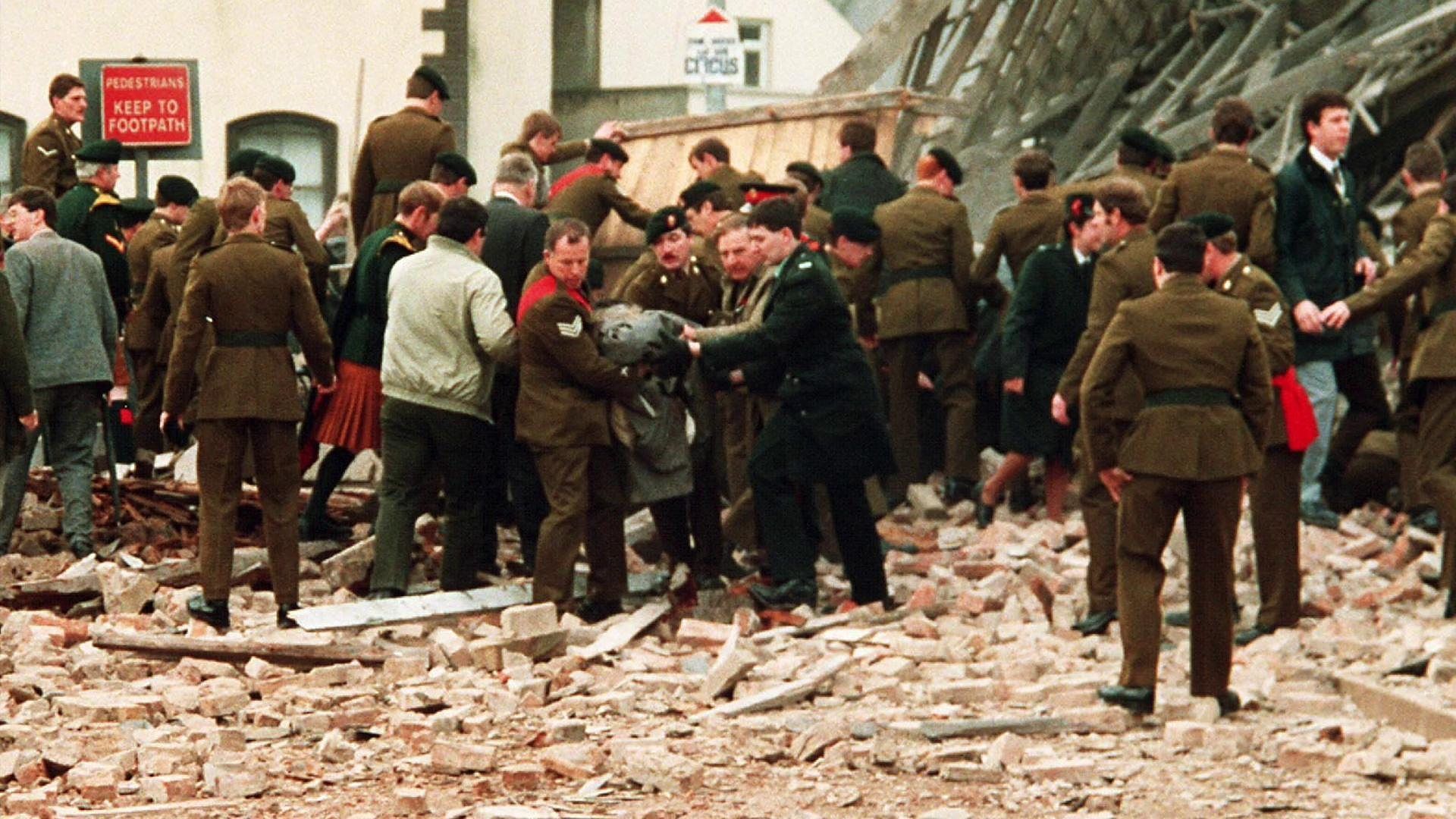 2
Kenny's first participation in the Remembrance Day ceremony also took place on the 25th anniversary of an Irish Republican Army's (IRA) bombing at the memorial, in 1987.
The bombing occurred as a large crowd gathered for a memorial service at the town's war memorial. The bomb had been placed in a wall near the Cenotaph, where people were paying their respects to those who had lost their lives in wars. The explosion killed eleven people and injured many others, both civilians and security personnel.
The attack drew widespread condemnation for its targeting of a civilian ceremony, especially one commemorating the sacrifice of individuals who had served in the military. The victims included both Protestants and Catholics, and the bombing was widely seen as an act of terrorism that sought to undermine attempts at reconciliation and the peace process in Northern Ireland.