The Irish government's special envoy for the undocumented to the U.S., John Deasy, is at the center of a dispute within the local branch of his Fine Gael party
John Deasy hit back on Tuesday against a vote of no confidence in him by the party organization in his Waterford constituency.
Deasy has been the Irish government's special envoy to Congress since 2017.  He has worked on issues such as achieving status in the U.S. for the Irish undocumented.
His job has kept him largely absent from his constituency which he represents as a TD in the Dail.
Read more: Russian agents spread fake news online to damage North Ireland's peace
Deasy, 51, married to RTE TV presenter Maura Derrane, was one of a small number of Irish politicians and diplomats invited to Doonbeg for dinner when President Donald Trump visited Co. Clare earlier this month.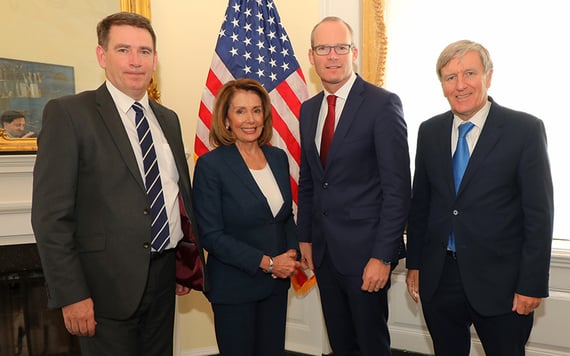 2
The motion of no confidence was passed at a Fine Gael meeting of about 60 people in Dungarvan, Co. Waterford, on Monday night.
Tensions have long existed between the Deasy camp and supporters of Fine Gael Senator Paudie Coffey, a former government minister.
Sources close to Coffey insisted the motion of no confidence transcended the rivalry with Deasy.
One source told the Irish Examiner, "He hasn't attended a meeting for three years and was not seen during the recent election nor the count and the vote was unanimous."
Deasy told The Irish Times, "The entire Waterford organization needs to be stood down and reviewed by headquarters; repeated warnings have been given by myself and others with regard to the behavior of individuals in Waterford for years now."
He painted a picture of a constituency organization at war with itself, saying his supporters had stopped going to meetings, such as that held on Monday night, years ago.
A Fine Gael national spokesperson told the Irish Independent, "After receiving a mandate from the Waterford electorate at the 2016 general election, Fine Gael Deputy John Deasy was appointed a special envoy to the U.S. by Taoiseach Leo Varadkar and has since been doing important work on a special visa scheme for Irish citizens.
"Fine Gael's General Secretary Tom Curran will soon be consulting with members and elected representatives in Waterford on finalizing the party's general election ticket for the constituency. One candidate, Senator Paudie Coffey, was previously selected at convention to contest the next general election."
Read more: Tories would surrender control of Northern Ireland, poll shows