Limerick native and star of the hit show "Preacher" is back in Dublin this month to perform the title role in "Hamlet" at the beautiful Gate theater.
Ruth Negga is back in Ireland, deep in rehearsals for her starring role in Hamlet which opens at the Gate Theatre in Dublin on the 21st.
Born in Ethiopia to an Irish mother and raised in Limerick from the age of four, Oscar nominee Ruth graduated from Trinity College Dublin, where she studied drama, so she feels right at home in the city.
Read more: Shakespeare's 'Hamlet' based on an ancient Irish story
"Today I walked through Trinity and loads of memories kept popping up," she told the U.K Times.  "The little familiarities are quite lovely. I spend a lot of time hopping from place to place so it's nice to go, 'Oh I have a connection to this place,' as opposed to new thing, new thing. I still have people here that I know."
Ruth is playing the title role in the famed play by Shakespeare, so she's toning down her usual glam looks.  When asked if people recognize her in Dublin she replied, "Sometimes.  People look twice, but I usually have a cap on and a big coat because it's freezing here.
"With Hamlet, I think there's this androgynous quality that I'm exploring just naturally. So I suppose they think, 'There goes that very small boy, walking across the green.' And I'm fine with that. Because I have to be quite focused. The breadth of this is huge."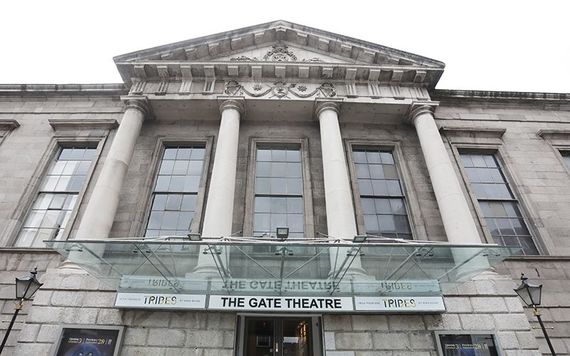 2
One thing you won't see Ruth indulging in is social media. She wisely gets the falseness of it all.
"I just thought, 'Oh no, yucky yuck.' Because mystery is so important. It's so important to me and it's so important to the things I am interested in," she says.
"Not mystery as in lying, this kind of Instagram life where everyone's super perfect and has time to make avocado chia smoothies in the morning, and just magically has time to do everything — knit, crochet, I don't know. I just don't understand it. It freaks me out. I'm talking about mystery in the way of something that is attractively private. You don't need to know all the details."
Negga revealed that she's optioned an Irish novel – she wouldn't say which one, only that she's too old to be the star.  For those of you who may be in Dublin in the next few weeks, Hamlet plays until October 27.
Read more: Tale of Turkish Sultan's help during Irish Famine to become a movie