Labour Party Leader Brendan Howlin has called on Taoiseach Leo Varadkar and British Prime Minister Theresa May to both personally intervene to advance the stalled talks in Northern Ireland.
Howlin said it is imperative that the situation is rectified especially with the uncertainty of Brexit looming.
His call came as another deadline for conclusion of talks passed without agreement between Sinn Fein and the Democratic Unionist Party (DUP).
Northern Ireland Secretary of State James Brokenshire granted another talks extension on Tuesday, the latest of several since the North's Executive collapsed in January. The region has been without a power-sharing government since then.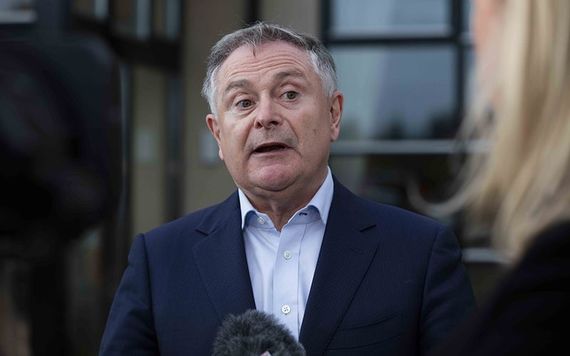 2
Brokenshire and the Republic's Foreign Affairs Minister Simon Coveney were in Belfast for the talks, as were Sinn Fein leaders Gerry Adams and Mary Lou McDonald.
Coveney tweeted that "everyone (is) working hard to get a deal across the line."
Brokenshire and Coveney were desperate to keep the talks going to avoid direct rule from Westminster within days after the DUP called on the British government to bring forward a budget "to bring a measure of good government to Northern Ireland."
The DUP has said it will not accept "a bad agreement cobbled together to suddenly suit the timetables of others."
A DUP spokesman said the party wants to see a power-sharing Executive reinstated but he warned that Sinn Fein "will have to realize that an agreement will only be possible when they drop red line demands." The DUP accused Sinn Fein of "dragging their feet" for the last 10 months.
Sinn Fein said a deal can be done but it needed to be an agreement "for all in our society and not just for the political leaderships of unionism."
Sinn Féin, DUP blame each other for ongoing Stormont stalemate: https://t.co/M8l4hWjYpA pic.twitter.com/prgBRKXKHa


— Newstalk (@NewstalkFM) November 1, 2017

Despite endless rounds of discussions, a deal to restore power sharing has proved elusive, with Sinn Fein's demand for legislation to give official status to the Irish language seen as the main issue.
Although there is apparent deadlock, Brokenshire said that the parties had made progress and he was therefore going to defer his decision to legislate for a budget.
May's official spokesman said her government was still working with the parties on reaching an agreement.
Westminster government to legislate for Northern Ireland budget due to political deadlock at Stormont - minister https://t.co/qAt07QAJgq pic.twitter.com/5KJknRH78h


— BBC News (UK) (@BBCNews) November 1, 2017

"We have had progress but there are still significant gaps which remain and we continue to work with them to overcome these," the spokesman said.
He said that Brokenshire was expected to update Westminster later this week.  "We are clear we don't want to see a return to direct rule. We want a return of devolved government in Northern Ireland, so that local decisions can be made by local politicians," he said.