London seems almost certain to set Northern Ireland's budget as a key deadline for power-sharing looms today.
With no deal between the Democratic Unionist Party (DUP) and Sinn Féin in sight, the DUP has urged James Brokenshire, Secretary of State for Northern Ireland, to take matters into his own hands and set a budget for the province.
In a statement to the press the party said, "Given Sinn Féin have dragged their feet over the last 10 months the Secretary of State should bring forward a budget to bring a measure of good government to Northern Ireland."
Last week Brokenshire admitted to a committee of the British Parliament that, "Unless there is a renewed spirit of compromise then the outlook for imminent resolution is not positive."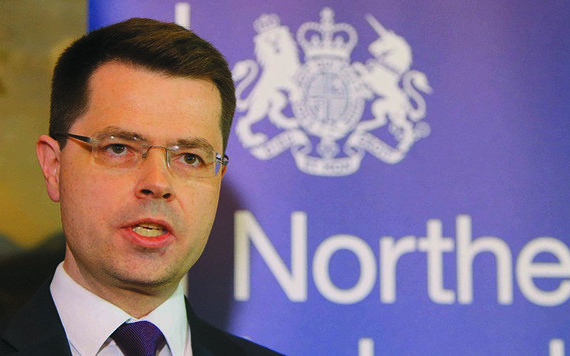 2
Northern Ireland's Assembly collapsed earlier this year amidst controversy about a renewal heating scheme that had been led by Arlene Foster. An election held in March this year saw a similar result to one held in May 2016 but no return to power sharing.
Read More: Calls for Northern Ireland's First Minister Arlene Foster to resign
Since then the DUP and Sinn Féin have held ongoing but fruitless negotiations. Key sticking points include the DUP's opposition to an Irish Language Act and a free vote on marriage equality.
Ironically considering that it led to the Assembly's collapse, the controversy over renewable heating is now seldom mentioned whilst other, more emotive issues, are still being fought over.
Sinn Féin's Conor Murphy said he thought a deal was still possible between the two parties but that, "[it] needs to be a deal for all in our society and not just for the political leaderships of unionism".
"If the political institutions are to be sustainable then they must be restored on the basis of equality, rights and respect.
"That requires an end to the DUP's denial of rights citizens enjoy everywhere else on these islands, language rights, marriage rights and the right to a coroner's court."
The Financial Times quoted a senior British official as saying, "We imagine they'll continue to talk through until Monday. We've made clear what will happen if they don't reach agreement."
Contentiously, the newspaper also reported that the Theresa May's promise of an extra $1.3 billion cash for Northern Ireland was off if the budget was set from Westminster.
Read More: Gerry Adams condemns unionists' $1.3 billion deal to keep Theresa May in power
After Britain's General Election in June, May's Conservative party found itself a few short seats of an overall majority in Parliament; the DUP agreed to back them on key votes of confidence and those relating to Brexit and the budget in exchange for more money for schools, hospitals and infrastructure in Northern Ireland.
Reports that the $1.3 billion would not be included elicited a quick response from DUP legislator, Ian Paisley Jr, who accused the Financial Times of spreading, "FAKE NEWS".  
This is FAKE NEWS from the @ftwestminster pic.twitter.com/NrKL2Dctw1

— Ian Paisley MP (@ianpaisleymp) October 30, 2017
Ultimately if no agreement between the DUP and Sinn Féin can be reached then the Assembly will be abolished and Northern Ireland will be wholly administered by the British Government.
The leader of the smaller nationalistic SDLP, Colum Eastwood, said his party found the idea of a return to direct rule "wholly unacceptable" and he would instead "seek joint stewardship of the North" by the British and Irish Governments.
But the British Government long ago ruled out such a proposal, saying that it would, "never countenance… joint authority", meaning rule from London seems almost certain at this stage.
The province has long chosen to do certain things differently: unlike in the rest of the United Kingdom abortion and gay marriage are not allowed and school children are still assigned different high schools based on their performances in exams they sit at the age of 11.
Under direct rule those exemptions could come under sustained threat from British legislators most of whom are socially liberal.
The current Government may depend on the DUP for its survival but June saw it grant Northern Irishwomen and trans men free access to abortion in England after a number of its own Conservative legislators made clear they would support the policy.
It could be a glimpse into the future of a Northern Ireland wholly run by the British Parliament.