The decision on Monday by Martin McGuinness to resign as deputy first minister in the Northern Ireland power sharing government ultimately came as no surprise.
While the stated reason was the incredible cost overrun of the Renewable Heating Incentive scheme and the mismanagement of it by First Minister Arlene Foster, there were other significant factors right below the surface.
Chief among them was the issue of parity of esteem, a key phrase in the Good Friday Agreement which held that both communities would share power on an equal basis under new electoral rules.
It is safe to say that in his 10 years as deputy first minister, McGuinness did his very best to live up to that promise, never more so than when he met Queen Elizabeth in 2012.
4
While that was a move widely welcomed in broader Northern Ireland, it was deeply controversial within his own party, and he was positively skewered by the dissident element within the Republican movement.
It seemed at times that McGuinness was bending over backwards, first with Ian Paisley, whom he managed to charm into a full and professional relationship when Paisley was first minister which resulted in the underpinning of the Good Friday Agreement becoming that much stronger.
Read more: Martin McGuinness slams Irish Times for revealing medical diagnosis
The images of the "Chuckle Brothers," as Paisley and McGuinness were known, seem so far away now.  There is no doubt that the two men, one of them wanted as Britain's number one "terrorist," the other the scourge of the nationalist population with his hateful rhetoric, found a way to work together.
4
The relationship with Paisley's successor Peter Robinson was far rockier, but again McGuinness distinguished himself in refusing to take advantage when Robinson and his wife became embroiled in a tabloid frenzy involving her taking a much younger lover.
Robinson betrayed McGuinness on the issue of turning the Maze prison into a center for peace and reconciliation, after initially agreeing to do so following intensive negotiations.  Robinson told McGuinness he was withdrawing his support in a phone call from his Florida vacation home, and offered no explanation as to why.
A pattern had emerged which was also followed by Foster. Hopes and expectations were high that the new first minister would begin a different era with McGuinness, but the opposite seems to have happened.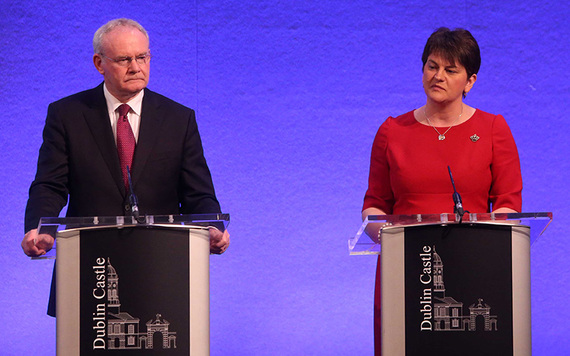 4
From the first day Foster has displayed a Margaret Thatcher-type arrogance, utterly refusing to accept that the Northern Ireland power sharing government is based on a 50-50 agreement between both parties.
The last straw for McGuinness may have come in late December of last year when Foster pulled funding for an Irish language program while extending funding to Orange bands to procure new instruments.
Soon after, the Renewable Heating Incentive scandal broke, and it is hardly surprising that McGuinness decided it was a step to far for him to cover up for her.
In the event, and despite ill health, he made every effort, including an early Monday morning conversation with Foster, to salvage the power sharing deal.
But Foster, arrogant as ever, refused to step aside while an inquiry is conducted into the scandal.
The upshot was the downfall of the power sharing government and political uncertainty, but also the realization that once again, unionists will never miss an opportunity to miss an opportunity.
In McGuinness, they had the perfect partner. But it is now clear that Sinn Fein will be taking a more hard line stance.
Read more: Seven things you need to know about the Northern Ireland government collapse