Catholic church tells Mass-goers repealing the Eighth Amendment to make room for a new abortion law would lead to euthanasia, eugenics and an "abortion culture."
The government and Ireland's Catholic bishops clashed following pastoral messages on abortion from the clerics last Sunday.
Several bishops told their parishioners that repealing the Eighth Amendment in a referendum at the end of May would lead to euthanasia, eugenics and an "abortion culture."
Read more: Pro-lifers claim legalizing abortion in Ireland equal to Mother and Baby Homes
The Eighth Amendment to the Constitution provides for the equal right to life of the mother and the unborn.
This week government ministers hit out at claims from the bishops who stated that women who become pregnant from rape or who are carrying a fetus with a fatal abnormality should not have access to abortion services.
Bishop Alan Guckian of Raphoe told his flock, "Even in those tragic cases the unborn child needs to be loved and cherished."
3
Bishop John Buckley of Cork and Ross suggested in his pastoral letter that legalizing abortion would pave the way for the introduction of euthanasia.
He said, "We can be sure that if a society decides that human life is disposable at its beginning, it will not be too long before it decides the same for human life at its end."
Bishop Denis Nulty of Kildare and Leighlin claimed that a repeal vote will introduce an "abortion culture" to Ireland.
Several government ministers rejected the bishops' claims.
Social Protection Minister Regina Doherty told the Irish edition of The Times of London that there was "no such thing as an abortion culture."
"The reality in Ireland today is that there are women who are making very difficult personal choices due to their personal circumstances. As a society we should support them, not judge them," she said.
Culture Minister Josepha Madigan, who is leading Fine Gael's campaign for a repeal vote, said that women in crisis situations needed "care and compassion."
She added, "We can no longer deny the fact that abortion is happening in Ireland."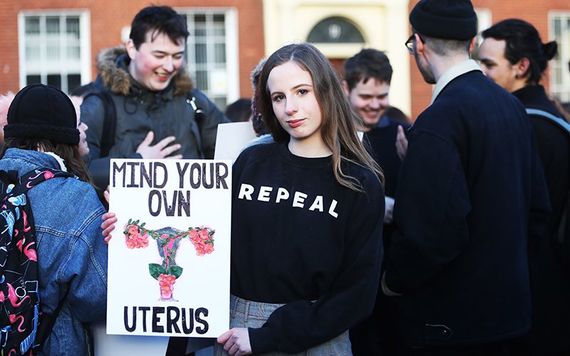 3
Mass-goer Madigan said that she "fully intends to continue reading at Mass" after becoming aware of letters sent to the Dublin Archdiocese by anti-abortion activists who are demanding that she not be allowed read.
Health Minister Simon Harris said the question that people were having to consider was one of trust.
"The change people are being asked to make is actually about embracing a culture which trusts women to be able to make private, personal decisions with their doctors and be cared for at home in their own country at difficult times in their lives, rather than the culture enshrined in our current law which does not allow them to do that, isolates them, sends them away, deprives them of the support of their doctors and ignores the realities being experienced by Irish woman," he said.
Read more: How an American pro-life battler ended up in Ireland fighting to keep abortion out