Drought threatens to spread across Ireland and some hospitals have dealt with serious sunburn cases in the greatest long-term heat remembered for decades.
It's been so hot that a chef succeeded in frying eggs on a pavement outside his restaurant.
Emergency medicine consultant at Tallaght University Hospital in Dublin, Dr. Jim Gray, said patients with serious sunburn issues have included workers and sunbathers not wearing tops.
He said his department has also treated increased constipation attendances due to dehydration.
Read more: Heatwave continues: Ireland faces hottest day in 40 years
Donegal chef Martin Anderson stepped outside his restaurant Sonder in Letterkenny to test the strength of the heat. He successfully fried two eggs in tomato and herb oil in a pan on the hot pavement.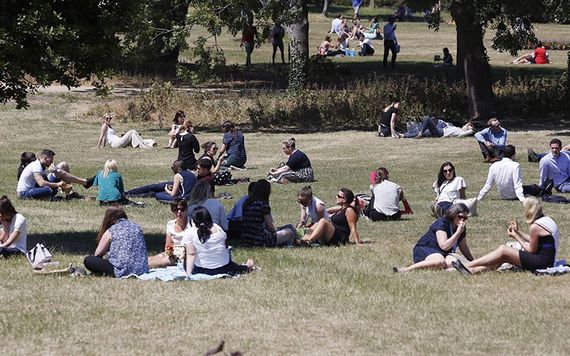 3
Ireland, noted for having rain most days of the year, is sweltering so much that the use of hoses have been banned in Dublin since Monday. The ban is likely to be extended over other parts of the country later this week.
Irish Water, the company, said the country is now in a crisis situation as it battles to conserve water during the hot weather.
A month-long ban on the watering of gardens, washing cars or boats, and filling pools from public water supplies with a hose, came into force in Dublin on Monday.
The ban in the capital will initially last until July 31 but could be extended, Irish Water said. It was likely that similar orders would be implemented in other parts of the country in the coming weeks.
Breaches of the water ban could bring on-the-spot fines of up to €125. If the fines remain unpaid Irish Water will bring court prosecutions.
A total of 120 water schemes across Ireland are at risk from drought and could face hosepipe bans. Nighttime water restrictions are in place in 39 areas, and tankers are redistributing water around reservoirs.
3
Weather notices warning of high temperatures and drought-like conditions are in place around the country as the heatwave continues.
Read more: Is this really Ireland? Drought and dangerous wildfires as heatwave continues
Highest temperatures this week were around 28 Celsius or 82.5 Fahrenheit but last week, for the first time in 40 years, they reached 33 Celsius or over 91 Fahrenheit in some areas.
There was a 24-hour brief period of cloudy skies without rain over the north west where maximum temperatures on Sunday dropped to 14 Celsius or 57 Fahrenheit.
Met Eireann said it expected the drought-like conditions to continue widely across Ireland until next week.
The high temperatures continued to exacerbate gorse and grass fires across many parts of the country, with fire brigades responding to blazes in Dublin, Kildare, Kilkenny, Longford, Louth, Meath, Westmeath, Offaly, Wicklow and Wexford.
Gardai called on pedestrians and motorists to use "extreme caution" between the Sally Gap and Glencree in Co. Wicklow due to poor visibility from forest fires.
People were asked to avoid using barbecues or any other type of cooking which requires an open flame.