Ireland's historic heatwave is set to continue into next week when temperatures will rock to unseasonable highs.
All weather records in Ireland are set to be broken next week when the temperatures hit 91.4F (33C) bringing the Irish the hottest day in 40 years.
After over two weeks of sunny weather and heat Ireland's heatwave is set to continue, with no foreseeable end in sight. Next Thursday, July 12, will see record breaking temperatures hit 91.4F. These temperatures are predicted for Limerick and Carlow with the rest of the country experiencing at least 77F.
To put this in perspective, on average in Ireland between May and July the temperatures range between 64.4F and 68F (18C to 20C).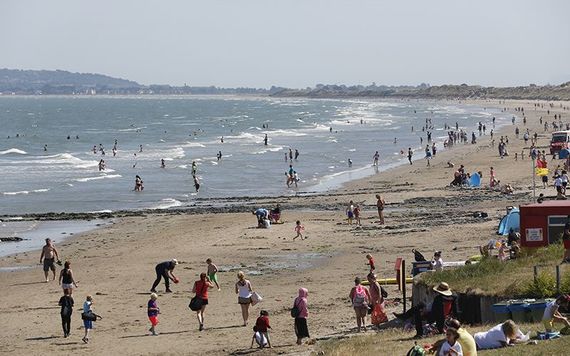 2
It seems that the weather in Ireland is even more unpredictable than usual. Forecasts predicted high of 89.6F on Tuesday but by Wednesday these figures had rocketed up to 91.4F, according to Weather.us
Last week Ireland saw temperatures skyrocket to 89.6C at Shannon Airport during one of the warmest and driest June on record.
Met Eireann, Ireland's meteorologists have stated that the heatwave is set to continue:
"Maximum temperatures potentially climbing into the high-20s [high-70Fs] in the midlands, east and south."
History of Irish heatwaves
The highest temperatures for five consecutive day in Ireland, when it reached 89.6F (32C) was on June 29, 1976. The highest temperature recorded during that heatwave for 90.5F (32.5C) in Boora, County Offaly.
Read more: Ireland had a three-month heatwave in 1976 and the videos are AMAZING
The highest temperature ever, in Ireland, was recorded on June 26, 1887, at Kilkenny Castle when the thermometer shot to 92 °F (33.3 C).