Matt Damon, Irish lighthouse owner? Could happen.  The superstar says he's so taken with Ireland that he'd love to buy a lighthouse and watch the Irish waters.
"How awesome would that be? Watching the Atlantic crashing over the Irish cliffs, the rain coming down, the grey skies. I love the weather," Damon, on a promo tour for his new film The Great Wall, told the Irish Sun.
"That whole geographical area, from Cork to Kerry, Galway, that environment is like nowhere. It's good for the health. All that air.
"I just have this image, this dream of sitting atop of the lighthouse, looking out to sea, and how beautiful and peaceful that must be. I don't know if you can buy those, wouldn't they be state-owned? If you could, I'd do it.  Well … I'd run it past my wife first, then I'd do it."
Read More: You can now stay in one of Ireland's great lighthouses (PHOTOS)
Damon's character in The Great Wall, which landed with a thud at the box office last weekend, is supposedly Irish, and he got nailed on social media for a bad accent.
"There should be a prize for whoever can figure out what accent Matt Damon thinks he's doing (Scottish? Irish?)," one tweeter posted, while another opined, "Worst part of the film is Matt Damon being unable to keep a consistent Irish accent."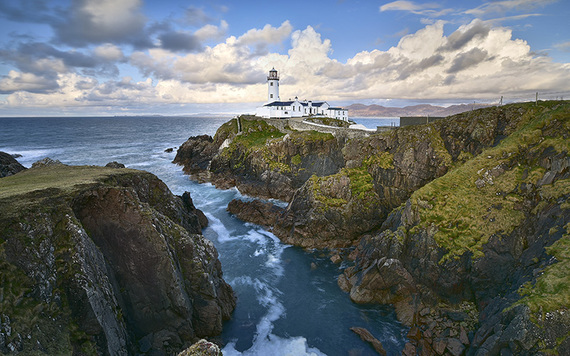 2
During the interview with the Sun, Damon also recalled how Bono gave him the thrill of a lifetime a couple of years back. The Damons were in Dublin and scored tix, of course, to a U2 show, and Bono called his name from the stage.
"Aside from my wedding day and the birth of my children, that may be the best moment ever. I thought, 'Holy s***, is this actually happening?" he said.
Here Matt Damon speaks about his time in Dublin in 2015: