Dissident republicans prompted a step-up in security when Prince Charles and his wife Camilla, the Duchess of Cornwall, paid a two-day private visit to the Republic this week.  It was the fifth annual trip to Ireland by the couple since 2015
While they are accustomed to security around their visits garda sources told TheJournal.ie that additional measures were in place on Monday and Tuesday because of recent activity by dissident republicans.
This was a clear reference to street rioting in Derry last month led by the New IRA before one of their gunmen shot journalist Lyra McKee dead as she reported from behind a police line.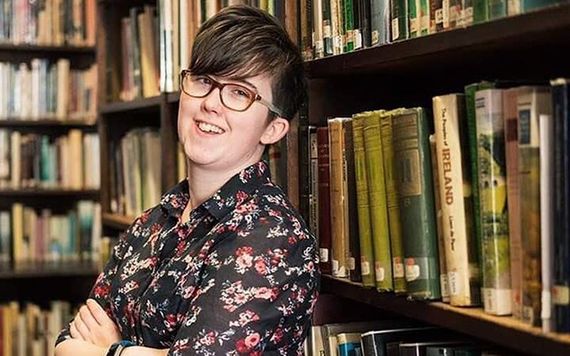 3
Two men have been charged with petrol bomb offenses, rioting, arson, and hijacking on the night she died, but the hunt for her killer continues.
Meanwhile, security remained tight around the royal couple who were greeted by President Michael D. Higgins.
Although it has been described as a private visit, mainly to Co. Wicklow, a statement from royal residence Clarence House in London said it was made at the request of the British government to strengthen Anglo-Irish relations.
Higgins and his wife Sabina welcomed the couple at the Glencree Centre for Reconciliation where they watched an exhibition of Irish dancing and music.
Prince Charles unveiled a specially commissioned engraving of a poem, written by the late founding member of Glencree Una O'Higgins O'Malley, etched in Wicklow Granite. The poem written to honor the prince's 2002 visit was read to a gathering of civic leaders at the center.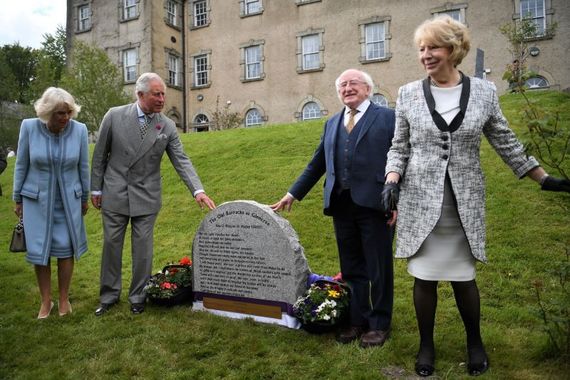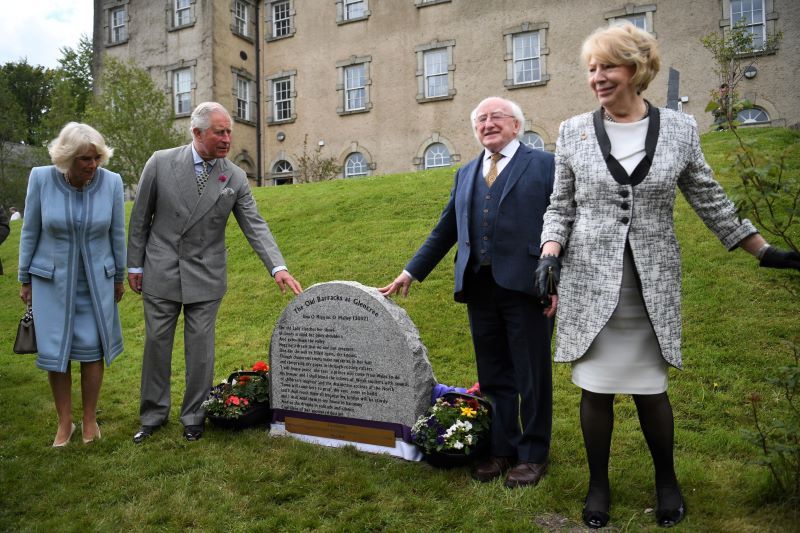 3
The prince also planted a Giant Redwood tree at Powerscourt House and Gardens in Enniskerry.  It is the first in a new line of Redwoods at the estate since the Duke of Wellington gifted 100 trees to Lord Powerscourt for helping secure victory at the battle of Waterloo in 1815.
Charles once said his ambition was to visit every county in Ireland, and he told people during the visit to Powerscourt, "I must say, you are always so incredibly kind and welcoming here in Ireland, and to put up with us yet again as we attempt to cover all the counties before we finally disintegrate completely."
He revealed he chose to live at Highgrove in England mainly because it was under the care of a wonderful Irishman who was "a great man for the horses."
Charles said, "I remember he used to say to me every now and then 'I am just off to the library.'
"Of course what he was really doing was to put a very large bet on some fancied horse he had, and he won an awful lot is all I can tell you."
Charles also spoke about the relationship between Ireland and the U.K.
"What makes it so special coming to Ireland, apart from the wonderful welcome, is being able to celebrate and remind ourselves of all those absolutely vital links between us that go back so many hundreds if not thousands of years. To remind us of how much we depend on each other in so many ways. That to me is one of the great things about our relationship," he said.
At Glencree, the prince met with survivors of The Troubles in the North, including musician Steven Travers who was injured when five people were killed by the loyalist paramilitary UVF in the Miami Showband massacre in July 1975.
Read more: John Finucane, son of murdered lawyer Pat elected Mayor of Belfast