"
I resolutely refuse, accordingly, to discuss the heavy political and economic matters..." Here's to Lisdoonvarna Matchmaking Festival, the GAA and a saunter along the Shannon
Those of you who are watching the incredible developments on this coast of the Wild Atlantic Way will instantly understand why I have turned off all my TV screens and radio reports as the alleged mother of all parliaments in Westminster is being closed down by Boris Johnson during the period when many would suggest parliamentary debates about the future of the clearly Disunited Kingdom across the Irish Sea were never more necessary for anyone with Irish blood in their veins wherever they reside.
I resolutely refuse, accordingly, to discuss the heavy political and economic matters across all the global headlines this week. Instead, with more difficulty than usual, let us wander down the road of therapeutic wit and whimsy for a bit of light relief.
So relax for a while, switch off your media devices too, and hopefully, ye will feel somewhat more relaxed by the time ye read the last paragraph.
Firstly then, even before I bring ye happy tidings from the rip-roaring Matchmaker Festival now in full fling above in Lisdoonvarna, I need to stress that I have no family connections whatever with the English-based Freddy McConnell who has gone viral globally, as they say nowadays, because he/she recently gave birth to a healthy child!
Freddy McConnell: Transgender man who gave birth hits out at 'de facto sterilisation'https://t.co/OsF15aDoNf pic.twitter.com/fm7r5nQjj1

— GEOFF'S WORLD,RETIRED ROCK MUSO&SOLO ENTERTAINER. (@Geoffkernow) September 11, 2019
Freddy is a transgender person, you see, and after successful IVF treatments is said to be over the moon with joy at the success of the genetic miracle.
Freddy is applying through the English courts to be listed as the father of the child, as well as the biological mother. One hopes that goes well for all parties involved, but given the performances of English courts recently, in high profile cases of every nature, one cannot be too hopeful.
I swear this is the truth as I heard it on Sky News before I switched off the events of a world of wonder, shock and awe which I find it more difficult to cope with by the day and hour.  Anyway, apart from sharing a surname, there is no family or clan connection that I can trace to date.
On the more traditional romantic front, a couple of hours away in Lisdoonvarna in north Clare, however, I'm delighted to inform ye all that I've already learned from good sources that there was never more romance in the air over the small town that really comes alive and kicking each September for that Matchmaking Festival.
3
As the music and storytelling and dancing rattles on apace many visitors, including several from the U.S. and Canada, have already lost their hearts to strangers they encountered at the music sessions all around the town and district.
I advised all of you if you have not visited already, to get to Lisdoonvarna ASAP and, for sure, if romance and craic is on your agenda, you are likely to be sending messages of thanks to Cormac long before Christmas.
My friends in Galway include a couple that met on the dance floor in the Hydro Hotel in Lisdoonvarna decades ago. She hails from Tyrone and still is a mighty jiver.  He hails from West Cork and, as he says himself, is equipped with two left feet on the dance floor.
But the strange alchemy of Burren romance brought them together forever.  They are grandparents nowadays, still in flying fettle, and they never ever miss the unique festival that forged the love between them.
As a sporting bonus last weekend, they were present on the sideline when one of their clan was a member of the Galway camogie team which thrilled a record crowd for a camogie final by defeating a fancied Kilkenny team in an epic encounter. Seamus, the proud father, commented afterward he was delighted he had not bequeathed his substandard dancing feet to the next generation. 
The celebrations in Galway will last long past even the final sessions of the Matchmaking Festival.  For those of you who do not know already, the Kilkenny team is known as the Cats and have an extremely formidable record. They are to the female code what the men from the Kingdom of Kerry are to GAA football down the decades.
That Dublin-Kerry replay clash in Croke Park this weekend incidentally, is, as always, totally obscuring the sharper life realities connected with this Brexit fiasco which we are avoiding any debate about here.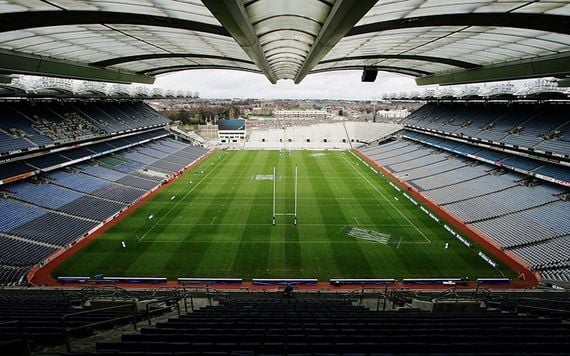 3
Again on the lighter side, and deliberately so, in relation to borders between differing states, I don't think I ever told ye about my boyhood days growing up by the Erne in Fermanagh where it was a reality that the customs posts which John Bull erected along the border causing such modern frictions nowadays, were constantly being blown up in the small hours by IRA units.
It happened so often that we were able to instantly correctly identify which customs hut had been blown up that night from the direction of the blasts magnified by the effect of rolling across the sounding board that was the broad bosom of the Erne.
You knew that it was the post in Derrylin up the road or the one near Swanlinbar on the Cavan border that had gone up again.
You avoided that post, automatically, for a week or so afterward when you had to cross the border on your High Nellie bicycle!  A different species of folklore there.
I think I'll leave it there for now. As ye know it is only a very short way to Tipperary across the bridge from my doorstep here in Killaloe, and they are a lively bunch over in Ballina always.
And I feel like a saunter over the Shannon for a bit of craic.  Grant me permission, please, for the rest of the night.
Read more: Australian family shocked to learn their decades-old painting by Irish artist is worth $100k