Democratic Unionist Party (DUP) leader Arlene Foster has said the Belfast Good Friday Agreement should not be considered untouchable in Brexit negotiations.  She claimed it is not a sacrosanct piece of legislation.
Democratic Unionist Party (DUP) leader Arlene Foster gave an interview to the Daily Telegraph just a week after Taoiseach Leo Varadkar praised the peace-bringing Good Friday deal at the United Nations.
Varadkar told a UN summit in New York that the Good Friday Agreement brought closer cooperation between north and south of Ireland.   He also said that it brought peace and power-sharing in "Northern Ireland at least most of the time."
3
But in a first major political suggestion in the 20 years of the Good Friday deal, Foster, speaking ahead of this week's Tory Party conference at which Brexit is a main topic, told the Telegraph, "It has been deeply frustrating to hear people who voted remain and in Europe talk about Northern Ireland as though we can't touch the Belfast Agreement.  Things evolve, even in the EU context."
Foster said she wanted to see more focus on the positives of Brexit.
"We've spent so much time arguing about what's happened, is it going to be a disaster for Ireland in inverted commas, instead of actually focusing on what we can achieve in the U.K. with the Brexit negotiations," she said.
Read more: Reflecting on 20 Years of Peace on the 20th anniversary of the Agreement
Foster praised the belief and spirit of Boris Johnson, who resigned as British foreign secretary in protest at Prime Minister Theresa May's handling of Brexit negotiations with the EU.  Foster said she would be happy to work with Johnson as prime minister.
Sinn Fein Leader Mary Lou McDonald called on the Irish government to make it clear the Good Friday Agreement was "not a chip to be bargained."  She said she would raise the matter with Varadkar.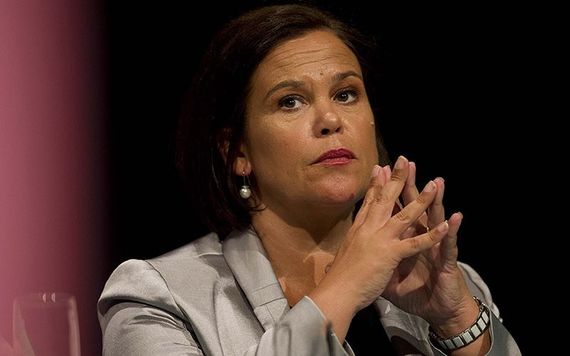 3
She said the comments by the DUP leader "revealed a reckless disregard for the peace process, prosperity and progress."
McDonald added, "The Irish government must make clear that the Good Friday Agreement will be protected and remains the basis for stability and progress."
Meanwhile, Jeffrey Donaldson, one of 10 DUP MPs propping up the Tory government at Westminster, responded on RTE's Morning Ireland radio program to Foster's statement that she could work with Johnson if he became U.K. prime minister.
Donaldson said that Foster had simply said there was "a lot of solidity in what he said," but that did not necessarily mean she supports him.
He also said that he wants to see the Belfast Agreement continue. Foster had been reflecting the reality of what could happen in a "no deal" scenario.
He said, "We don't want that to be the outcome, but there has to be a dose of reality.
"If we get a no deal outcome that alters how we do business. The challenge is to avoid a no deal outcome. That's what we need to work towards."
Read more: Boris Johnson prepared to bring back The Troubles in his mad ambition for power