EPIC: The Irish Emigration Museum, in Dublin, has penned an open letter to the US President Donald Trump offering him the opportunity to see immigration from a different angle during is June 5 visit to Ireland
President Donald Trump's stance on immigration is well documented and debated, so when EPIC The Irish Emigration Museum heard about the POTUS visiting Irish shores, they felt a responsibility to extend an invitation. Through a full-page open letter, EPIC The Irish Emigration Museum asked him to visit and reframe his views on immigration.
Read more: Will President Trump receive a warm welcome to Ireland?
Over 10 million people emigrated from Ireland over the centuries - in many cases escaping famine, political unrest, and civil war, others seeking opportunity and change. They settled all over the world as immigrants, and EPIC documents the stories of the impact they've had.
The letter asks President Trump to consider his family's own emigration story from Germany and Scotland and points out a number of examples of how Ireland's emigrant stories have impacted his own life.
The full letter reads: 
Dear President Trump,
We'd like to extend an invitation to visit EPIC The Irish Emigration Museum during your upcoming visit.
We know your itinerary isn't as flexible as most, but hear us out.
Your stance on immigration is well documented. As one of the world's only museums dedicated to the emigrant experience, we'd like to offer a different point of view. At EPIC, the positive impact emigrants have had on the world is told through an Irish lens; it's a narrative we're proud to share with countless other countries.
Allow us to share a few of our stories that might hit close to home for you. Irish emigrants played a huge part in shaping the Manhattan skyline. Descendants of Irish emigrants have held your very position in the Oval Office. The White House itself was designed by James Hoban, an Irish architect. Your Vice President Mike Pence is the grandson of an Irish emigrant who escaped war and poverty in 1923. You might even come across descendants of his great- grandmother, who hailed from Doonbeg.
Your own family story has been shaped by emigration, when your grandfather Friedrich left Germany at age 16 to pursue opportunity in a new land. And the First Lady is another example of how a recent immigrant has made the most of a new opportunity to one day become FLOTUS. Needless to say, our invitation is open to Melania as well.
What we're saying is that everyone has a connection to the story of emigration, and people often change their perspective once they see it told from many angles, both past, and present.
We know you'll have a busy presidential itinerary, but we promise you an enlightening experience in less time than it takes to play a round of golf.
Sincerely,
Mervyn Greene,
Managing Director,
EPIC The Irish Emigration Museum.
EPIC's open letter was placed in the Clare Champion Newspaper, the biggest newspaper in County Clare, where President Trump will be staying at his family-owned golf club in Doonbeg during his visit to Ireland. As a final enticement to the President, the letter suggests his visit would take less time than a round of golf.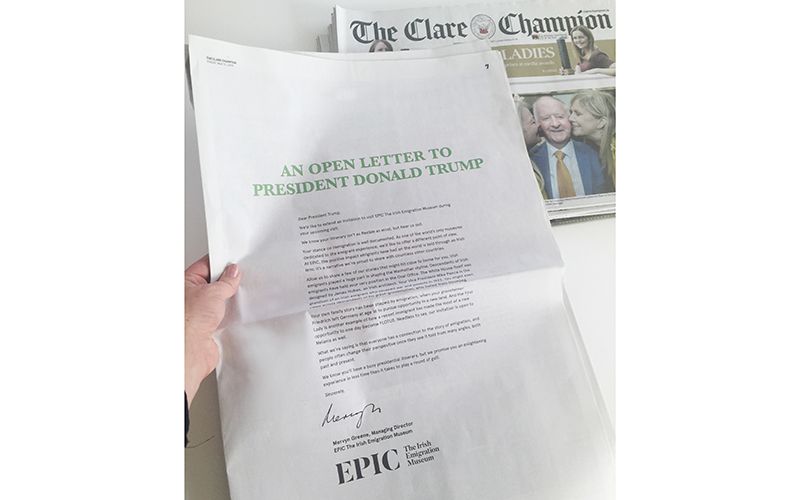 2
"EPIC represents an alternative voice on the global movement of people. We have documented the positive impact that Irish emigration has had on the world, and we think it's time the conversation on emigration changed. This invitation goes out to President Trump with sincerity - come experience a different viewpoint on immigration and it might just change your perspective" says Mervyn Greene, Managing and Museum Director of EPIC.
The museum is a state-of-the-art interactive experience located in the beautiful vaults of the 1820 Custom House Quarter building in Dublin's Docklands, the original departure point for so many of Ireland's emigrants. The museum features personal stories of love, triumph, adventure, and adversity, it highlights and celebrates the positive impact and influence of Irish emigrants around the world.
What do you make of the emigration museum's bold move? Let us know your thoughts in the comments section below. 
Read more: Pope Francis continues to slam Trump's cruel immigration policy