A steady stream of survivors from institutions all across Ireland have been making their way to the home of historian Catherine Corless since it was officially confirmed that human remains of a significant number of babies have been found on the site of a former mother and baby home in Co Galway.
Only for her painstaking research over the past six years, the world might never have known that hundreds of babies were buried in unmarked graves at the Tuam site – some of them in vaults constructed from a sewage tank which had not been used since 1938.
Many of the survivors have contacted the quiet-spoken historian in order to talk about their experiences as "home babies" in such institutions for the first time in their adult lives.
"I didn't go looking for survivors. They looked for me. They rang me and called to the house. They just kept coming. We'd sit down and discuss over cups of tea what I could do for them. They have begun to speak out and to find their true voice, which is fantastic," she told IrishCentral this week.
Some survivors want to trace family members who may be among the 796 infants and children who are reported to have died at the home between 1925 and 1961. They want proof that their relatives have died, as some believe they may have been adopted by couples in the United States or Great Britain.
Read More: Death records for the 796 Tuam Home babies published in full 
"This is very much part of our story," she said. "I have heard people from the Church say that this was a different Ireland and that we couldn't look at the past with today's values. But I thought that was extremely unsavory and unsuitable for the survivors who are still alive today. A total injustice was done to these mothers and their children.
"My argument was that it was not that long ago, that the survivors are still around, and that it's still the same Church and State. The survivors are still very much alive so you can't say it's in the past, they are all around us, they are hurting and we have to do something for them."
Sitting in her rural kitchen five miles outside Tuam, the grandmother is too modest to see herself as a modern Irish hero. She said it was important to establish exactly how many of the 796 children were buried in the unmarked graves, in order to know what happened to the rest of the "Tuam babies".
5
She has built a scale model of the Tuam home in her living room. It allows the survivors to reconnect with traumatic childhoods, which many of them had blanked out, and gives them the strength to talk about their experiences as "illegitimate" children in the home.
"The whole sadness of Tuam is in the way they used a former sewage area as a burial vault. It seemed to be just the final insult to the poor little children," she said.
"From the start, I was horrified to think that all those survivors were still around and still afraid to talk. I wanted to be a voice for them, because nobody else seemed to care or listen to them. The more I listened to them, they just felt they had no right to talk about their past. I just gave them courage, I think. They had such a painful past."
She has met wonderful men who told her they felt they never deserved to find happiness in life, or to get married, because of the shame of being branded as "illegitimate" in the homes.
Others have told her they are only now able to hold their heads high in their local pubs because, since her findings were published, people are beginning to talk about the injustice of imprisoning unmarried mothers and their babies in institutions such as the Tuam home.
Catherine was at the eye of a global media storm three weeks ago after her findings were vindicated by the Commission on Mother and Baby Homes, which carried out excavations at the site as a result of her exhausting research.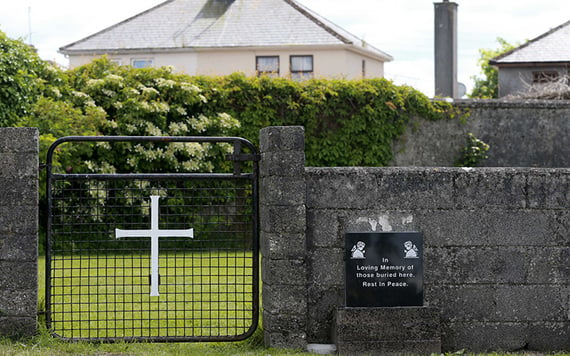 5
Because of her findings, the commission was set up to undertake an investigation into 14 other Mother and Baby homes and four County Homes throughout Ireland.
Women were detained in these homes for years on end after giving birth outside marriage in the early decades of the Irish State. The Tuam home finally closed down in 1961 and a housing estate was built on the site a decade later.
She has been moved by the response from survivors to her work and from the huge volume of letters she has received from Ireland, the UK, and the US. So hectic were the media demands three weeks ago that her husband, Aiden, had to take two days off work to help deal with the vast number of media calls.
Read More: Ireland's forgotten diaspora - banished unwed mothers and adopted babies
Despite initial hostility from the authorities, Catherine showed dogged determination to find out what happened to the "Tuam babies" after first hearing a story about how two local boys stumbled across the skulls and bones of babies while playing on the site of the former home in 1974.
Hearing of the grim discovery by local boys Frannie Hopkins and Barry Sweeney, who were aged about ten at the time, prompted Catherine to begin her one-woman investigation into the Tuam home.
She was driven to discover the truth about the babies, despite facing hostility from the Bon Secours order who ran the home. When she approached the Western Health Board or Galway County Council, her investigations came to a dead end.
"All along I felt that an injustice was done to these children and it needed to be rectified," she told Irish Central. "When I began my research I thought there may have been ten, 15, or 20 deaths in the home."
It was a personal odyssey. She remembered the lonely "home babies" being forced to sit apart from the rest of the class and being discriminated against during her own school days in Tuam. Years later, she discovered that her own mother was "illegitimate" after she had rarely spoken of her own troubled childhood in a home.
5
The breakthrough came when Anne Glennon at the Births, Marriages and Deaths office in Galway undertook to help Corless out.
"She was very apologetic. She said they didn't normally let the public into her office, but promised to do a search for me. I told her what I was looking for. She asked me to give her a few weeks. She came back to me after three or four weeks and asked if I really wanted all those death certificates. I was expecting ten or 15 deaths from the home, but she told me there were nearly 800," she said.
Catherine searched the site and was shocked to discover that there were no graves to mark the lives of the 796 babies. Nobody seemed to want to talk about it in the North Galway town and the Bon Secours sisters said they kept no records from the site.
"It's an enormous relief to have my research vindicated by the Commission. Every bit of research I had done was telling me that these babies had to be underground, in those chambers they are talking about. I just knew it. It was almost divine inspiration. I didn't know what to call it. I just couldn't put it to one side. I just had to find out."
It has been confirmed just this week that there was no evidence of suspicious deaths at the Tuam home and no criminal prosecutions will take place.
But Catherine has been hugely disappointed by the lack of response from the Bon Secours order, which has yet to apologize three weeks on.
Three years ago, when Catherine's research was first made public, the sisters hired Dublin-based PR specialist Terry Prone, of the Communications Clinic, to defend their reputation.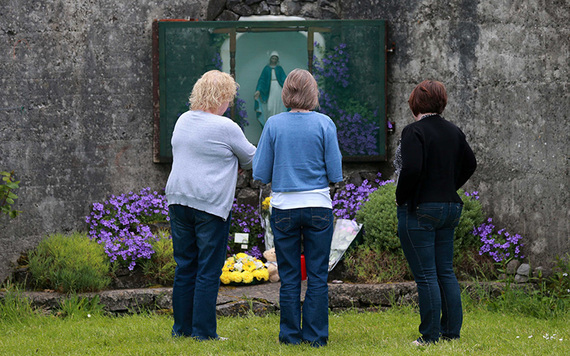 5
Prone notoriously told a French journalist not to bother visiting Tuam as there was no mass grave in June 2014 and there has been a deafening silence from both Prone and the sisters over the past three weeks.
"On the day that this story broke three weeks ago, the Bon Secours sisters were contacted by a national radio show. They said they were cooperating with the Commission of Inquiry and they were not prepared to discuss it with anyone else. Now, a little 'sorry' would have been acceptable. I thought their response was callous and cold," she said.
"I couldn't understand how the Bon Secours sisters could have run the place and not leave a  monument or anything to these babies. It's hard to believe this site was an unmarked graveyard, including a septic tank, and then they just closed it down in 1961. There were houses built there in the early 1970s, after the site had been left wild for about ten years. The whole thing is very, very sad."
(Part one of a two part series)
---
Ciaran Tierney is a journalist, blogger, and digital storyteller, based in Galway, Ireland. You can find his Facebook page here. Find Ciaran Tierney on Twitter.
This article was submitted to the IrishCentral contributors network by a member of the global Irish community. To become an IrishCentral contributor click here.