Ellen Sullivan, who is currently battling cancer, is set to marry her fiancee Kenny Lynch next month after friends, family, and strangers crowdfunded the couple's dream wedding
Irish American Ellen Sullivan, who is in the midst of her second cancer battle, is set to have her dream wedding with fiancee Kenny Lynch in Massachusetts next month thanks to the kindness and generosity of others.
Read More: Traditional Irish Meitheal alive and well in New York to aid 9/11 victim
In October 2018, right after giving birth to her and Kenny's daughter Peyton, Sullivan's second daughter, doctors discovered a mass on Sullivan's lung and in her heart. The two masses were determined to be a recurrence of Ewing's Sarcoma, which Sullivan battled when she was six years old.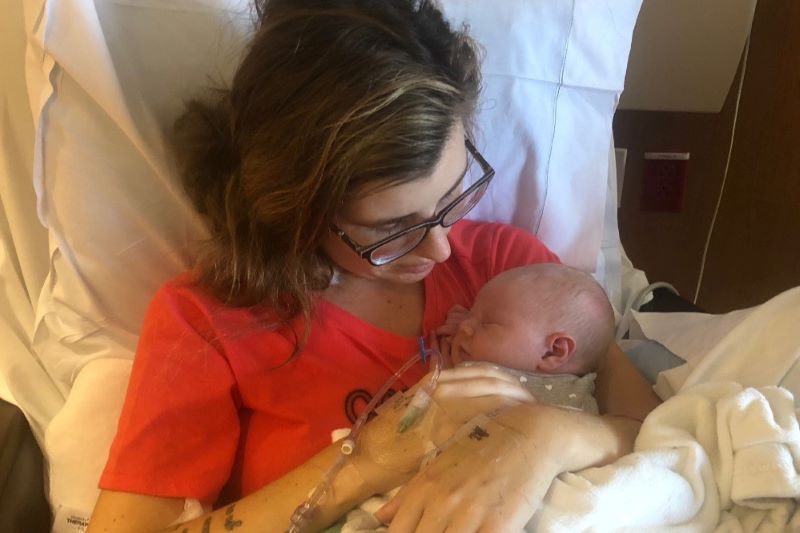 3
Sullivan went into surgery only a few days after giving birth, and GoFundMe was launched to help defray the 26-year-old's medical costs. Despite being declared cancer-free for a few weeks over the summer, more tumors have since been discovered in her brain which requires further treatment.
On October 20, Sullivan said in a lengthy post on her Facebook page Cancer, kids, coffee & chaos with Ellen: "I'm limited on my time left, but I'm unable to do the things I need to, and it makes things extremely frustrating. I cry every single day and my heart breaks for my girls and the pain they'll have when I'm gone."
She added, however: "Kenny and I recently got engaged so I have something to look forward to and start planning asap!"
3
Read More: Irish Ph.D. student battling cancer for third time marries childhood sweetheart in NY
After that heartbreaking update, Ashley McGuire, the owner of Snatched Beauty Bar who has been following Sullivan's story, decided to tap into her professional network to create a dream wedding for Sullivan and Lynch.
McGuire said she was inundated with requests on how to help, so she launched another GoFundMe to fund the upcoming Lynch nuptials. On it, McGuire wrote: "For some reason, her story hits SO close to home for me. I've been saying for months I wish there was something I could do to help, but now that she's going to be a BRIDE there is something I can do.
"I'm throwing this out there for anyone else who would like to be involved... All funds from this go fund me will go towards wedding services that are not able to be donated, a honeymoon, and money for Ellen to plan her dream wedding without any financial burdens. All leftover money will be given to Ellen & her family as a wedding gift."
McGuire said in a later update that "2 wedding planners, a venue, limos, hair & makeup, a florist, a DJ, multiple photographers, invitations, signage, a wedding cake, decorations and honestly just about anything else you could ever need for a perfect wedding" have all been donated by local vendors.
Read More: Irish American toddler honored with NJ parade for brave cancer battle
Sullivan said in a public Facebook post on October 23 that she is in "awe of the generosity and kindness from not just friends and family, but from people I don't even know."
McGuire shared in an October 25 update that she has been blown away by the response and that Sullivan has since purchased her wedding dress as Modern Vintage Bridal in Massachusetts:
You can donate to Ellen Sullivan's medical funds here, as well as her and fiancee Kenny Lynch's dream wedding fund here.