Theodore E. McCarrick, an Irish American former cardinal and archbishop of Washington D.C., was been expelled from the priesthood in February 2019 over sexual assault allegations. 
Infamous former bishop Theodore E. McCarrick has given his first media interview since being defrocked from the Catholic Church, claiming that "I'm not as bad as they paint me" and refusing to confess to any allegations of sexual assault. 
McCarrick, 89, was defrocked or laicized, from the Roman Catholic Church in February 2019 after being found guilty of decades of sexual abuse of minors and adult seminarians. 
While hundreds of priests have been expelled from the church for sexual abuse, very few church leaders have faced laicization, which strips the person of all priestly identity and revokes resources like housing and financial benefits from the church.
Now, in his first interview since his fall from grace and his move from D.C. to the small town of Victoria in Kansas, McCarrick spoke to Ruth Graham at Slate about the allegations made against him, unwilling to confess to any wrongdoing and claiming that the young men he was also in contact with who have not brought any allegations against him are proof of his innocence. 
3
"I'm not as bad as they paint me," McCarrick told Graham, a reporter who traveled to Victoria to witness the impact the former cardinal's relocation had on the town in the past year. 
"I do not believe that I did the things that they accused me of."
Read more: Irish American cardinal first ever bishop defrocked in history of Catholic Church
Graham pressed McCarrick on whether he thought the allegations may possibly be true if he could only say he believed he did not do those things and whether he was leaving it as an open question, to which he replied "No." 
McCarrick was accused of sexually abusing three minors and harassing adult seminarians and priests in abuse allegations going back almost 50 years.
An investigation conducted in 2018 revealed that some members in the church hierarchy had known for decades about the accusations against McCarrick and that tens of thousands of dollars in settlements had been paid to men who had made abuse allegations against him.
McCarrick was removed from public ministry in June last year, following an investigation into claims he had abused a 16-year-old altar boy while serving as a priest in New York 47 years ago. In July, the pope accepted McCarrick's resignation from the College of Cardinals and suspended him from all priestly duties.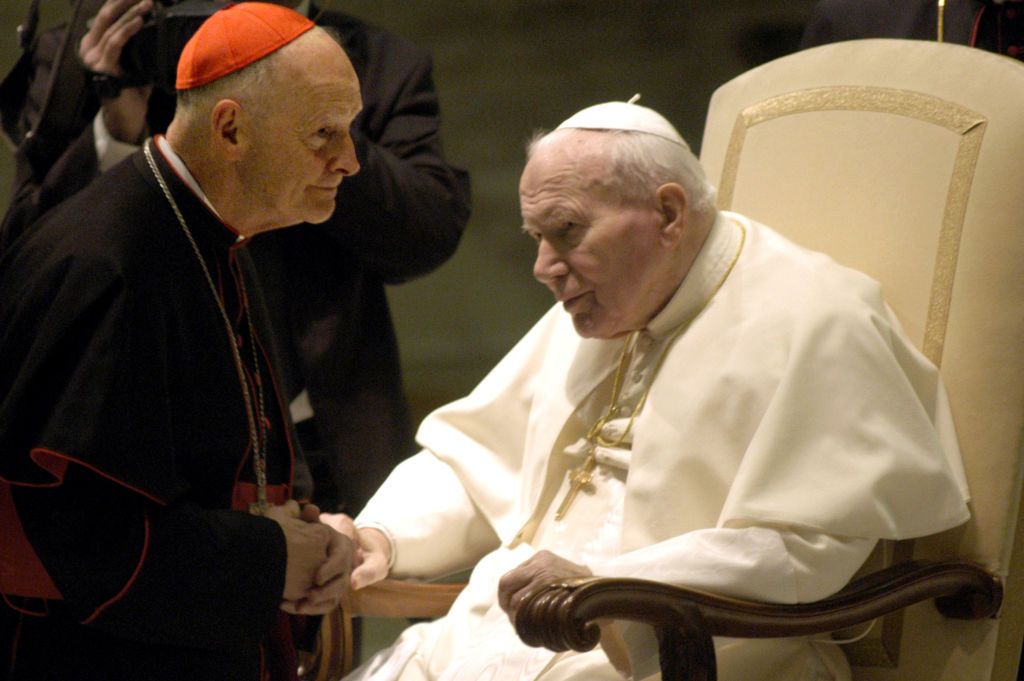 3
When Graham met with McCarrick, there was just one allegation he wished to discuss, those made by James Grein, who has filed a lawsuit against the Archdiocese of New York, where McCarrick was serving as a priest when he began abusing Grein at the age of 11. The sexual abuse continued for two decades.
In particular, he wished to discuss Grein's claim that McCarrick groped him while hearing Grein's confession.
"The thing about the confession, it's a horrible thing," he said. 
"I was a priest for 60 years, and I would never have done anything like that. … That was horrible, to take the holy sacrament and to make it a sinful thing." 
As well as suing the Archdiocese of New York, Grein has voiced plans to sue McCarrick personally. 
In 1990, McCarrick was awarded the Ellis Island Hall of Fame membership in honor of his Irish immigrant roots. 
You can read the full Slate interview here. 
Read more: Catholic church recognizes "miraculous cure" at Knock Shrine