Kathleen Nicoll, an inspiring 87-year-old Irish great-grandmother, completed a climb of Croagh Patrick in Co Mayo ... after drinking Guinness in a local pub until 2 am the night before the climb!
Kathleen's impressive feat was chronicled on TikTok by her grandson who wrote: "My gran who refused to say it can't be done at 87!
"'It can,' she told everyone."
Kathleen - a mother of seven, grandmother of 25, and great-grandmother of 20 - is originally from Blacksod Bay in Co Mayo but has been living in Co Limerick for some 30 years, according to the Limerick Leader.
After watching a television programme about Croagh Patrick last year, "something clicked in her head," Kathleen's daughter Caroline Abercrombie told the Limerick Leader.
"And when something clicks in her head, she is very determined!
"Given her age, I was frightened she'd fall. But she wouldn't listen to anyone who had their doubts. It was a bucket list item for her.
"She said - It can be done, we'll find a way. She is such a strong lady."
On Saturday, July 29, Kathleen, accompanied by her son Daniel Nicoll, grandson Johnny Nicoll, Aoife Deane her granddaughter, and Claire Nicoll, embarked on the 14km pilgrimage to the summit.
Thousands of pilgrims climb Croagh Patrick on the last Sunday of July, known as Reek Sunday, in honor of St. Patrick, who is said to have spent 40 days fasting o the mountain during the 5th century. Some pilgrims climb the mountain barefoot as an act of penance.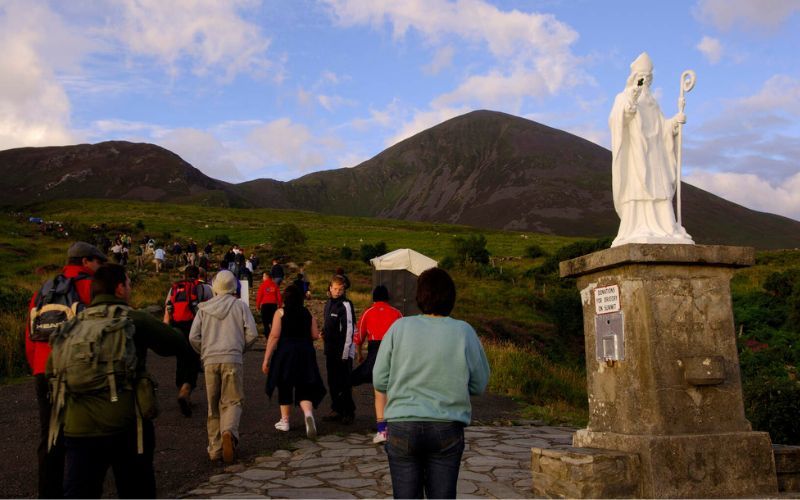 2
Impressively, Kathleen had no previous training for the feat and, even more impressively, she was in a local pub until about 2 am the night before!
Kathleen's grandson Johnny told the Limerick Leader: "We decided to go up to our local to have three pints, and that's it, as we were climbing the next morning. We were home by 11 pm.
"We had no idea she was still drinking until 2 am. We were being sensible going to bed at 11."
During the walk, Johnny said he and the crew assured Kathleen that there was "no shame" in stopping and turning back.
However, he said Kathleen "was thinking about her life, her family, her kids and husband who'd passed.
"It was something she really wanted to do: she wouldn't give in."
Upon reaching the top, Kathleen was "overwhelmed with a sense of joy, peace and achievement," daughter Caroline said.
"When she was looking around she said it was the closest she had felt to heaven.
"With her age, that was quite emotional as you can imagine."
After the climb, Kathleen's son Daniel shared pictures of the occasion on social media, appropriately captioning his post: "my hero."
Upon descending the summit, Kathleen's family reunited, and then, of course, it was back to the pub for a pint of Guinness 'for "nourishment."
Well done, Kathleen!