An Irish family is hosting a celebration in one of Ireland's oldest thatched cottages this weekend to give people a "taste of old Ireland". 
The Kealy-Dunne family has recently embarked on an extensive renovation project of their family home in Clogh Bridge, County Kilkenny, painstakingly restoring the historical dwelling to its former glory.
Helen Kealy-Dunne acquired the house when her mother Margaret Kealy died in 2004 and her daughter Sophie Dunne told IrishCentral that the recent renovations made it feel like they had brought their ancestors back from the dead. 
"With each new piece of straw on the roof and each new coat of paint and whitewash, we could see the house in all its glory come back to life and could feel the pride of our beloved family members who were born and raised in the house," Sophie Dunne told IrishCentral. 
"As one of the younger generations, I personally felt an immense connection with my family members that I had never met.
"This house is more than a historical Iriish building. To us, it's a time machine. It's a way of connecting with our family who came before us." 
The family has owned the home for 200 years and set about restoring the home after receiving Government grants and generous donations from the public.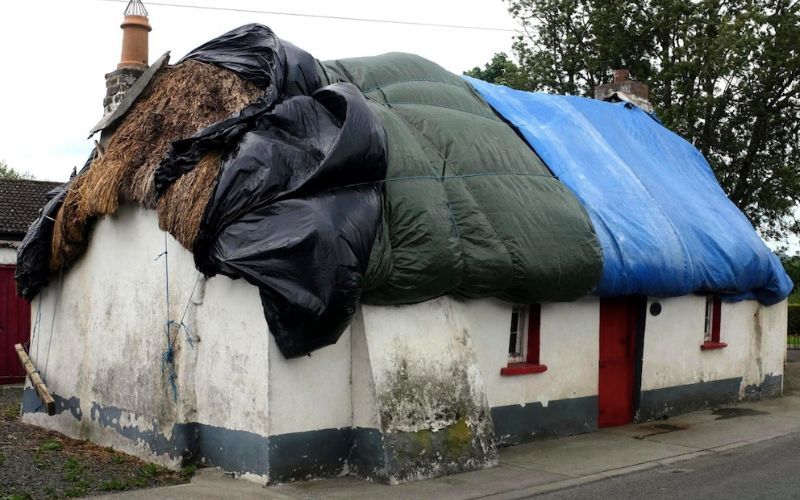 2
The Dunne family celebration will take place on Sunday, August 27, with the family keen to thank the donors who helped preserve the house's historical authenticity and to give the local community a taste of old Ireland. 
Sophie told IrishCentral that the family is "excited" to welcome visitors from near and far. 
"We'll have food and drinks and live traditional Irish music from talented nearby musicians, and we'll get to open the door to locals who have never seen the inside of our property. We will have photographs of our family who came from the house, diary entries from family members who lived in the house on display, old maps of Clogh and Kilkenny, as well as the open hearth fire lighting." 
Sophie, who lives in Los Angeles, said the family is currently brainstorming with Kilkenny County Council about how to use the cottage once Sunday's celebrations have come to an end. 
"We definitely want to keep our house in the possession of the family so that we can keep the tradition of having family members stay over to light the fire to keep the house dry and warm — this is something we've done for decades.
"We do see the house as being an essential part of the local heritage so we are throwing out ideas as to how we can include the community in the preservation of our house but nothing is set in stone." 
Sophie added that the family now plans to add a bathroom to the house as it has never had one before. She said the "huge" project will require extensive conservation practices as the house is a protected building.  
Sophie said her family had seen firsthand how difficult it is to maintain thatched cottages and called on the Irish Government to provide more support for thatched property owners to help prevent thatched cottages from going extinct. 
"We need to repair the thatched roof every decade as it can get damaged in the harsh Irish winters but it's also extremely expensive. We need to be successful in securing a government grant or else we pay out of pocket for repairs. Thatched property owners in Ireland are also facing an insurance crisis as it's nearly impossible to obtain insurance for thatched properties in Ireland. 
"The difficulties of restoring Irish cottages can deter anyone from wanting to own one. This is understandable. But we face losing historical thatched houses forever if we don't."