Has Bill Donohue of the Catholic League in New York no shame?
He says not to believe the Commission of Investigation - don't believe the Irish government, don't even believe the Catholic Bishops, who have just reacted with "shock" and "shame" at the discovery of "significant human remains" at the former Mother and Baby Home at Tuam, County Galway.
Only Bill Donohue of the Catholic League in New York knows the truth. He says it is all 'fake news,' nothing to see, no one to be held to account over 800 dead children in a Mother and Baby home in Tuam, County Galway.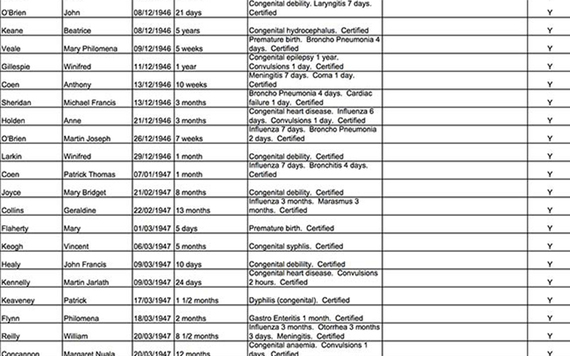 5
He besmirches the memory of helpless young children, some literally emaciated and starved to death, in pursuit of his own grandiose and grotesque need for attention.
He's the only one who knows
the story of a "mass grave" in County Galway
is pure hokum. "It was a lie in 2014 and it is a lie in 2017," he writes.
"There is no evidence of a mass grave outside a home for unmarried women operated by nuns in Tuam, Ireland, near Galway, in the 20th century. The hoax is now back again, and an obliging media are running with the story as if it were true."
He is contradicting his own Catholic bishops, who accept the horror of what happened at the home.
So does Children's Minister Katherine Zappone, who told the Irish press on Friday that the Sisters of the Bon Secours order had interred infant remains in what she called underground "sewage treatment works."
5
Unlike Donohue, the Bishop of Limerick, Brendan Leahy (who was representing Catholic Bishops at the Citizens Assembly in Dublin at the weekend) also believes the Commission's report is true: "We're all as shocked about this as everyone else…" he said. "We hang our heads in shame, but it brings us back to the fact that this is what we want, to promote a culture that really does care for life before and after birth."
But caring for the life created by unwed Irish parents in most of the 20th century was manifestly not an urgent priority for many members of the religious orders entrusted with their care.
Donohue then blasted historian Catherine Corless, whom, he said, had claimed 800 babies were buried in a tank outside the former Mother and Baby home.
That's wholly inaccurate, however, Corless made no such claim. Instead, she unearthed the death certificates for 798 infants and children at the Galway's records office and simply asked where they had been buried, since there was no official or religious monument to their life and death of any kind in the town?
So Donohue's argument really comes down to semantics. Is a "mass grave," which Corless never spoke of, proven or not proven by the discovery of "significant quantities of human remains" at the former Mother and Baby Home site? He thinks not. He's alone in that view.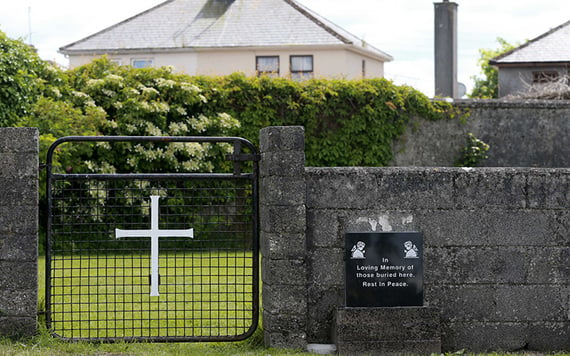 5
Donohue goes on to cite Tuam man Barry Sweeney, who at the age of ten in 1975 (with his friend, Frannie Hopkins, 12) "stumbled on a hole with skeletons in it."
Instead of asking why the police and the local authorities – including the council and church – took no action at all on learning of the discovery (Sweeney and Hopkins were allegedly found playing with human skulls) Donohue informs us that at most the two children found between 15 and 20 small skeletons.
15 to 20 small skeletons in an unmarked hole. Nothing to see there, eh Bill?
Donohue adds that the McAleese Report claims "not a single child was ever sexually assaulted by one of the sisters and that the conditions were not "prison-like."
But, in fact, the Ryan and McAleese reports concern themselves with lay inmates and the two reports document that sexual abuse was "endemic" at these institutions, in particular at Magdalene Laundries, with the McAleese Report detailing widespread detention, forced labor and dehumanizing treatment.
Given the scale of the official findings, it is hard to imagine how Donohue's "it's all a lie" claims can do the Church any good at this point when the truth is already plain to most people with a two second Google search.
5
But attempting to hoodwink an entire nation after a state-appointed commission just made clear they have found "significant numbers of child remains" takes a level of chutzpah and shamelessness many never imagined he had in him.
Meanwhile, last week Marie Collins – herself a survivor of clerical abuse – resigned in protest from the Pontifical Commission for the Protection of Minors at the Vatican.
Collins told the press her decision was based on what she called the "reluctance of some members of the Vatican Curia" to enact the reforms of the Commission, despite the fact they had been approved by Pope Francis.
Ireland must not follow Donohue's unbelievable claims or the Vatican's shortsighted example. Neither evidence any appetite for the truth.
Read more: Tuam Babies: "It would be... kinder to strangle these children at birth" said doctor