As the Bloody Sunday families vow to fight on, the soldier who went on a killing spree that awful day, Jan 30, 1972, is exposed as a homicidal maniac
Soldier F,  the man whose first name is Dave and who was a Lance Corporal in the First Parachute Regiment, may have killed between four and ten people on Bloody Sunday in Derry, in 1972, a parachute regiment soldier in the witness protection programme, has stated.
The man known only as Soldier 027 told the Saville Inquiry that soldiers in the regiment had been told to "get some kills" the night before Bloody Sunday and that this had been seen as "tantamount to an order".
He says two of his former comrades subsequently shot between eight and 10 demonstrators, he said. One was Soldier F now in his seventies while the other, Soldier G is dead. Soldier F went on to a long army career, being promoted on several occasions.
Soldier 027's testimony is backed up by an article on Thursday, March 14, in The Spectator magazine, by Douglas Murray, who attended the inquiries and stated Soldier F was definitely lying and perjuring himself.
Murray wrote:
"Under devastating questioning, F was shown to have killed at least four people that day. One of them was Patrick Doherty, shot through a buttock as he was crawling away. One more killing which soldier F had 'forgotten' about when first questioned by the RMP (Royal Military Police).
"Then, while Doherty lay crying in agony, a 41-year-old man called Barney McGuigan stepped out from behind a block of flats to try to get help for the dying man. McGuigan was waving a white handkerchief."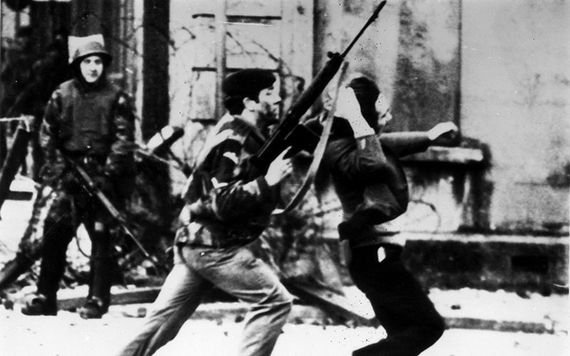 7
According to the testimony of numerous witnesses, including an officer from another regiment stationed on the city walls, Soldier F — positioned on the other side of the road — got down on one knee and shot McGuigan through the head. No one who saw the mortuary photos of the exit wound in McGuigan's face will forget what just that one bullet of soldier F's did.
Unusually, F's first name is in the public domain. His name is 'Dave'. It is public because a number of witnesses heard it shouted.
One wounded civilian lying on the ground heard the brick of four soldiers calling to each other. 'I've got another one' shouted one. And then, 'We're pulling out, Dave.'
In 1972 Dave — F — committed perjury in front of Lord Chief Justice Widgery.
"He perjured himself again before Lord Saville in 2003," Murray wrote.
Soldier 027 was 19-years old at the time a radio operator with the Support Company of 1 Para, in January 1972.
The Guardian reported that "In October 2002, speaking from behind a screen, he told the inquiry that he had not seen any demonstrators carrying firearms or bombs, or anything that justified opening fire.
"I had the distinct impression that this was a case of some soldiers realizing this was an opportunity to fire their weapon and they didn't want to miss the chance," he said.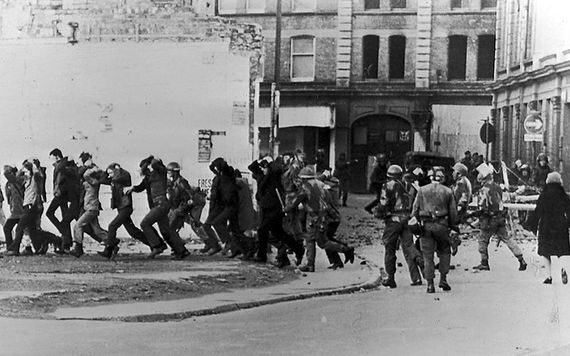 7
Soldier 027 said that two soldiers in particular – one known as Lance Corporal F, who gave evidence, and Soldier G, who has since died – appeared to be operating according to a plan.
"I have always been satisfied in my own mind that Lance Corporal F and Soldier G probably shot eight or 10 people that day," he said.
"I thought it was their aggressive, positive actions which incited a few other loonies to join in. Unspeakable acts took place on Bloody Sunday. There was no justification for a single shot I saw fired."
When Soldier 027 gave evidence at the inquiry it emerged that he had already entered a protection programme, organized by Scotland Yard.
Bloody Sunday's Victim's families' 47-year fight for justice 
Meanwhile, the families of 14 innocent people who were murdered by the British Army on the streets of Derry have had a 47-year campaign for justice vindicated by the news that one soldier will be prosecuted for the Bloody Sunday killings.
But outrage was also expressed in Derry on Thursday that many of those responsible for one of the most notorious atrocities of The Troubles will never be held accountable for what happened on January 30, 1972.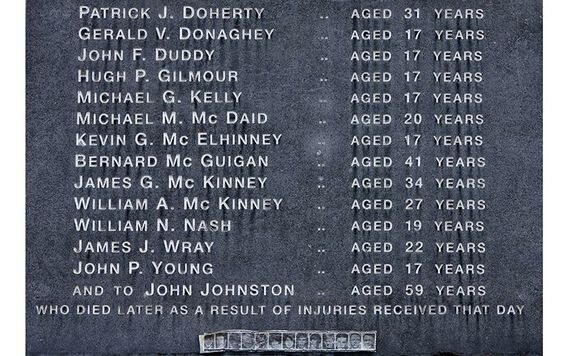 7
The deaths of innocent, unarmed civilians on a civil rights march is widely accepted to have boosted recruitment to the Irish Republican Army (IRA) and to have prolonged the conflict which claimed more than 3,500 lives.
After the announcement that one former paratrooper is to be prosecuted by the Director of Public Prosecutions (DPP) at Derry's Guildhall, the families of the murder victims claimed that they were "not finished yet" in their search for justice.
The DPP, Stephen Herron, said he recognized that "deep disappointment" had been felt by some of the family members he met in Derry on Thursday.
Read more: Bloody Sunday soldier charged with murder, Theresa May vows to defend him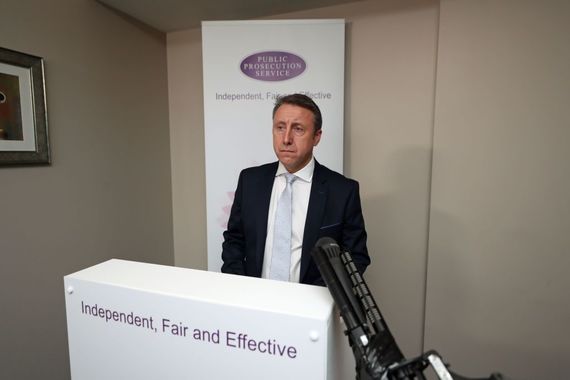 7
"I wish to clearly state that where a decision has been reached not to prosecute, this in no way diminishes any finding by the Bloody Sunday Inquiry that those killed or injured were not posing a threat to any of the soldiers," said Herron.
The DPP announced that a person known only as Soldier F will face charges for the murder of two men, James Wray, and William McKinney, and for the attempted murders of Joseph Friel, Michael Quinn, Joe Mahon, and Patrick O'Donnell.
Family members expressed some shock that no other former British soldiers would face charges, even though there were 18 other suspects, including 16 former soldiers and two alleged members of the Official IRA.
The DPP found that the available evidence from the mass shooting was insufficient to provide a reasonable prospect of conviction. However, consideration would be given to allegations of perjury against soldiers who were in Derry on Bloody Sunday.
Read more: Bloody Sunday results in the death of 14 peaceful protestors on this day in 1972
Inspired by television images of civil rights marches in the United States in the 1960s, Catholics had staged peaceful protests across Northern Ireland in a campaign for equal rights in a sectarian state which had discriminated against them since the partition of Ireland in 1922.
Derry, the second city of Northern Ireland, had a large Catholic majority and became a hotbed of resistance to British rule as the massacre of Bloody Sunday created a deep sense of hurt and injustice across the city.
That hurt was compounded by a tribunal which attempted to explain away the actions of the British soldiers in 1972. Lord Widgery's now disgraced report found that the soldiers were fired on first and that some of those killed had been armed.
His findings, seen as a "whitewash" of the British Army's crimes, were completely repudiated by Lord Saville's 2010 report. Saville found that those killed in Derry were innocent, the killings were unjustified, and that the victims posed no threat to the security forces.
Read more: Bloody Sunday victim's family forgives soldiers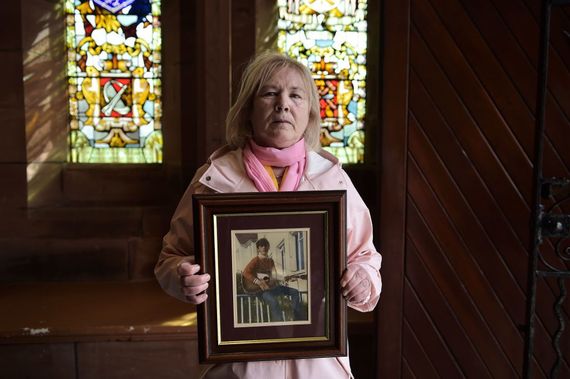 7
Then British Prime Minister David Cameron described the killings as "unjustified and unjustifiable" when he delivered an emotional apology to the families and survivors nine years ago.
"We have walked a long journey since our fathers and brothers were brutally slaughtered on the streets of Derry. Over that passage of time, all of the parents of the deceased have died. We are here to take their place," said a statement from the Bloody Sunday families on Thursday afternoon.
"Bloody Sunday was not just a wanton act carried out by a trained army against defenseless civil rights activists. It also created a deep legacy of hurt and injustice and deepened and prolonged a bloody conflict unimaginable even in those dark winter days of 1972."
The families said the announcement that one soldier will now face charges was a vindication of their decades-long campaign to clear the names of their loved ones and bring those responsible to justice.
Former British soldier to be charged over two murders on Bloody Sunday - @vincekearney reports | https://t.co/1HEiUD7C08 pic.twitter.com/mvZgQdNPNw

— RTÉ News (@rtenews) March 14, 2019
"However, we have also faced the disappointing news that in some cases there will not be prosecutions, and we are mindful of those families who received that news today," added the families.
They said that the outcome would have been a lot different if the crimes committed in Derry had been investigated properly at the time.
"Everyone deserves justice, including those whose loved ones were murdered by the British state. There can be no statute of limitations used to deny justice, no new laws to protect state killers," said the families.
According to the Bloody Sunday Justice Campaign, which launched in 1992, justice for one family was justice for all. They walked together in unison before hearing the announcement from the DPP.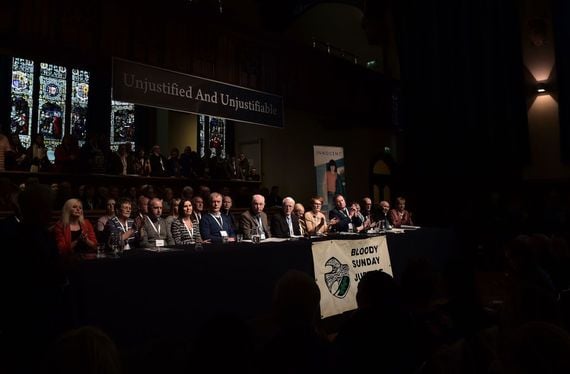 7
"Today's decision, although 47 years overdue, was necessary if we are to uphold the rule of law and hold perpetrators accountable for their crimes," said the families.
Prominent Belfast human rights lawyer Michael Finucane expressed surprise that just one soldier was being charged in relation to an atrocity in which 14 people were murdered and a further 14 were injured.
"It's hard to escape the immediate conclusion that Soldier F will be seen as a scapegoat, or a sacrificial lamb, by the British establishment," he told RTÉ television news. "One person is effectively being made to carry the can for all of the events and I think that's unfortunate."
Human rights campaigner Gráinne Teggart, of Amnesty International, said the families should be proud of the mutual support and solidarity they have shown each other over 47 years of campaigning.
"It is right that Soldier F must now face justice for the shootings," said Teggart. "However, with fourteen civilians dead and only one prosecution, today's announcement means that many of those responsible for the shootings will never be held accountable.
Read more: Karen Bradley, North's incompetent Secretary of State, must resign
West Belfast standing in solidarity with the Bloody Sunday families this evening. ⚫⚪ #BloodySunday pic.twitter.com/XLo6bCbyae

— Sinn Féin (@sinnfeinireland) March 14, 2019
"With justice obstructed and delayed for so long, justice has now been denied to many of the families. No-one should be able to get away with murder."
Amnesty International in Northern Ireland said the announcement in Derry was a "stark reminder" that victims across the province have been paying a price for the failure of the British Government to effectively deal with the violence of the past.
"We call on the UK Government to ensure there are no barriers to justice and make clear there will be no amnesty for human rights abuses, including those committed by security forces," said Teggart.
"All victims of human rights violations and abuses from Northern Ireland's conflict have a right to an independent investigation, with the possibility of prosecutions to follow where the evidence leads. To remove this recourse would be a betrayal of victims' fundamental right to justice."
This article was submitted to the IrishCentral contributors network by a member of the global Irish community. To become an IrishCentral contributor click here.