Maurice Robinson has pleaded guilty to plotting to assist illegal immigration but has yet made no reference to his charges of 39 counts of manslaughter. 
Maurice "Mo" Robinson (25), has pleaded guilty at the Old Bailey, in London,  to plotting to assist illegal immigration. The Northern Irish truck driver did not enter a plea to the 41 other charges, including 39 counts of manslaughter. 
On Oct 23, 39 Vietnamese people were found dead in the back of a truck driven by Robinson. The bodies of eight women and 31 men were found in the container attached to Robinson's Scania cab, at an industrial park in Grays, Essex, near London. The youngest of the victims were two 15-year-old boys.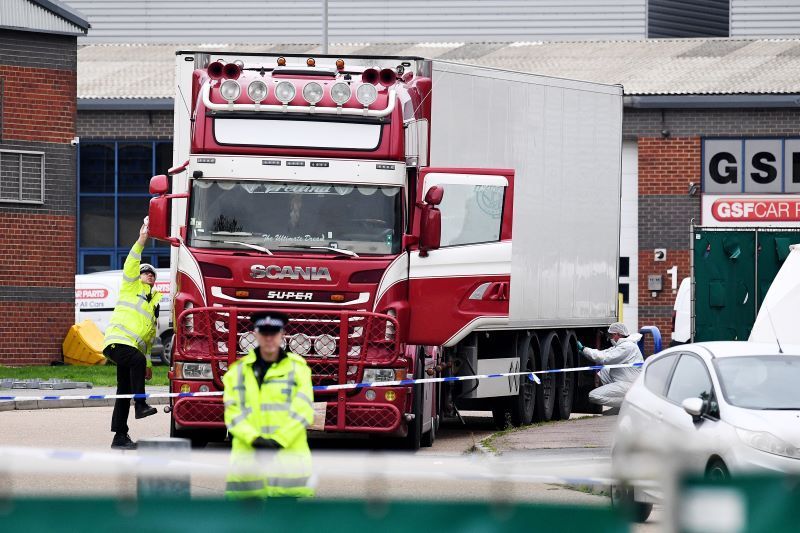 3
Robinson appeared by video link at the Old Bailey court, in London, from Belmarsh prison on Monday morning. He was wearing a light blue sweater and tan trousers. RTE reports that Robinson spoke to confirm his identity and British nationality. 
Before the Court Justice Edis, Robsinson admitted to assisting in unlawful immigration between 1 May 2018 and 24 October 2019.
Read more: 16 people discovered in refrigerated trailer on route to Ireland
The charge for this crime states that Robinson plotted, with others, to do "an act or series of acts which facilitated the commission of a breach of immigration law by various persons".
The Northern Irish man also admitted to acquiring criminal property (cash) on the same dates. Robinson, with a residence at Laurel Drive in Craigavon in Northern Ireland, was has also been charged with 39 counts of manslaughter and the transferring of criminal property. 
3
Bill Emlyn Jones, prosecuting said "My understanding is that the defendant is ready to be arraigned on two of the 43 counts on the indictment, the Daily Mail reports.
"The Crown at this stage would not push further arraignment on the other counts. This investigation is likely to span different jurisdictions.
Justice Edis said, "This is quite a significant investigation likely to involve investigations into other people."
A trial date has not been set. Robinson has been remanded in custody. He will appear at the Old Bailey for a further hearing on Dec 13, 2019.
Read more: 39 Vietnamese found dead in lorry identified - ten teenagers among them
Other arrests and investigations
Another Northern Irishman Eamon Harrison (23), from Mayobridge, County Down has also been arrested on similar charges. He is currently in Northern Ireland and is fighting extradition orders to England where he will face these charges. 
Another eight people in Vietnam have been arrested in connection to the crime. 
Also, during the initial investigation an Irish couple Joanna and Thomas Maher, now living in Warrington in England, was arrested but have since been released. 
Police are still searching for County Armagh brothers Ronan Hughes (40), who also goes by the name Rowan, and his brother Christopher (34).
Read more: Family outrage as "one punch killer" Irishman gets just six months in US jail