British police have released the names of the 39 Vietnamese people, found dead in a lorry near London, among them were ten teenagers, two aged just 15.
The names of the 39 Vietnamese found dead in the back of a lorry in Grays, near London, have been released by the British police. The deceased, discovered on Oct 23, were made up of 31 males and eight women, including ten teenagers. Two were aged 15, another was 17, while the oldest among the dead was 44.
Police have said consultations have begun with Hanoi over the repatriation of the bodies. 
Assistant Chief Constable of Essex Police, Tim Smith, told RTÉ, "This was an incredibly important process and our team has been working hard to bring answers to worried families who fear their loved one may be among those whose tragic journey ended on our shores.
"It remained of paramount importance to us to ensure that an individual's next of kin were informed and that they were given some time to absorb this tragic news before we publicly confirmed their loved one's identity."
Her Majesty's Senior Coroner, Caroline Beasley-Murray said, "May I take this opportunity to offer my deepest condolences to the victims' families. My thoughts are with them at this unimaginably difficult time."
The cause of death of the 39 victims is yet to be disclosed. However, the Daily Mail reports that the container was air-tight.
The deceased were found in the back of a lorry not long after it arrived in Britain, at Purfleet port, Essex, from Zeebrugge, in Belgium. The contain had just arrived at Purfleet port but the truck is believed to have been driven from Ireland. 
Northern Irish and Vietnamese arrests
Eight people have been arrested in connection to this crime in Vietnam.
Two Irishmen, Mo Robinson (25), from Laurelvale in County Armagh and  Eamon Harrison (23), from Mayobridge, County Down were both drivers who transported the container in question. They have both been charged with 39 counts of manslaughter, conspiracy to traffic people, conspiracy to assist unlawful immigration and money laundering.
3
Also, an Irish couple Joanna and Thomas Maher, now living in Warrington in England, was arrested but have since been released. 
Police are still searching for County Armagh brothers Ronan Hughes (40), who also goes by the name Rowan, and his brother Christopher (34).
Read more: Ireland shamed by the death of 39 people, smuggling victims
"The poisoned coast"
The vast majority of the victims were from the poverty-stricken provinces of Nghe An and Ha Tinh, in Vietnam. These two coastal districts, on the Gulf of Tonkin between Vietnam and China, were once considered one of the world's richest fishing grounds.
However, three years ago a toxic spill destroyed stocks. The incident earned the area the nickname of "the poisoned coast." 
People traffickers charge up to £30,000 per person for those seeking a better life to be smuggled abroad.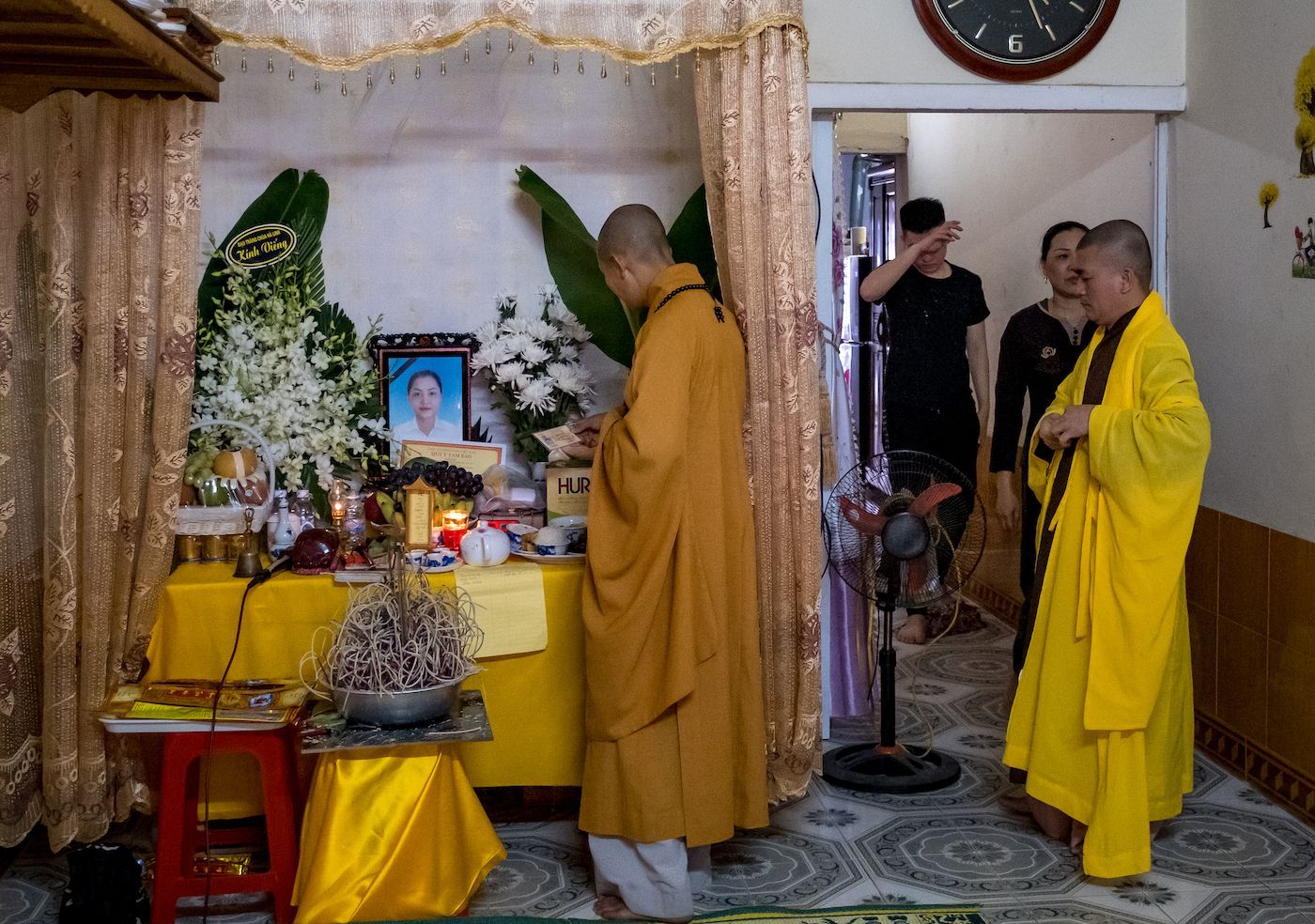 3
Here is a full list of the 39 victims discovered on Oct 23: 
Pham Thi Tra My, a 26-year-old woman from Ha Tinh
Nguyen Dinh Lurong, a 20-year-old man from Ha Tinh
Nguyen Huy Phong, a 35-year-old man from Ha Tinh
Vo Nhan Du, a 19-year-old man from Ha Tinh
Tran Manh Hung, a 37-year-old man from Ha Tinh
Tran Khanh Tho, an 18-year-old man from Ha Tinh
Vo Van Linh, a 25-year-old man from Ha Tinh
Nguyen Van Nhan, a 33-year-old man from Ha Tinh
Bui Phan Thang, a 37-year-old man from Ha Tinh
Nguyen Huy Hung, a 15-year-old boy from Ha Tinh
Tran Thi Tho, a 21-year-old woman from Nghe An
Bui Thi Nhung, a 19-year-old woman from Nghe An
Vo Ngoc Nam, a 28-year-old man from Nghe An
Nguyen Dinh Tu, a 26-year-old man from Nghe An
Le Van Ha, a 30-year-old man from Nghe An
Tran Thi Ngoc, a 19-year-old woman from Nghe An
Nguyen Van Hung, a 33-year-old man from Nghe An
Hoang Van Tiep, an 18-year-old man from Nghe An
Cao Tien Dung, a 37-year-old man from Nghe An
Cao Huy Thanh, a 33-year-old man from Nghe An
Tran Thi Mai Nhung, an 18-year-old woman from Nghe An
Nguyen Minh Quang, a 20-year-old man from Nghe An
Le Trong Thanh, a 44-year-old man from Dien Chau
Pham Thi Ngoc Oanh, a 28-year-old woman from Nghe An
Hoang Van Hoi, a 24-year-old man from Nghe An
Nguyen Tho Tuan, a 25-year-old man from Nghe An
Dang Huu Tuyen, a 22-year-old man from Nghe An
Nguyen Trong Thai, a 26-year-old man from Nghe An
Nguyen Van Hiep, a 24-year-old man from Nghe An
Nguyen Thi Van, a 35-year-old woman from Nghe An
Tran Hai Loc, a 35-year-old man from Nghe An
Duong Minh Tuan, a 27-year-old man from Quang Binh
Nguyen Ngoc Ha, a 32-year-old man from Quang Binh
Nguyen Tien Dung, a 33-year-old man from Quang, Binh
Phan Thi Thanh, a 41-year-old woman from Hai Phong
Nguyen Ba Vu Hung, a 34-year-old man from Thua Tien Hue
Dinh Dinh Thai Quyen, an 18-year-old man from Hai Phong
Tran Ngoc Hieu, a 17-year-old boy from Hai Duong
Dinh Dinh Binh, a 15-year-old boy from Hai Phong
Read more: Irishman released without charge after 15 people found in lorry in England