The beautiful face of Vietnamese 26-year-old who died in a people-smuggling truck is seared into our minds, as Irish among those arrested for this unthinkable crime.
It's an image that's impossible to get out of your mind.  A beautiful, innocent, young woman trapped in a sealed truck trailer with 38 other migrants who knows she is about to die.  Yet she finds the strength and composure to text her family back in Vietnam to apologize and say goodbye. 
"I'm sorry Mum. My journey abroad hasn't succeeded. Mum, I love you so much!  I'm dying because I can't breathe...I am sorry, Mum," Pham Thi Tra My wrote.
Pham was just 26 and from a poor area in central Vietnam.  Her family had agreed to pay a reported £30,000 to smugglers to get her to the U.K.  
Pham Thi Tra My, 26, has not been heard from since she sent messages on Tuesday in which she said she could not breathe. pic.twitter.com/cU39bJotSC

— June Dey (@JuneDey1) October 26, 2019
Now she was dying in the back of a refrigerated trailer, like the others who were trapped with her in the final, deadly part of their travels.
Investigating 39 deaths
We don't know whether they died of hypothermia or lack of oxygen or both.  Nor do we know whether they died before or during the short sea crossing from Belgium, or in the brief time that the trailer was on British soil before it was opened at an industrial park near London.
The details of this appalling story are still unfolding as police work to uncover the extent of the people-smuggling operation and who was involved. But we know that it had strong Irish links, something that has shamed us as a nation because the story has made headlines around the world because of Pham Thi Tra's heart-breaking farewell message to her mother.
At the time of writing, five people have been arrested, all of them Irish, four in the U.K. and one in Ireland.  The truck driver, Maurice "Mo" Robinson, has been charged with manslaughter and people smuggling, one is still being questioned and three others have been questioned and released on bail.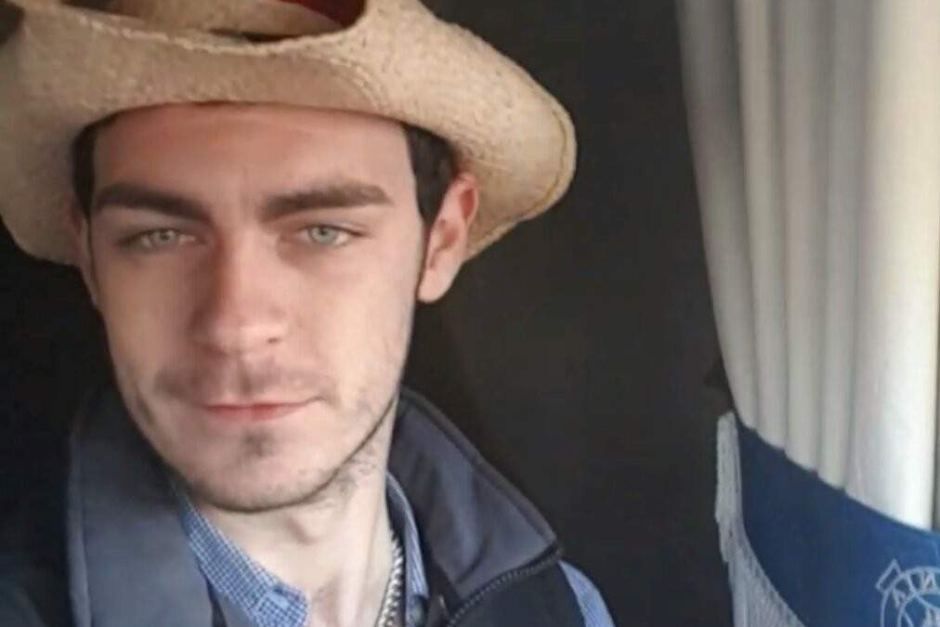 3
Major developments in this evolving investigation in several countries are expected this week.  Because of the Irish connection, some of the U.K. media immediately jumped to the conclusion that it was an operation by republican criminals. But it's too early to say exactly who was involved and to what extent.
That said, it's striking that both the trailer and the two trucks which moved it have connections near the Irish border, where republican paramilitary criminality is common.
The trailer was rented from a haulage company in Monaghan on the south side of the border to another company close to the border. Robinson, the driver of the truck that picked up the trailer when it arrived in the U.K., is in his twenties and is from Northern Ireland.  So also is the man arrested at Dublin Port who is suspected of driving another truck that brought the trailer to the port at Zeebrugge in Belgium where it was loaded on the ferry.
The truck driven by Robinson, which is registered in Bulgaria, was owned previously by an Irish couple who live in England.  They were among the five arrested last week, although they have since been released and say they sold the truck to a company in Ireland a year ago.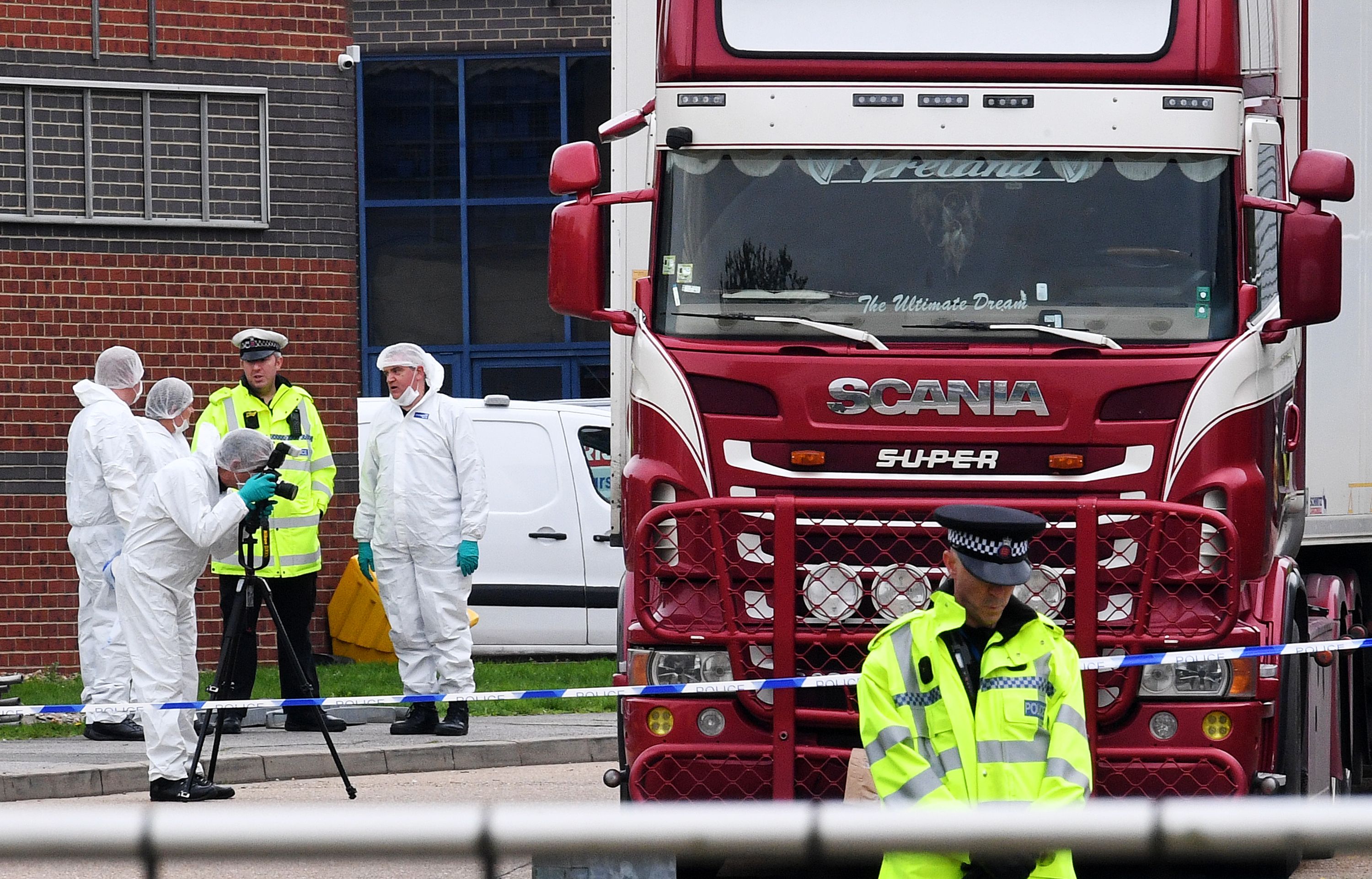 3
The truck being driven by the man suspected of bringing the trailer to the ferry at Zeebrugge is also linked to an Irish company. It was seized when the driver arrived back at Dublin Port and was arrested.  He had spent several days in France and Belgium and got rid of his phone before coming back.
Irish criminal paramilitaries
All of this points to a strong Irish element in this smuggling tragedy, although criminals from other countries must have been involved in the earlier parts of the journey from Asia by the 39 people who died in the trailer. Nor is Irish involvement a complete surprise, since people smuggling is now more profitable than drug smuggling.
There have been claims in the past few years that criminal paramilitaries in the border area here have got involved, using shipping containers loaded on to trailers behind trucks.  Just over a week ago, for example, two groups of young Africans were found in Belfast who said they had been smuggled into the North in a trailer containing up to 50 people.
What is most sickening about this tragedy is the apparent lack of any compassion for the migrants being smuggled, coupled with the incompetence of the criminals involved.   That fits with the record of the paramilitaries on both sides during the years of bloody mayhem in Northern Ireland, when so many innocent people were maimed and killed.
Some of the former gunmen have continued with their "fundraising" activities despite the peace settlement bringing the conflict in the North to an end.  It's made worse by their continuing disdain for policing and law and order, something that is most common close to the border but is also evident in other parts of the North, particularly in Belfast and Derry where they still exert control in their respective areas through intimidation and outright violence.
Two weeks ago just outside Belfast, for example, a man was shot in both legs "by appointment" by loyalist thugs in what was reported to be a dispute over drugs money. He turned up for his punishment because failure to do so would probably have led to him being murdered. And of course, there is a long history of this kind of behavior by republicans as well who were the specialists in knee-cappings.
It still continues on both sides, with protection rackets, extortion, and beatings for anyone who attempts to stand up to the former paramilitaries, most of whom are now no different than ordinary criminals despite still wrapping themselves in a Tricolour or Union Jack when it suits them.
We don't know yet whether there was a paramilitary element in this smuggling operation, and if so whether it was republicans or loyalists who were involved.
Or whether it was individuals from both sides combined with ordinary criminals.
What seems too much of a coincidence is that the various strands of the investigation all point towards the border area where smuggling has been rife over many years.
It used to be a local business involving cattle, pigs, fuel, food, alcohol and other items moved between north and south depending on changing tax and duty differences.  The gangs involved then developed international links and tobacco and drugs became the most lucrative money-spinners—the area in Bulgaria where the truck in this tragedy was registered is a well-known hub for the illicit cigarette trade.
The big money these days, as we said, is in people smuggling.  So it's not much of a stretch to imagine Irish smuggling gangs wanting a piece of the huge amounts of money that are being made in bringing people into the U.K.
The Criminal Assets Bureau (CAB) here is reported to have been looking recently at the unexplained wealth of members of a particular smuggling gang near the border, although it is unclear whether they are the same individuals involved in this tragedy.
Because people are terrified of giving information or evidence against criminals with a paramilitary background, using the CAB to confiscate their unexplained wealth is often the only way of getting at them.
Initially, it was thought that most of the 39 people who died in this tragedy were Chinese.  Now, despite the difficulties involved in the identification, it seems clear that most were from one area in Central Vietnam.  Reports from there have claimed that there were three trucks involved in the last leg of the operation, so it is possible that two containers with people inside got through undetected.
This would fit with what migration experts have been saying for some time—that all the focus on migrants from Africa and the Middle East coming across the Mediterranean has taken attention away from the big numbers coming from Asia, who are being smuggled into Europe, with many of them aiming for the U.K.
That anyone here should be involved in this horrific business is a scandal.  If suspicions are proved to be correct and there was a paramilitary element to this, it will be seen as another part of the legacy of The Troubles that still lingers here.
It's a legacy of groups of individuals who believe they have a right to easy money, who disregard the law, who have a cavalier attitude to the suffering they may cause others and who still believe they are justified in doing whatever they want because of their cause, even if that cause is now irrelevant.