Like so many travellers around the world today, I find myself gravitating towards off-the-beaten-track destinations where I can recharge, restore and reconnect with nature. And where better to clear the proverbial cobwebs - and escape overwhelming news cycles - than County Carlow?
Throughout my recent visit, I discover a rich and verdant destination bursting with a storied past that even predates written Irish history. 
Over the years, etymologists have suggested different explanations for the meaning of the county's Gaelic name, Ceatharlach - ranging from 'city or ford on a lake' to 'four lakes' to the most widely accepted, 'place of cattle'. It's easy to see why these various interpretations refer to either the physical landscape or her four-legged inhabitants - no matter where I go, I'm surrounded by invigorating and calming vistas.
Not to confuse matters, but Carlow also boasts a nickname - the Dolmen County, a tip of the hat to the magnificent Brownshill Dolmen located three kilometres outside of its principal town, Carlow.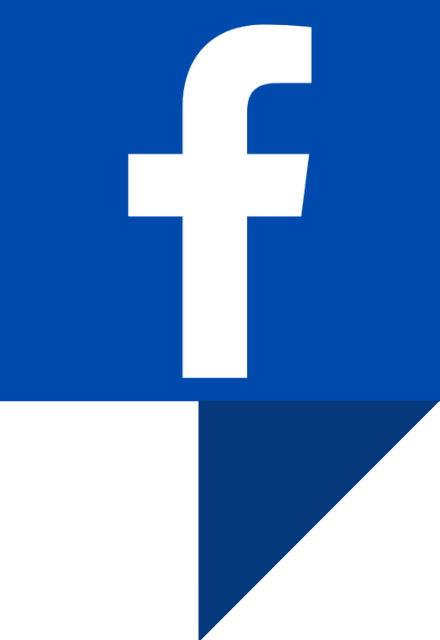 Traveling to Ireland
Are you planning a vacation in Ireland? Looking for advice or want to share some great memories? Join our Irish travel Facebook group.
Encircled by rolling meadows and constructed between 4,900 and 5,500 years ago, this megalithic tomb perfectly illustrates the county's incredible lifespan and serves as a tangible link between past and present. The dolmen, listed as a national monument, is thought to have been a site where religious rites - and possibly even human sacrifices - were performed. It also claims the heaviest capstone in Europe, weighing an impressive 103 tonnes.
Fittingly, one of my meals during this trip comes courtesy of the four-star Woodford Dolmen Hotel - their delicious food stands me in good stead as I later ramble about the eerie but majestic ruin, Duckett's Grove. Sadly destroyed by a fire in 1933, this sprawling Georgian country estate now provides the public with beautiful grounds to explore - including two restored walled gardens.
Once the family home of affluent landowners, the Duckett family - today, the only residents are thought to be ghosts! Syfy's paranormal television series Destination Truth even reported strange figures and noises from one of the castle towers!
Ill-prepared to take my chances with banshees and roaming spirits, I instead visit the brilliantly curated Carlow County Museum in the heart of the bustling Carlow town. The exceptionally well-informed curator, Dermot Mulligan, tells me that the museum - housed in the former Presentation Convent and a part of the town's cultural quarter - aims to preserve and celebrate the county's heritage in a judicious and authentic manner.
Made for trade
Here, I continue learning about the breadth of Carlow's history - I discover a 340- million-year-old fossil, an Iron Age glass bead and the county's first ring brooch.
"The Barrow, Ireland's second-longest river, flows through the region, and it was once like a motorway!" Dermot mentions when describing the initial growth of this landlocked county. 
The Normans founded the modern town of Carlow in 1207 to guard this vital river crossing - it was even the administrative capital of Ireland for a period during the 14th century. The ruin of Carlow Castle, once the centrepiece of this medieval dwelling, continues to loom large over the town. 
The museum's highlight is undoubtedly the hand-carved, 19th-century church pulpit, re-homed in the museum when the adjacent Cathedral of the Assumption received a refurbishment. Dermot explains that the pulpit is made from oak, and the multiple carvings are a Who's Who of famous saints, including Patrick, Brigid, Laserian, Conleth and Paul. 
The museum also honours the county's links to the 1916 Rising - notably Peadar Lamb's stunning stained-glass panel. 
"The panel documents our journey to freedom and independence," Dermot explains. "It is imbued with local symbols and figures - including Nurse Margaret Kehoe from Leighlinbridge, who was killed on Easter Monday."
Also on display is the stub of 18-year-old Kevin Barry's final cigarette before his execution in 1920 for his role in the Irish War of Independence. Elsewhere, there are tributes to local scientist John Tyndall, who investigated the reason for the sky being blue and is credited with developing theories related to the Greenhouse Effect. A 'sweet' exhibition is dedicated to the former Carlow Sugar Factory, the first in Ireland, which opened in 1926. 
Other locals celebrated here include Oscar-nominee Saoirse Ronan and the families of Walt Disney, G.B. Shaw and Irish dancer Michael Flatley. En route to my next stop, I hear a story about nimble footwork that would surely amuse the Riverdance star. 
Hopping mad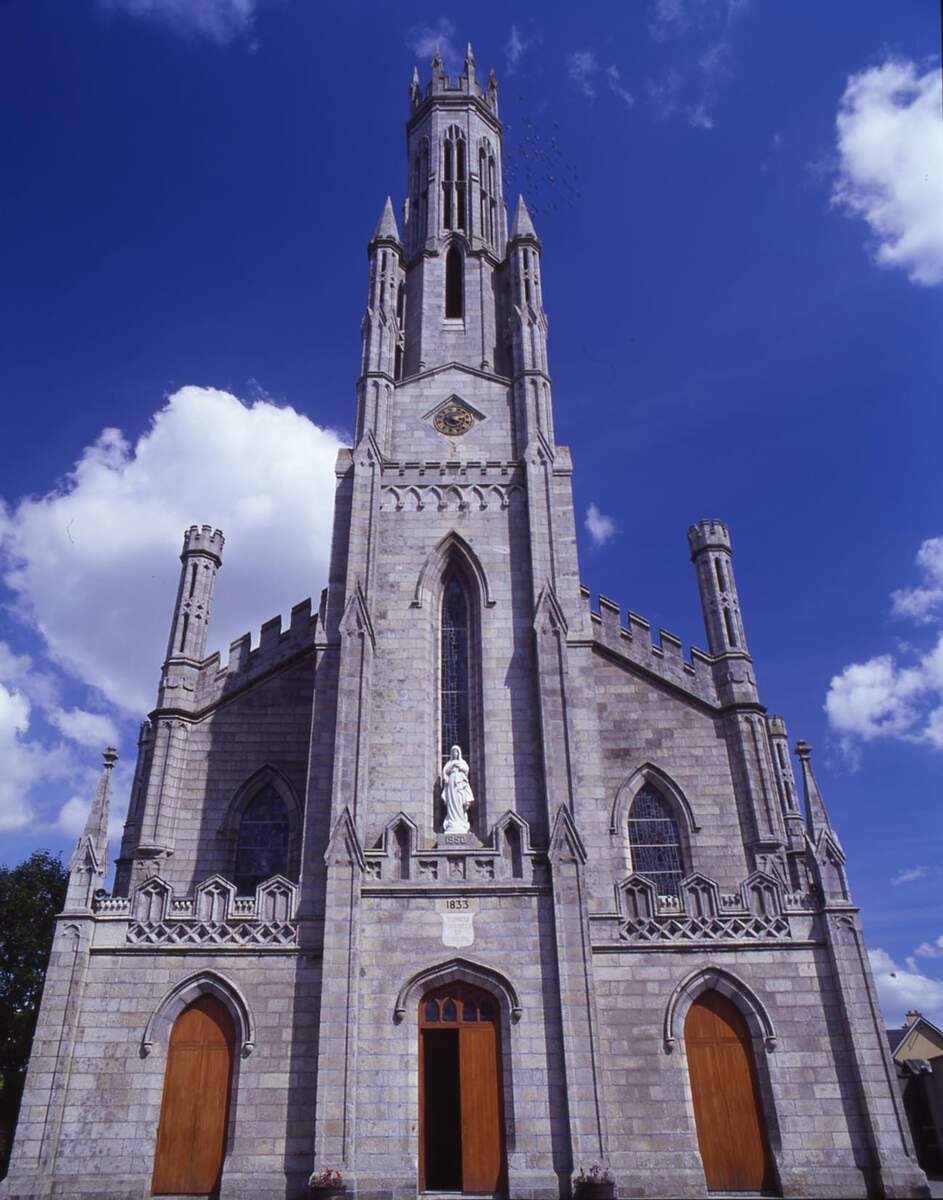 5
County Carlow has a rich ecclesiastical heritage thanks to its many monastic and religious sites, holy wells, high crosses, romanesque doorways and historic churches - along with the cathedral where you might see people jumping from foot to foot outside. But don't think they're 'hopping' mad! 
At least 22 saints are associated with County Carlow, including Saint Willibrord, Patron Saint of Luxembourg and First Apostle of the Netherlands, who trained here between 678AD to 690AD. Each year, a unique hopping procession honours him, and while it takes place in Luxembourg - in 2017, enthusiastic locals hopped outside this cathedral in tribute to the Carlow-trained saint!
(Philographers will also delight in learning that Saint Willibrord's handwriting - thought to be the oldest datable signature of an English person - is on display in the county museum.)
Down to a fine art
Nearby the cathedral are two buildings with contrasting timelines. The first is Carlow College, Saint Patrick's, Ireland's second-oldest university-level institution and one-time seminary. The other is Visual, the stunning arts centre launched amidst much fanfare in 2009. 
"Visual was built during the recession, meaning that we needed lots of ambition and drive to create something of this scale," the delightful CEO and Artistic Director Emma-Lucy O'Brien says of the futuristic space, which includes five galleries and a 330-seat theatre. 
Designed by renowned architect Terry Pawson, it's the largest multi-disciplinary arts facility in the country. "Carlow is very proud of Visual - it's a key piece of infrastructure in the art world."
As we explore one of the exhibitions - Ursula Burke's Supplicants - Emma-Lucy explains that Visual's programme is varied.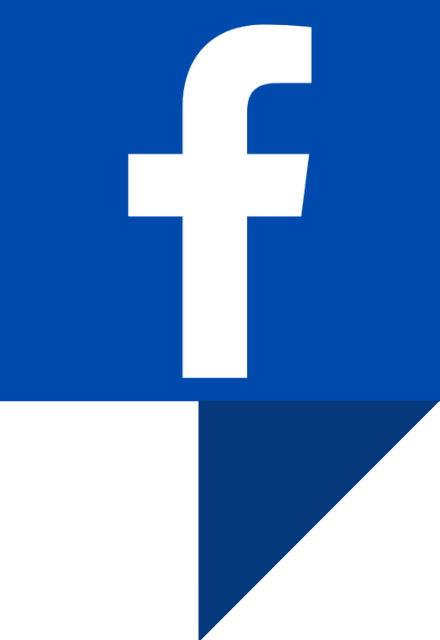 Traveling to Ireland
Are you planning a vacation in Ireland? Looking for advice or want to share some great memories? Join our Irish travel Facebook group.
"Our focus is to work with artists over two years to build shows. We take risks and try things out."
Despite its relatively short lifespan, Emma-Lucy proudly reveals that their international reputation continues to grow - fuelled by a fierce ambition from the community, including second and third-level students.
Emma-Lucy adds: "In cities, life can be transient - here, I feel people are more invested in their local communities."
A step back in time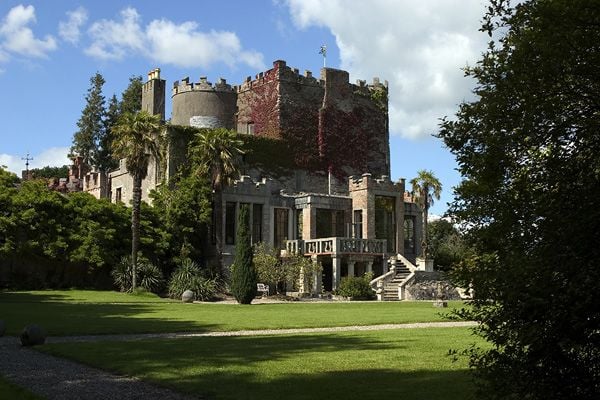 5
After some delicious refuelling in the effortlessly chic Lennons@Visual, I arrive at my accommodation, Huntington Castle. 
Located in the picturesque village of Clonegal, this property started as a garrison on the strategically important Wexford to Dublin route. In the 17th century, Lord Esmonde converted it into a family home, and today, its current custodian is descendant Alex Durdin Robertson and his wife, Clare.
  While I'm staying in one of the estate's cosy, picture-perfect lodges, Alex gives me a tour of the castle - the ideal spot for fans of Downton Abbey as stepping over the threshold is stepping back in time. Most unusual is the basement's Temple of the Goddess, founded by his late relatives in the 1970s to celebrate the divine feminine.
"What was it like growing up here?" I ask Alex as he guides me through the many rooms, which showcase a cornucopia of tapestries, original furniture and infantry armour. 
"The funny thing is, I just wanted to do like all boys do and play outside with my friends!" he jokes.
Taking that as a cue, we venture out into the showstopping gardens, and it's easy to see why someone - young or old - would while away the hours larking about here.
"We welcome many multi-generation families whose ages span from six to the late 80s," Alex says, adding that because of their heritage, gardens and reasonably priced rooms, "we've proven to be very family-friendly."
Discussing his favourite spot, Alex pinpoints the yew-tree walk outside - "When it comes to length, age and layout, it's the best in the world!"
These grounds double as a farm - in addition to majestic peacocks guarding the courtyard, I spot chickens and sheep feasting on the lush landscape. Huntington Castle also serves as the perfect base to explore some of Ireland's most beautiful hidden gems. 
The jewel in Ireland's gardening crown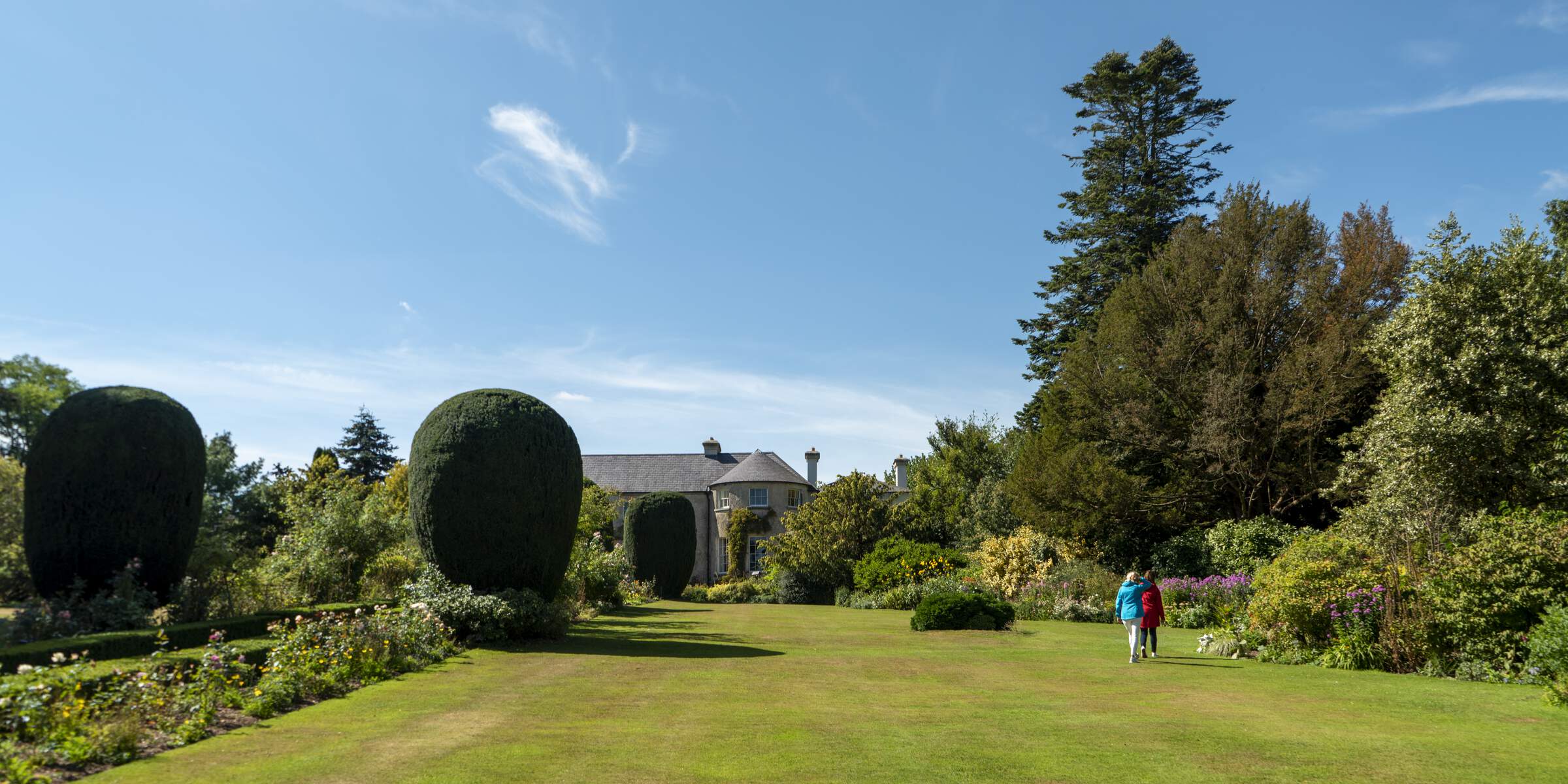 5
The following morning, after devouring a breakfast comprising of locally sourced produce - including Coolanowle Farm Apple Juice, Butler's Organic Eggs and Coolattin Cheddar - I receive further opportunities to immerse myself in the county's nature. First up, Altamont Gardens.
Covering 16 hectares, this botanical wonderland is laid out in the style of William Robinson - which I'm told by my guide Peter Walsh, promotes "honest simplicity". 
"There's a quiet beauty in County Carlow, and there's a special atmosphere here in Altamont Gardens," he explains, showing me some of the highlights - including the lawns and sculpted yews that slope down to a lake framed by rare trees and rhododendrons. 
"​Every season, there's a different colour, a different experience," Peter says. "There's a snowdrops festival in February, and if you visit in summer, you'll love the roses and herbaceous plants."
The house's origins are unclear - it was likely a convent during the 16th century. While it's not open to the public, the property's final owners - ​Fielding Lecky Watson and his daughter, Corona - appear to have been just as colourful as the garden's rare azaleas!
According to Peter: "​Fielding bought the house in the early 1920s. He was passionate about horticulture and sourced plants and flowers from all over the world. He named one of his daughters Corona after his favourite plant - well, it was his favourite that week, at least. 
"Corona was lucky that his favourite at the time of her birth wasn't Bagshot Ruby!"
After his death, Corona continued her father's legacy and lovingly cared for the gardens until her death in 1999. At her request, the house and gardens were left to the State.
Heavenly memorials
5
I admire the magical hiker-friendly Blackstairs Mountains while travelling to my next stop - the Lord Bagenal Inn, a newly renovated, four-star hotel in the riverside town of Leighlinbridge. Popular with anglers, walkers and those, like me, in need of some nourishment, this family-run establishment is undoubtedly deserving of its lofty name!
The final stop in my itinerary is also worthy of much praise - the charming village of Myshall, where my breath is taken away by the Adelaide Memorial Church, one of Ireland's best-kept secrets. Complete with an ornate tower and spire, its design was inspired by England's famous Salisbury Cathedral
However, the beautiful early Gothic architecture, carved-oak pews, mosaics, marble floors and stained-glass windows belie its tragic history. Following the death of his daughter in a horse-riding accident in a nearby field, wealthy wine merchant John Duguid commissioned its construction in her honour - and the memory of his late wife, Adelaide. 
Leaving Myshall, I reflect on the county's eclectic past and exciting future and am reminded of the Irish folk song, "Follow Me Up to Carlow". I can't think of better advice for those wanting to escape the hustle and bustle of urban life! 
For more information, visit carlowtourism.com.
*This article was originally published in Ireland of the Welcomes, IrishCentral's sister publication.