The former West Cork home of legendary Irish actress Maureen O'Hara has been sold for around €2.8 million ($3.08 million). 
Maureen O'Hara owned Waterfronting Lugdine Park at Glengarriff, County Cork, for 45 years after falling for the property in 1970 with her third husband Charles Blair. 
Blair reportedly loved the property because he could land his seaplane beside it. He later died in a plane crash in 1978.
O'Hara continued to use the five-bedroom home as a holiday home after her husband's death and moved there full-time in 2005. 
O'Hara decided to sell the property in 2014 so that she could live with her grandson in Idaho. The property sold in September 2015 for €1.6 million ($1.8 million). O'Hara died the following month at the age of 97. 
Announcing her decision to sell the property, the legendary Irish actress described Glengarriff as a "lovely village filled with wonderful people who are so proud of this magical piece of heaven". 
"I have so many happy memories of Lugdine Park. I will cherish them my whole life and so with a smile, I pass the home on to a lucky family who will love her as much as I do. They have the most wonderful neighbors a person can hope for in Glengarriff," O'Hara told the Irish Times in 2014. 
Built in the early 1900s, the 3,700 sq ft dormer property sits on a 35-acre site and features a private bathing beach, two private islands, and over 30 "ladies' walks". 
The UK-based owners of Ludgine Park put the property up for sale in 2021 with an asking price of €3.8 million through agents Charles P McCarthy and have now sold the property for roughly €2.8 million, well over €1 million more than they bought it for in 2015. 
The property's new owner has not been disclosed but also lives overseas, according to the  Irish Examiner. 
Maureen O'Hara's life in Cork
Maureen O'Hara was born in Dublin in 1920, but her family moved to the United States when she was a child. She went on to become a famous actress, starring in films such as "The Quiet Man," "How Green Was My Valley," and "Miracle on 34th Street." O'Hara won numerous awards throughout her career, including an honorary Academy Award in 2014 for her contributions to the film industry.
Despite her success in Hollywood, Maureen O'Hara never forgot her Irish roots. She had a deep love for Ireland and visited frequently throughout her life. In 1968, she decided to move permanently to Ireland and purchased a home in the village of Glengarriff.
The house, named Lugdine Park, was situated on 35 acres of land overlooking Bantry Bay. The property featured a large main house, as well as several cottages, a tennis court, and a boathouse. The house was decorated in a traditional Irish style, with antiques and family heirlooms adorning the rooms.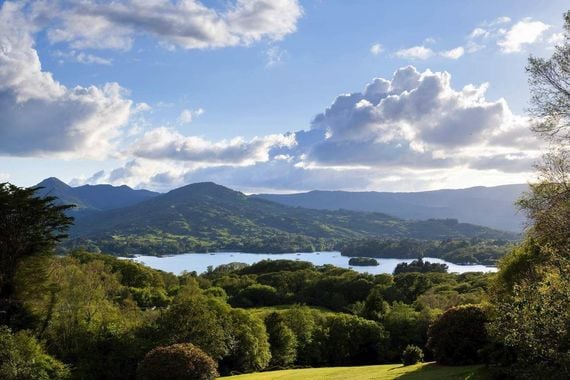 2
Maureen O'Hara spent many happy years in Lugdine Park. She was an active member of the local community and could often be found attending events and supporting local charities. She also enjoyed spending time outdoors, exploring the beautiful countryside around Glengarriff.
Despite her fame, Maureen O'Hara was known for being approachable and down-to-earth. She was beloved by the people of Glengarriff, who saw her as a true friend and neighbor.
Maureen O'Hara passed away in 2015 at the age of 95. Her legacy lives on, both in her films and in her contributions to the community of Glengarriff. Lugdine Park remains a beloved landmark in the village, and her memory is cherished by all who knew her.