Dublin's Guinness Storehouse is the perfect place to toast with a pint this St Patrick's Festival.
Celebrate the best of Irish music, art, food, beer and entertainment at the world's leading beer tour visitor experience. 
From March 16-19, the Home of Guinness will welcome visitors from near and far to experience mini-Guinness Gaeltachts, sample a complimentary pint of Guinness 0.0, enjoy top Irish musical talent at The Fáilte Inn and The Liberties Stage, and taste new and exclusive recipes including Guinness Brown Bread and Barley Gelato.
From the outside in, the Home of Guinness is full of surprises this St. Patrick's Festival from Dublin artist Cyan bringing some color to the Liberties streets to Parkour performer Glenn McMahon popping up outside to the backdrop of live music and entertainment, building anticipation on approach to the famous black gates.  
Inside the seven-story building, visitors will be immersed in the wonderful world of Guinness and celebrate the best of Irish culture together. New additions for the festival include The Fáilte Inn where guests can get a beautiful pint of Guinness, sample a complimentary Guinness 0.0, and enjoy a jam-packed entertainment roster, including performances from Irish artists CEOL and The Harley's, among many others.
The room will also see Guinness history brought to life with artworks from the Guinness Archive reimagined by DesignOpp founder and illustrator Grace Enemaku.
In collaboration with Black & Irish, a collective celebrating the identity of black and mixed-race Irish people, the Home of Guinness will also host a series of pop-up Guinness Gaeltachts teaching guests a cúpla focail and some classic Irish songs, led by Black & Irish Gaeilgeoir Ola Majekodunmi.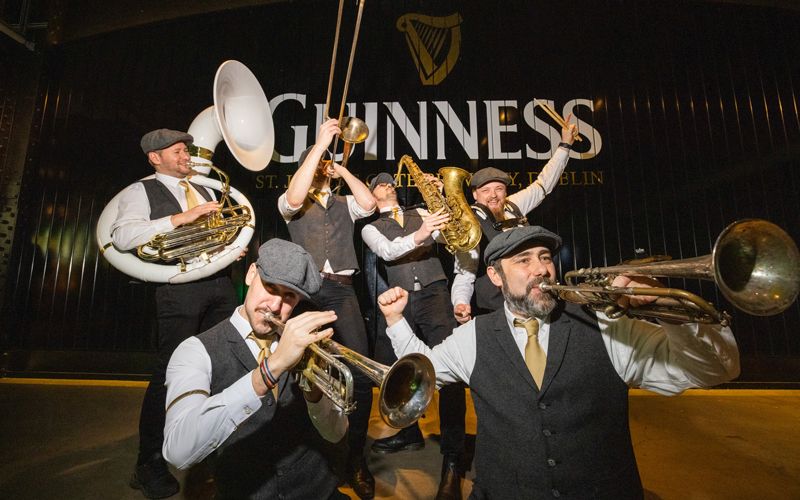 2
Moving up to Food on Five, sitting alongside traditional Irish foods and signature Oyster and Guinness pairings will be new offerings including a Guinness Brown Bread and Barley Gelato made in collaboration with award-winning Wexford business Scúp. Ever conscious of minimizing food waste, this innovation sees Scúp use the wastage from the Storehouses' Guinness brown bread to create a delicious, creamy, and unique dessert.
Arthur's Bar will be home to The Liberties Stage, a program of live modern trad inspired by the traditional music of the local area. Performing on The Liberties stage over the four days will be Ian Drew & Eoghan Scott and Mega Trad, among many others.
Of course, no trip to the Home of Guinness would be complete without a visit to Gravity Bar to take in the sights and sounds of Dublin City on Ireland's favourite bank holiday weekend. Live DJs, including Cat Irvine and DJ Dandelion, will set the backdrop to the 360-degree views of the Wicklow mountains, Phoenix Park, and Howth Head. 
All this, and much much more, is included in the ticket price which also entitles every ticket holder to a complimentary pint of Guinness or Guinness 0.0 (over 18s only) or a non-alcoholic drink. 
The Guinness Storehouse and Guinness Ireland are encouraging all festival-goers to drink in moderation and Make it a St. Patrick's Day to Remember and all visitors opting for the STOUTie and/or Guinness Academy Experiences will receive an additional complimentary Guinness 0.0 at the Fáilte Inn. 
For those in search of somewhere to watch the Ireland v England Six Nations game on Saturday, March 18, the Guinness Open Gate Brewery is just meters away and is showing the showdown on a big screen while serving new experimental brews and delicious food accompaniments.
To book your tickets, for more information and terms and conditions, visit the Guinness Storehouse website at www.guinness-storehouse.com.