The St. Brigid's Day live event on Saturday, January 21, presented by the Ladies Ancient Order of Hibernians and HerStory, will introduce the real Brigid and why she is a role model for modern women today.
For the live St. Brigid's Day event, Herstory Poet in Residence Laura Murphy will perform her poem "Is Mise Bríd," Herstory board member Treacy O'Connor will lead a beautiful mediation, and Herstory Founder and CEO Melanie Lynch will share a slideshow of the spectacular Herstory light shows. 
The special St. Brigid event will be live-streamed on the IrishCentral Facebook page on Saturday, January 21 at 11 am EST / 4 pm Irish time.
You can register for the St Brigid's event over on EventBrite, and make sure to RSVP to our Facebook event page here!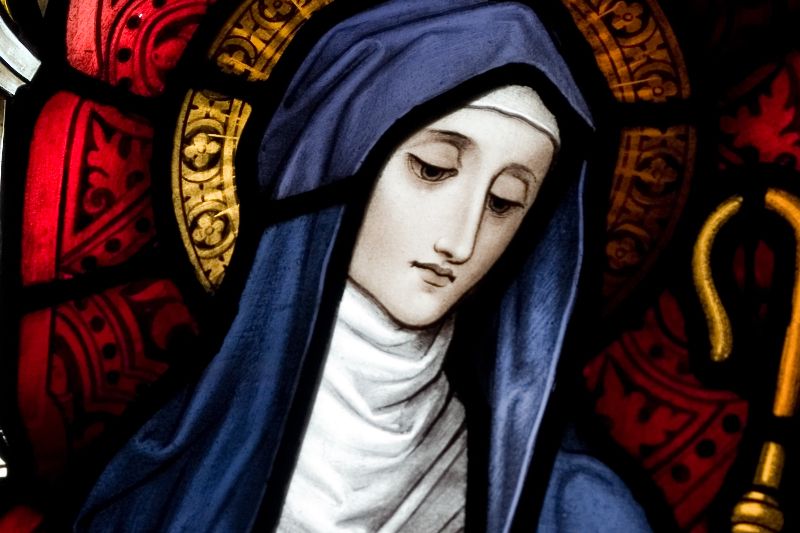 2
About the Ladies Ancient Order of Hibernians
The Ladies Ancient Order of Hibernians (LAOH) has been celebrating St. Brigid's Day for over 128 years. Along with the Celebration of St. Brigid's Day, the LAOH has a mission of promoting Irish history. During the Decade of Centennials, the LAOH focused on the Role of Women in the Easter Rising.
The LAOH congratulates Herstory on the successful campaign to make St. Brigid's Day Ireland's new national holiday and highlighting women in the study of Irish history.
To learn more about the Ladies Ancient Order of Hibernians, the largest Irish Catholic women's organization in America, visit its website.
About HerStory
Founded in 2016, the Herstory movement tells the stories of modern, historic, and mythic women. Its mission is to give the public authentic female role models and a game-changing education program, inspiring countries around the world to start their own Herstory movements.
Since 2017, the annual Herstory Light Show lights up iconic landmarks and sacred sites in honor of women to mark Brigid's Day. In 2018, Herstory initiated and co-produced Blazing a Trail for the Department of Foreign Affairs – it is the first women's exhibition to tour the Irish Embassy network worldwide.
In 2020, Herstory partnered with RTÉ, Underground Films, EPIC The Irish Emigration Museum, and the BAI for Herstory on RTÉ - the first comprehensive women's storytelling platform on RTÉ - featuring a major documentary TV series, animation series, podcasts, school workshops, and microsite.
In 2021, HerStory successfully spearheaded the campaign to make Brigid's Day Ireland's new public holiday. 
Sweet victory for all Mná! #BrigidsDay is Ireland's new annual national holiday from 2023. Finally we have a day in celebration of all women, our Celtic Goddess, Matron Saint & #Imbolc, ancient festival of Spring. #Herstory is brewing some spectacular mischief, Brigid style🌟⚡🔥 https://t.co/Y4XCHEb3HE

— HerstoryIreland (@HerstoryIreland) December 3, 2021
This year, Herstory is extending an invite to artists in the Irish diaspora to participate in an Open Call and create art for the 2023 Herstory Light Festival. You can create an artwork that explores Brigid - woman, goddess, and saint - or a modern woman who embodies her qualities: Environmentalist, Feminist, LGBTQ+ Icon, Healer, Pioneer, Human Rights Activist, Goddess of the Arts, Alchemist, and Wisdom Weaver. 
Discover the real Brigid and explore novel ideas on how you can celebrate our new herstoric holiday. The Herstory program for Brigid's Day 2023 will be unveiled in the coming days. 
"Brigid is the bridge, crossing the threshold from Goddess to Saint, Celtic to Christian, North and South, winter and spring, water and fire, masculine and feminine, ancient and modern." — Treacy O' Connor
You can learn more about HerStory on its website.