31.5 million US residents claimed Irish ancestry in 2021, according to the US Census Bureau and its 2021 American Community Survey 1-year estimates.
That means 9.5% of US residents claimed Irish ancestry in 2021, the latest figures available.
The 2021 figure represents a rebound from the 2019 figures which showed that 30.4 million US residents, or 9.2% of residents, claim Irish ancestry.
The 2019 figure was a significant dip from 2018 when 32 million, or 9.9%, claimed Irish ancestry, according to the 2014-2018 American Community Survey.
Ahead of Irish American Heritage Month 2023, the United States Census Bureau shared other fascinating data that highlights the Irish American population.
For instance, 118,539 foreign-born US residents reported Ireland as their birthplace in 2021. This was an increase from 2019's figure of 111,886 - and is more than three times the most recent population figure of Co Leitrim!
Meanwhile, Cook County in Illinois - home to Chicago - lays claim to the county with the largest Irish American population - 431,436 claimed Irish ancestry in 2021, a decrease from 2019's figure of 438,350.
Despite some fluctuation in the size of its population, as well as being generationally removed from Ireland, Irish Americans continue to hold close to their Irish roots, as evidenced in a recent survey commissioned by NYU's Glucksman Ireland House.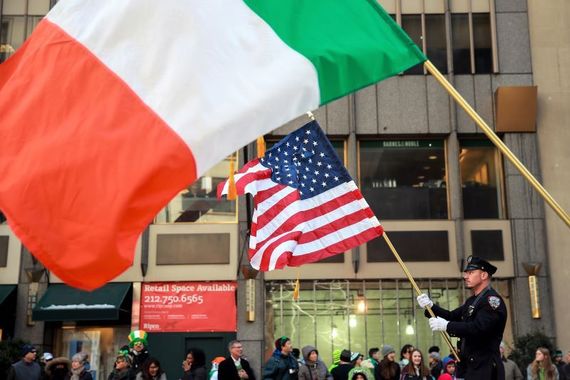 2
Irish pride is sure to be on display this St. Patrick's Day as well as for the rest of March, which was first designated as Irish American Heritage Month by US Congress in 1991; each President has issued a proclamation commemorating the occasion every year since.
In his proclamation this year, President Joe Biden, who regularly touts his own Irish roots, said in part: "Ireland and the United States are forever bound together by our people and our passion. Everything between us runs deep."