Ireland's Great Hunger Bord, an outgrowth of the Save Ireland's Great Hunger Museum group which is dedicated to preserving the content of Quinnipiac University's Ireland's Great Hunger Museum, is appealing to US President Joe Biden for his support.
In an open letter published on April 12, Ireland's Great Hunger Bord Directors detail the importance of Ireland's Great Hunger Museum and its efforts to preserve the collection.
Ireland's Great Hunger Bord open letter to US President Joe Biden:
Dear President Biden,
We know you care deeply about Northern Ireland as evidenced by your long personal history as a Senator supporting peace and prosperity there.
The narrative of the last 25 years has been the Peace Process and the Troubles of Northern Ireland, while the narrative of the last 175 years has been that of the Great Irish Famine, a story that also connects to your family.
The tragic account of Ireland's Great Hunger was transformed into hope and survival by the lives lived by two million Irish immigrants and their descendants on America. What initially began as a tragedy became today's story of hope, survival, and resilience.
The Great Famine of 1845-52 is a significant event in the history of the Irish diaspora, much like the Holocaust is to the Jewish community and "the Middle Passage" is to African Americans. It has shaped our individual and collective commitment towards working for social and economic justice for all.
As a descendant of Famine immigrants, specifically the Blewitts and the Finnegans, we look to you and your Administration to help safeguard the story of Ireland's Great Hunger. This sacred history has shaped the character of America and deserves no better custodian than you, the second Catholic U.S. President since John F. Kennedy to be descended from Famine immigrants.
In October 2012, Quinnipiac University in Hamden, Connecticut, opened the doors to a museum dedicated to commemorating Ireland's Great Hunger, An Gorta Mór. It was the only museum in North America dedicated to the famine and represented years of curating and collecting art, artifacts, and texts that bore witness to this tragic event resulting in the loss of at least one million lives in Ireland.
The museum was closed in 2020 due to COVID. Inexplicably, the new university president and administration chose not to reopen it and the artwork was abandoned to storage and invisibility, prompting our efforts today to secure its future display at a location that is able to do justice to this artistic and educational treasure. Last spring, we launched our campaign to raise awareness and deepen understanding of the Great Hunger. Our primary focus has been on responding to the closure of the museum.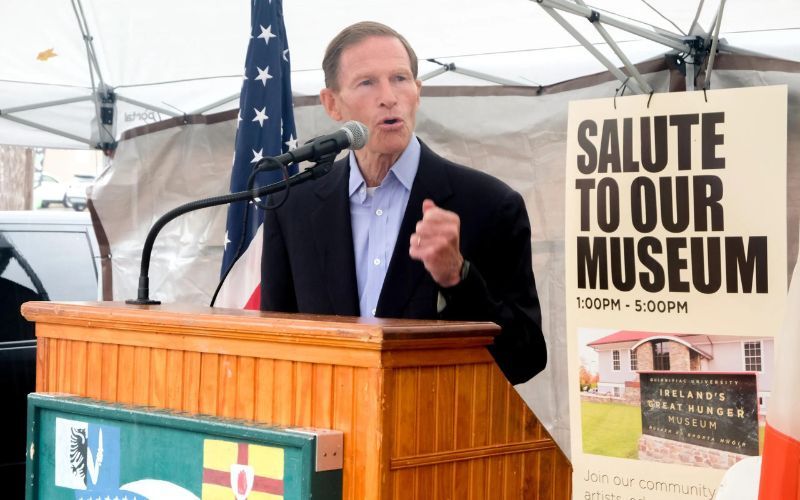 2
We strongly advocate for the collection's return to public view, whether by temporarily reopening the museum or arranging a long-term loan to another qualified institution that possesses the professional and educational tools to retell this important story.
We invite you, President Biden, to join our efforts to ensure that this unique treasure finds a home worthy of the collection.
Ní Neart Go Cur Le Chéile. (There's no strength without unity.)
Ireland's Great Hunger Bord Directors: Turlough McConnell, Chair; James E. O'Donnell, Secretary; Seán O'Dowd, Treasurer; Lynn Mosher Bushnell; Paul H. Ferguson; James F. Gaffey; Ronan King; Michael J. McCabe; Joseph P. McDonagh; Catherine B. Shannon.
You can learn more about Ireland's Great Hunger Bord on its website.