US actor Stanley Tucci has once again proclaimed his love for Kerrygold, claiming that he has "vats" of the Irish butter in his house. 
"The whole top of the refrigerator door is filled with Kerrygold," Tucci told the Irish Times this week, adding that he and his family use the beloved Irish butter "on everything."
In a 2020 piece for The Atlantic, Tucci was equally as enamored with the Irish butter, writing: "If there is no Kerrygold butter left in the United Kingdom, it's because it's either in our freezer or we ate it."
Tucci, who lives in London with his wife Felicity Blunt and their two children, is in Ireland ahead of an appearance at the International Literature Festival in Dublin this Saturday, May 20.
While in Ireland this week, Tucci will be sampling some of the best dining spots in Dublin, including Pichet, a Michelin Guide restaurant blending traditional French and Irish cuisine, thanks to his wife who organized his itinerary.
"I have no idea where I'm going," Tucci admitted in the Irish Times, "But I'm excited because she has very good taste."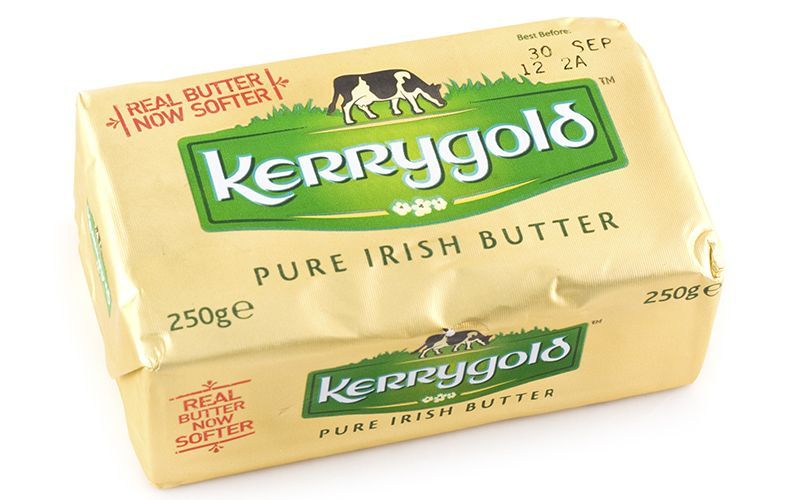 2
Tucci, who said he hadn't been in Dublin in about seven or eight years, will be in conversation with Irish author Marian Keyes on Saturday for the "Stanley Tucci: Tastemaker" event, a part of the International Literature Festival Dublin.
For the sold-out event, Tucci "takes us on a tour of his lusciously stocked kitchen and his equally spectacular career in Hollywood," organizers said.
A renowned foodie, Tucci has released a cookbook with his wife entitled "The Tucci Table," which features recipes from the UK and Italy, Tucci's ancestral homeland. 
Food and taste also play a central role in Tucci's 2021 memoir "Taste: My Life Through Food." (The memoir has since inspired Mike Farragher's column and podcast series TAYSHT here on IrishCentral!)
While not writing and cooking, Tucci stays busy lighting up the big screen. In 2010, Tucci landed his first Oscar nomination for his role in "The Lovely Bones," in which he starred opposite Saoirse Ronan.