National Irish Coffee Day is tomorrow, January 25!
Everyone has their own Irish coffee preferences – strong or balanced, fresh cream or whipped, with Brady's Irish Cream or pure unadulterated Irish whiskey.
Read More: The real story about Irish coffee and how it was invented
However, Jack McGarry, owner of the Dead Rabbit Grocery & Grog in New York City which was voted Best Cocktail Bar in the World, may have the most discerning taste.
McGarry's Irish coffee recipe traces back to Foynes Airport, where the beverage was first invented by chef Joseph Sheridan in 1942. Wanting to welcome the Americans who were arriving into Ireland on a cold winter night, Chef Sheridan added whiskey to their coffee to warm them up, telling the Americans they were being served Irish coffee.
McGarry's recipe offers a sophisticated twist with grated nutmeg and uses Clontarf 1014 Blended Irish Whiskey, which is produced from a blend of pot-stilled single malt whiskey and column stilled grain whiskey using pure Irish spring water. It is named after the legendary battle led by High King Brian Boru that sent Viking invaders packing from Ireland once and for all in 1014.
It has been said that "Only Irish coffee provides in a single glass all four essential food groups: alcohol, caffeine, sugar, and fat."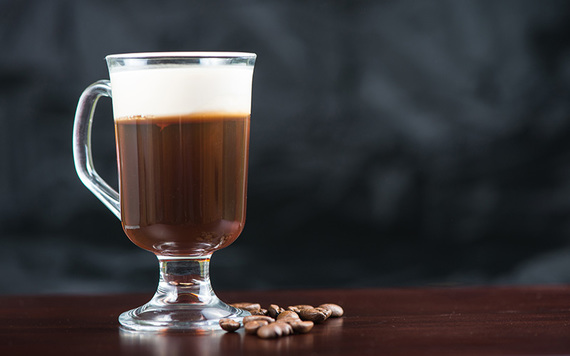 2
Read More: The absolutely perfect recipe for Irish coffee
Irish Coffee Recipe by Jack McGarry, owner of NYC's Dead Rabbit
1 ½ oz. Clontarf 1014 Irish Whiskey
¾ oz. Demerara syrup (made with 1 part water to 1 part Demerara sugar)
4 oz. freshly brewed coffee
Cream: whisk 2 oz. of Brady's Irish Cream with 6 oz. of heavy cream
Garnish: freshly grated nutmeg 
Fill an Irish coffee glass or mug with hot water and let stand for a few minutes to warm. Pour out water. Add the whiskey, syrup, and coffee, then stir. Add whipped Brady's the width of your thumb. Freshly grate nutmeg over the top.
Sláinte!
* Originally published in 2014.
What recipe do you use for Irish coffee? Share in the comments!