A Dublin apartment has been listed for €20,000 on Booking.com for the weekend of Taylor Swift's two concerts at the Aviva Stadium next June. 
Swift recently announced two concerts at Dublin's Aviva Stadium on June 28 and June 29 next year as part of her smash-hit "The Eras Tour," prompting huge demands for tickets, which go on sale next month. 
The announcement also appears to have fueled a demand for accommodation in Dublin at the time of her concerts, with one landlord letting their apartment in Rathborne, Ashtown, Dublin for nearly €20,000 on Booking.com. 
The two-bedroom apartment that sleeps four people, which is located in West Dublin, is described as a "fab retreat." It is roughly a half-hour drive to the Aviva Stadium.
Per the Booking.com listing, the Dublin apartment is €17,998 if you pay in advance. The price jumps to €19,998 if you wait to pay until June 11, 2024, though there is free cancellation until June 14, 2024.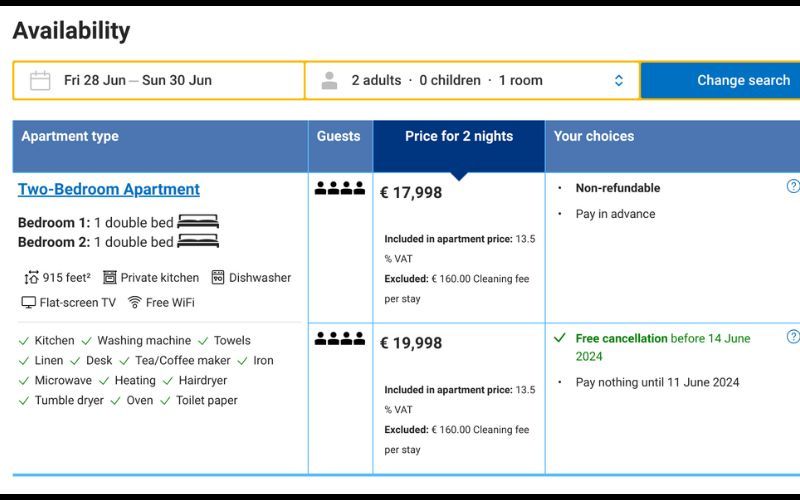 2
Meanwhile, the Irish Examiner reports that one Dublin hotel has raised the price of a room from €359 per night to €999 per night for the two nights of the concerts next year. 
Eamon Ryan, Ireland's Minister for the Environment, Climate and Communications and Minister for Transport, described the price as "shocking," adding that it was not worth it. 
"We've a real problem when you get that sort of pricing — it does a lot of reputational damage to the city and the country," Ryan told Newstalk Breakfast. 
Ryan added that the Government could do little to force hotels to lower their prices but said the issue was a "real problem" for the industry. 
"If someone wants to sell at that price, there's not an easy way you can come in and say, 'You can't'. But I think for the industry, it's a real problem because very quickly then you get a reputation of being extortionate and then you lose your business." 
Minister for Public Expenditure Paschal Donohoe also criticized reports of price gouging and called on the hospitality sector to "do the right thing."
"I think the biggest losers if we see those few nights as an opportunity to make more money, the biggest losers in the long run from that will be our hotels," Donohoe told reporters on Wednesday.
A spokesperson for the Irish Hotels Federation told the Irish Examiner: "The vast majority of Irish hotels do not make rooms online any earlier than one year out."
The spokesperson added: "This means that there is currently almost no hotel availability through online booking engines given that the dates for the concerts are over a year away.
"For many hotels, even shorter lead in times apply for listing rooms through online booking engines.
"This means that people looking to book at this stage should consider contacting hotels directly either through their own websites or by phone to enquire about rates and get the best value."
Grammy-winner Swift last performed in Ireland in June 2018 at Dublin's Croke Park. The "Anti-Hero" singer has been spotted in Ireland in recent years, and even gave Co Wicklow a shout-out on her song "Sweet Nothing" from her latest album "Midnights."