Colin Farrell continues to keep busy. The Irish actor has just been cast in a new BBC adaptation of the novel "The North Water," which is set in the Arctic in the 1850s and written by Ian Maguire.
Farrell will star in the four-part TV series as Henry Drax, "a harpooner and brutish killer whose amorality has been shaped to fit the harshness of his world, who will set sail on a whaling expedition to the Arctic with Patrick Sumner, a disgraced ex-army surgeon who signs up as the ship's doctor. Hoping to escape the horrors of his past, Sumner finds himself on an ill-fated journey with a murderous psychopath. In search of redemption, his story becomes a harsh struggle for survival in the Arctic wasteland," – this according to Deadline.com, which broke the story.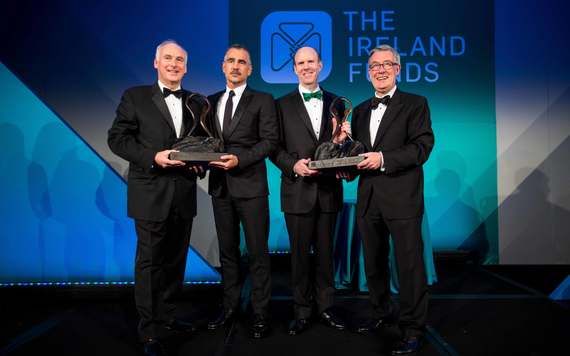 2
The first three shows will be an hour each, and the finale is 90 minutes.  Colin can expect to be joined by another-lister in the role of Sumber, Deadline reports.
Director Andrew Haigh is pleased that Farrell has signed on the dotted line.
"Colin Farrell will bring a blend of brutality and humanity to Andrew Haigh's superb adaptation of this savage novel. 'The North Water' is a brooding and resonant story which is set to grip BBC Two viewers," he said.
Read more: Colin Farrell on success, bouncing back from being a "pisshead and druggie"
Colin Farrell Dives Into 'The North Water' for BBC, Andrew Haigh https://t.co/wJtbZpizhe pic.twitter.com/YnpiybmeTi

— Hollywood Reporter (@THR) February 19, 2019
Last Saturday night, Colin was honored in California, his adopted home, at the City Summit & Gala in Burbank. He was chosen as one of the group's Inspiration Honorees, with City Summit founder Ryan Long rightfully saying, "Mr. Farrell has overcome monstrous amounts of adversity in his personal life and professional career."
For his part, Colin added, "I'm grateful to organizations like the City Summit for highlighting professionals and providing awareness and support to entrepreneurs that want to help solve today's challenges." 
Read more: Happy Birthday, Colin Farrell! 7 things you need to know