Colin Farrell says "Life is meant to be lived" in Dublin speech
Colin Farrell reflected on his bumpy rise to fame and the peace he's found over the past few years while speaking at the annual Pendulum Summit in Dublin on January 9.
Read More: Colin Farrell pours his heart out with utter honesty at Ireland Funds dinner
Farrell was a featured speaker at this year's Pendulum Summit, founded by Frankie Sheahan in 2009. At the Summit, the Dublin actor spoke with Miriam O'Callaghan in what was billed as "A career in entertainment: from beginning to success."
Initially, Farrell was confounded by the offer to speak. "When Frankie [Sheahan] and the whole team, bless them, had me on a flyer, underneath my name it said 'self-mastery.' I said: 'You have got to be joking. There is no way I am going up on stage to speak about self-mastery'. I don't think there's any mastery. Life is meant to be lived."
You can't just will things to happen. Sure, opportunities can present themselves but you still have to work for it. What you can choose to do is put yourself in an environment that syncopates with your passion. Colin Farrell speaking with #MiriamOCallaghan on stage at #PendulumSummit #ColinFarrell

Publiée par Pendulum Summit sur Mercredi 9 janvier 2019
Farrell got his first break on RTE's soap opera Ballykissangel before catching Hollywood's eye. He recounts his initial success and how at the young age of 23, he was able to buy his beloved grandparents a home.
Farrell seemed poised for great success in Hollywood. But that changed in 2004 when 'Alexander,' in which Farrell starred, came out to be a huge flop.
Read More: Colin Farrell checks into rehab to avoid relapse
"Alexander was a huge film, a bunch of Irish lads playing big roles and we all thought we were all off to Hollywood, and the film didn't work."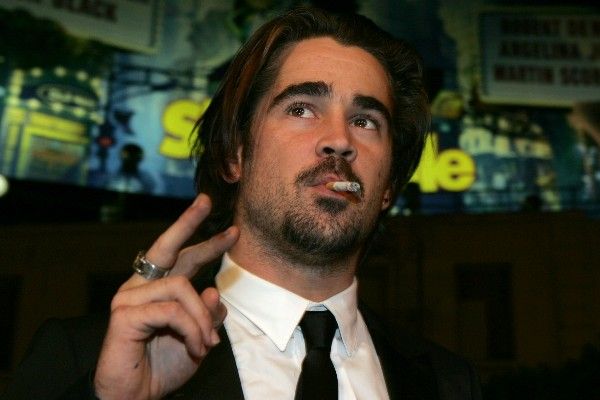 2
"It was an extraordinary box office flop, I set myself up for a fall, I remember saying, 'If this fails, I'm in trouble because I put everything in this film.'"
After the disappointment of 'Alexander,' Farrell hit a noticeable roadblock in his career. Studios stopped calling. He delved into a self-described "pisshead and druggie" lifestyle.
Now, more than a decade later, a sober Farrell says: "I needed that lesson, and that humility, I felt like I let everyone down, I took it very personally, I wanted to apologize to everyone I met for six months. As a 23-year-old, of course, it affected me."
Since then, Farrell, who says his "life lives majority in positivity," has steered towards more mature roles, most notably his turns in In Bruges and The Lobster. He appeared in 2018's Widows alongside other Irishman Liam Neeson, and is working on Eve with Jessica Chastain.
Read More: Liam Neeson and Colin Farrell head to Toronto with "Widows"
"The greatest thing about fame is that you can strike it off the list as something that doesn't give you happiness," he says.
"I can't reiterate enough, I have lived a very blessed life, such great fortune, and two extraordinary kids and a great family, deep friendships and a job that I'm passionate about."
"Success is such a relative term," says Farrell, "I don't wake up thinking I've made it, and fame doesn't give you happiness."
Read More: Colin Farrell a fierce advocate for those with Angelman Syndrome like his son
"Having said all that I'm a human being, I have ups and downs, at 42 the process of my life seems to be in learning the significance of your life as an individual and we're here for such a short time, I mean, Jesus, the show is nearly over."
There's no right way to tread this path of life. We're all bound together as a community. We're bound by a moral obligation to take care of each other. Not at the expense of our own health but it's real.
Colin Farrell in conversation with @MiriamOCal #PendulumSummit pic.twitter.com/Htrn64EdMO

— Pendulum Summit (@PendulumSummit) January 9, 2019
"Let's push away from the harbor and get this show on the road, live in less and less fear and not care as much. It's important to care what each other think - it's a form of social moderation - but we don't have to do things for the sole purpose of being liked."
What's your favorite Colin Farrell performance? Let us know in the comments!