The Boss Bruce Springsteen, Beatles star Paul McCartney, and rapper and producer Dr. Dre were spotted enjoying each other's company well into the night at London's River Cafe.
The unlikely trio were spotted having dinner last Saturday night following Bruce Springsteen's BST series gig, at Hyde Park, in London.
Paul McCartney introduced The Boss to Dr. Dre after he met him back in 2021. At the time, Dr. Dre posted to Instagram writing "Here with one of my heroes!! Paul McCartney is cool AF!! I'm chillin with one of the f***ing Beatles!!
View this post on Instagram
This week a source told The Sun that McCartney, Springsteen, and Dre turned folks' heads when they all walked into the fancy Hammersmith restaurant The River Cafe. 
They added, "It ended up being a pretty late night and they stayed until after midnight before calling it a day."
Last Thursday, Springsteen performed an energetic three-hour, 29-song set which the critics jokingly called an "unrelenting rock spectacular." The 73-year-old star showed no signs of slowing down as he performed for a massive crowd including Stella McCartney, Kate Hudson, and Jon Bon Jovi. 
This wasn't the first time Springsteen's long set list was commented upon. In 2021, while Springsteen was performing with Paul McCartney was cut off before he wrapped up as the BST series plugged the plug on his long show.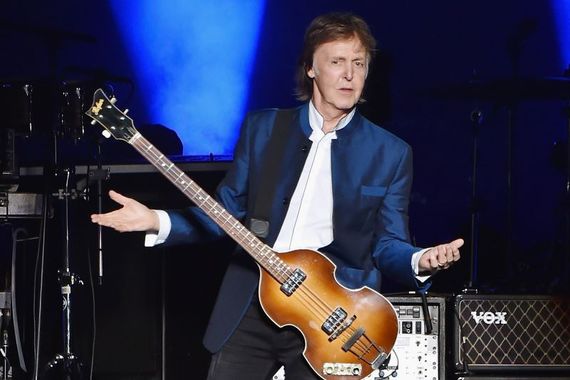 2
Hilariously, in June 2023, McCartney mocked his pal, Springsteen, for being responsible for the industry's increasingly long stage sets. Speaking to on the "Conan O'Brien Needs a Friend" podcast, McCartney revealed that often the Beatles would only play for 30 minutes. 
"These days, pretty much there's the main act and there might be a warm-up act", Paul McCartney said.
"Then [in the 1960s], it was a lot of people on the bill because nobody did long, now people will do three or four hours. I blame Bruce Springsteen – I've told him so, I said 'It's your fault man". 
He also added, "You can't now do an hour, we used to do a half hour. That was The Beatles thing – half an hour and we got paid for it."