"Best of" lists are always wildly subjective and open to interpretation, but Rolling Stone magazine unveiled a doozy on New Year's Day, a compilation of who the venerable mag christened the 200 best singers of all time.  Needless to say, the backlash has been fierce.
Bono weighed in at 140, bested by El DeBarge (137), Amy Winehouse (83), Minnie Riperton (65), Rihanna (68), and Toni Braxton (48) among others.  No offense to those who scored higher than Bono and his five decade career with U2, but…is "Rhythm of the Night," a 1985 DeBarge single, more impactful than U2's "(Pride) In the Name of Love?"  How about Braxton's big single 1996 single "Un-Break My Heart?"  That bests Bono's vocals on the U2 classic "With or Without You"?" 
Belfast native Van Morrison, shunned by many after his anti-lockdown Covid stances, fared way better on the Rolling Stone list at 37.   Number one, deservedly, is Aretha Franklin, followed by Whitney Houston. 
Can't argue with those choices, but the Rolling Stone list lost a bunch of credibility with its complete omission of Celine Dion.  Even one of the guys from those K-pop groups made the grade ahead of the French-Canadian icon, which is ridiculous.
Beyonce, at number eight, bests John Lennon (12), Elvis Presley (17), and Frank Sinatra (19).  Should you be inclined, there's all kinds of criticism – much of it warranted – to read online about the anointed 200.
The Rolling Stone take on Bono's 140th placement is this: "It's easy to take Bono for granted since the artist's commendable activism and outsized onstage personality often overshadow the reason he even has these platforms: his voice. Since the early eighties, Bono has pushed his voice to every extreme as he has approximated how to be a singer.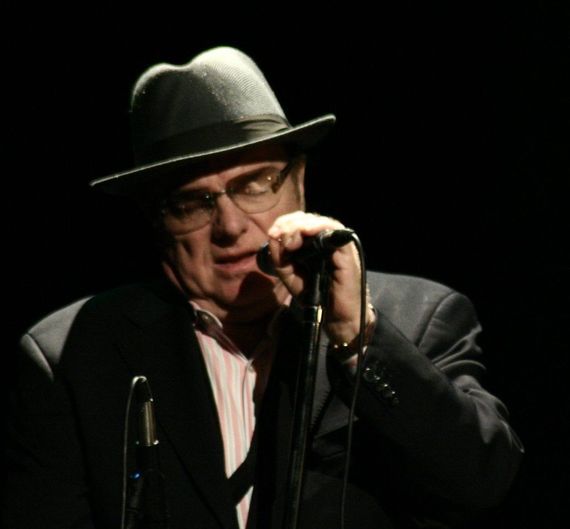 2
"On 'Pride (In the Name of Love),' his love letter to Dr. Martin Luther King Jr., he belts, croons, swoons, and hums as he calculates Dr. King's passion. On 'Who's Gonna Ride Your Wild Horses,' his voice winds and bends, with a little true grit thrown in for good measure. And on the soulful ballad 'In a Little While,' he pleads with the same intensity of Marvin Gaye before slipping into his distinctively Bono falsetto with a range that spans both tone and emotion."
Of Van the Man, Rolling Stone said: "To experience the height of Van Morrison's vocal genius, you have to get beyond the words. Zero in on, say, the free-form back half of a 1974 performance of 'Listen to the Lion,' where he starts out with honeyed crooning and blissed-out humming, tries out around a dozen different cadences on the word 'you' and eventually lets fly with full-on grunts and groans."