The Irish American community has strong historic connections with many of America's Catholic colleges. For many students, attending one is an excellent way to combine a rigorous education with a spiritual support system that makes the transition from living at home to a college campus just that much easier.
USA Today has released a ranked list of the nation's 10 ten Catholic colleges to aid High School students still pondering where they should apply. The list is compiled using rankings provided by College Factual which uses various outcomes such as graduation rates, starter salaries, and loan default rates to rate colleges.
Notre Dame, South Bend, Indiana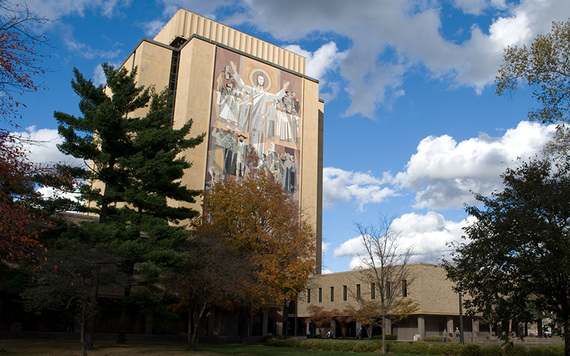 11
Taking the gold medal is the University of Notre Dame. The South Bend, Indiana college remains one of the great Irish American institutions in this country and its sports teams are known for the pride with which they bear the name Fighting Irish.
It takes its Catholic identity very seriously. Students can still attend regular Mass if they want to and the university makes clear on its website that one of its "distinctive goals is to provide a forum where, through free inquiry and open discussion, the various lines of Catholic thought may intersect with all the forms of knowledge."
Notre Dame offers 65 undergraduate courses and College Factual rates its fees as "good." Currently, it will cost you $184,000 to obtain a degree from Notre Dame (unless you get a scholarship) compared with $210,000 it'll cost you to attend Chicago's Northwestern University, by way of comparison.
College of the Holy Cross, Worcester, MA
11
With a name like that who could doubt its Catholic roots or ethos? The school is located in New England's second biggest city, Worcester, MA.
This Jesuit College offers students the chance to get a strong Liberal Arts education in a small, intimate environment with only some 2,700 fellow classmates.
A couple of years ago, it was ranked as one of the best value Liberal Arts college in the US and its annual tuition is currently $48,000 per annum.
Georgetown University, Washington D.C
11
The nation's oldest Jesuit and Catholic university, Georgetown is almost as ancient as the United States itself. The college has an illustrious reputation and unrivaled political connections with the White House and US Congress just around the corner. Bill Clinton went to college here, and he still drops by now and again. Students frequently get internships with politicians, which is how Huma Abedin (who would probably have become Hillary's Chief of Staff) got her first job with the then First Lady. Who knows, that could be you?
Without financial aid tuition comes to $46,000 a year – and you get a beautiful campus to study at too!
Boston College, Boston, MA
11
Boston College is another proud Jesuit school and its stunningly beautiful campus is almost a good enough reason alone to go to college there. Its buildings are, in fact, some of the earliest examples of Gothic architecture in North America.
It has a high freshman graduation rate and tuition (without aid) will set you back $50,000 a year.
Villanova University, Villanova, PA
11
This Philadelphia area school places a strong emphasis on community service – something it credits its Catholic traditions with. The college is packed with history and is allegedly linked by secret tunnels to local hospitals. Apparently they were built during the Civil War, but their existence is disputed, so it's unlikely they'll be your shortcut to class when you're running late.
Fees at the school without aid are $65,000 per annum.
Santa Clara University, Santa Clara, CA
11
Another prestigious Jesuit institution. Santa Clara is located in the heart of Silicon Valley and the university has a well-earned reputation for churning out Fulbright Scholars and all from an welcoming environment of 9,000 students. 
It's also stunning: in 2012 Santa Clara University was ranked as the second most beautiful college in all the United States. And with that beauty you also get some relatively low fees at $43,000 a year without financial aid.
Providence College, Providence, RI
11
Providence College is another beautiful school to make our list. Set in the chocolate box perfect town in Rhode Island that it gets its name from, students learn in an intimate environment with only 4,000 other peers. It is the only North American college to be administered by Dominican Friars.
Its fees, without financial aid, are $44,000 and reach $59,000 once room and board are thrown in.
College of Saint Benedict, Collegeville, MN
11
Are you a boy? If so you can't attend the College of Saint Benedict. CSB in the aptly named town of Collegeville, MN is an all women's college, although it has strong links to the all-male St John's University.
The colleges are jointly home to the famous St. John's Bible and the college is still run on Benedictine values.
Tuition without financial aid is $43,000 a year which is a few hundred dollars lower than what the boys across the street pay.
Thomas Aquinas College, Santa Paula, CA
11
Thomas Aquinas College in Santa Paula, CA was only founded in 1970, but its modern foundation is based on its adherence to Catholic values that are hundreds of years old. In fact, it was even endorsed by The Newman Guide to Choosing a Catholic College.
100% of its teachers are full-time and the student to staff ratio is 11 to one. Tuition fees without financial aid are a very cheap $25,000 per annum.
Gonzaga, Spokane, WA
11
Gonzaga is another Jesuit college you might want to add to your list and is in the delightful town of Spokane, WA. Its motto is 'For the Greater Glory of God' and it has never forgotten its Catholic roots.
It's considered one of the best 'value for money' colleges and a 4-year degree from Gonzaga will set you back (without financial aid) $150,000.
Read more: Irish one of the top 10 languages learned on new app