"An Chathair Mhór" ("The Big City,") a new Irish short film from Co Kerry filmmaker Cian O'Connor, debuted at the Aisling Irish Center in Yonkers, New York on Thursday night, September 14.
Marketed as "New York's first Irish Language film," the short film delicately explores a number of big topics - immigration, the preservation of the Irish language, relations between old and young generations, the spectrum between optimism and sadness - in roughly 15 minutes.
"The film tells the story of Éanna O Connor (Éanna Grogan), a lost twenty-something, moving to New York as past generations did for a new life in the big city," the official synopsis for "An Chathair Mhór" says.
"In need of money, he takes a job minding his distant grand-aunt Brida (Katherine O'Sullivan.)
"The two, cold at first, strike up an unlikely friendship as Brida teaches Éanna the Irish language and Éanna reminds Brida of the beauty of the city that never sleeps."
The Aisling Irish Center was, of course, the perfect location to debut O'Connor's new movie as it was mostly filmed just down the street in Woodlawn, often affectionately referred to as 'Little Ireland.'
"We wanted to make something that captured the Irish experience in New York as authentically as possible," O'Connor said ahead of the film's debut, "and where better to do that than in an area that has housed the Irish community for decades.
"The community in Woodlawn were so helpful to us while making the film, from Sean's Deli who provided the catering to the Cuff family who allowed us to shoot in their lovely home in Van Cortland Park East." 
People young and old gathered at the Aisling Irish Center to watch the film's debut on Thursday, which comes amidst a sort of renaissance for the Irish language.
On my way to the screening on Thursday night, I wondered to myself, am I about to sit through a film in a language I know all of about four words in? (In fairness, dear reader, I am American.) Will there be subtitles? How long is this going to be?
My concerns were assuaged when the Cultural Officer at the Aisling Irish Center, Ailísh Conneely, told the audience that the film was only about 15 minutes.
'I can handle 15 minutes in a different language,' I thought to myself, 'but I really hope there are subtitles.'
As it happens, "An Chathair Mhór" isn't a film in the Irish language, it's a film about the Irish language. And, yes, it has subtitles.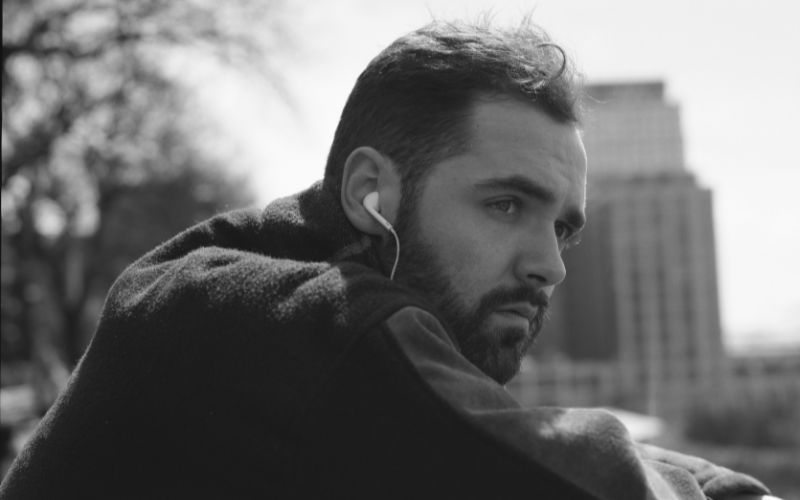 2
In the stylish short film, Éanna makes his way from Ireland to try his luck in New York. (Thankfully, "An Chathair Mhór" keenly sidestepped some of the twee stereotypes that often accompany the depiction of an Irish man making his way to the Big Apple.)
Éanna, in his beanie and flannel, wanders New York City by himself looking a bit forlorn until he receives a call from a distant relative who lives just above the city in Woodlawn, which, for decades, has been a landing strip for Irish people arriving to the States.
With not much else to do, Éanna makes his way up to Woodlawn, only to learn that he's been called to mind his grand-aunt Brida, an elderly Irish woman who has resigned to spending her days in an armchair watching television.
Brida casts a suspicious eye on Éanna when he arrives and all but dismisses him when he, despite just stepping off the plane from Ireland, shows he has no grasp of the Irish language.
Initially disinterested, Éanna grows curious. Perhaps he sees a bit of himself in Aunt Brida? Feeling lonely in the big city?
Éanna continues his visits with Aunt Brida, who begins to teach him the Irish language. Together, the previously unfamiliar relatives bond over the process and discover a new, unexpected source of happiness.
That happiness, however, comes to an abrupt end when Éanna is told he no longer needs to come to mind Aunt Brida. Receiving little explanation as to why, Éanna reverts to his forlorn self but continues to try to learn Irish on his own.
The short film comes to a sweet, happy ending, deftly concluding the journey along the optimism - sadness spectrum that plays as a theme in the short film.
I'd highly recommend checking out "An Chathair Mhór," which O'Connor says he hopes to bring to the Irish and American film festival circuit.
You can keep up with "New York's first Irish Language film" on its Facebook page here and watch the trailer here: