As Bloomsday approaches the Dublin artist Aidan Hickey reflects on his 18-painting James Joyce collection, its journey so far and what's next for this critically acclaimed exhibition.
On the 100th anniversary of the publication of James Joyce's "Ulysses", Aidan Hickey's, "Painting Ulysses", a collection of 18 paintings, one for every chapter, was launched in Dublin. Now one year on, the exhibition has pride of place at the Irish Cultural Centre in London but what's next for these incredibly detailed, funny, provocative paintings? Perhaps Paris?
Speaking to IrishCentral the artist, Aidan Hickey said "One year on from the opening of the exhibition in Hammersmith, I am pleased and proud that the paintings have attracted so many Londoners and tourists to the Irish Cultural Centre. Originally, the show was intended to run from Bloomsday, June 16th, to August 30th. But, as public interest remains strong, the closing date has been repeatedly postponed.
"For this success, I am greatly indebted to Rosalind Scanlon, Cultural Director of the Centre, and her staff. Every artist, exhibiting new work, hopes for such support and enthusiasm but isn't always so lucky. It's true that I created the paintings, but Rosalind created the exhibition."
It's little wonder that the exhibition is being so warmly welcomed in the UK's capital. The collection of 18 paintings took Hickey a gargantuan six years to create. 
As each of Joyce's episodes was written in a different literary style, Hickey has designed each painting in a different visual style. The images have two sources, his responses to Ulysses' text and his eclectic exploration of European art history.
It seems only natural therefore that the exhibition itself should also travel. 
Hickey said "While I greatly appreciate the huge potential audience that exists in London, I would, in the future, like to bring the exhibition to other cities associated with James Joyce. The most obvious of these would be Paris and I am hopeful that the paintings will move to the French capital sometime in 2024."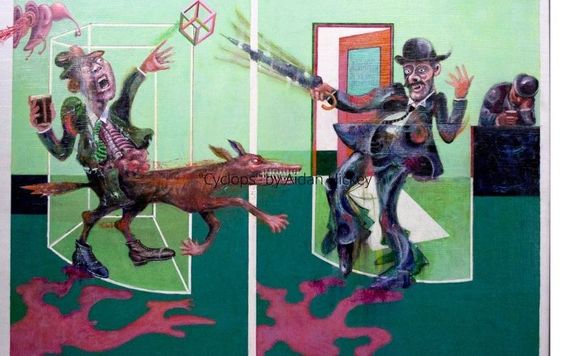 3
Both in Dublin and London the exhibition has garnered glowing reviews from academic experts and the public alike. 
Declan Kiberd, writer, scholar and author of "Ulysses and Us" visited the exhibition in Dublin and immediately afterward sent along his students. 
Of the exhibition he wrote "Of all attempts to paint a series of illustrations of the episodes of James Joyce's Ulysses in sequence, I would consider Aidan Hickey's by far the best.  It does not retreat into the semi-abstractions of Matisse or his imitators but clearly renders in various descriptive styles the main content of each episode.
"There is, however, no retreat into a naïve graphic narrative.  Taking the book at its worth, Mr. Hickey offers in each picture a distinctive parody\imitation of many of the classic paintings in the history of Western art, from Greek pottery visuals to Renaissance Annunciations in the mode of Fra Angelico; from the romantic art of Caspar David Friedrich to Manet, Bonnard and JMW Turner to the modernism of  Douanier Rousseau, Kokoschka, Magritte, Chagall; and thereon to the postmodernism of Bacon, Flora Yukhnovich, Lisa Yuskavage,  sci-fi graphics and George Grosz-style expressionism.  In that heady progression, we also encounter intimations of the style of Hieronymus Bosch,  Picasso, Donald McGill and Eastern religious triptychs.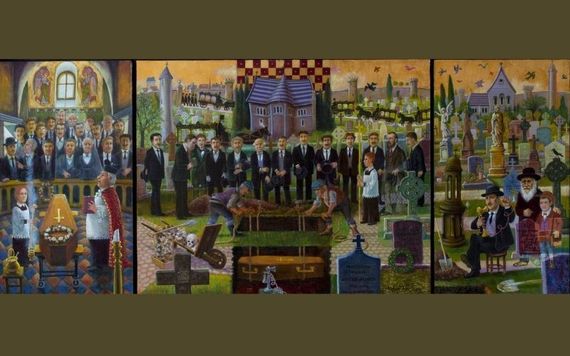 3
"Each medium chosen seems exactly calibrated to the subject matter, whether it be schoolyard, domestic kitchen, beach, pub, hospital or dream world.  Mr. Hickey displays at all times a dignified audacity tempered only by a strong sense of Joycean realism - surface and symbol collude in a truly achieved harmony.  This is a work of outstanding merit - the labor, guile, imagination and intricate thoughtfulness displayed throughout the sequence make it a worthy commentary on and interpretation of the great book."
Follow artist, Robert Ballagh said "To my mind, for a painting to be successful it should be skilfully executed and have something meaningful to say.
"Well, as far as I'm concerned, Aidan Hickey's series of pictures 'Painting Ulysses' passes muster with flying colors.
"He responds to each of the book's eighteen chapters with dazzling detail informed by an intimate connection to James Joyce and his native city. And, I have to say, as a painter, I am well pleased by his ingenious blending of Joyce's text with the work of many of my favorite artists in each of the eighteen pictures."
A year ago in Dublin, it was author Roddy Doyle who opened the exhibition. At the time he said, "The exhibition is brilliant. There are jokes everywhere. I hope as many people as possible get to see these paintings."
It's our great hope that his wish comes true.
* To visit "Painting Ulysess" in London visit the Irish Cultural Centre website.