Escape everyday life somewhere very special indeed – be pampered, eat, be merry, and reengage with what matters at Ballinwillin House Farm.
As you approach the grand 18th-century Ballinwillin House Farm, just minutes away from Mitchelstown town center, in County Cork, it would be hard to imagine what a hive of industry and haven of calm is contained within.
Pat Mulcahy, known as the Mindful Farmer, and his wife Miriam, acquired the farm in 1985. Over the last 34 years they have set up the only combined farmed organic venison, wild boar, and goat farm in the in Ireland and the United Kingdom, with a boutique B&B, a holistic garden, and a wine cellar stocked with their own wine from their Hungarian vineyard.  Now they have added yet another string to their bow with the introduction of the Mindful Farmer's "RetrEAT", described as "a residential experience to nourish the body and mind."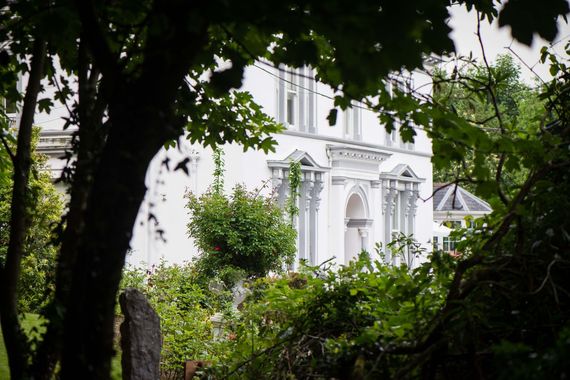 4
What is RetrEAT?
When one thinks of a retreat you might imagine a weekend of self-sacrifice, some worthy food, spartan quarters, and the need for a lot of determination. The idea of "RetrEAT" is quite the opposite.
During my wonderful stay with the Mulcahys, Pat explained to me that the weekend RetrEAT is all about their guests feeling pampered - eating great food and wine, reconnecting with what matters to them, and leaving feeling refreshed and recharged.
I can attest from experience that it most certainly does the trick.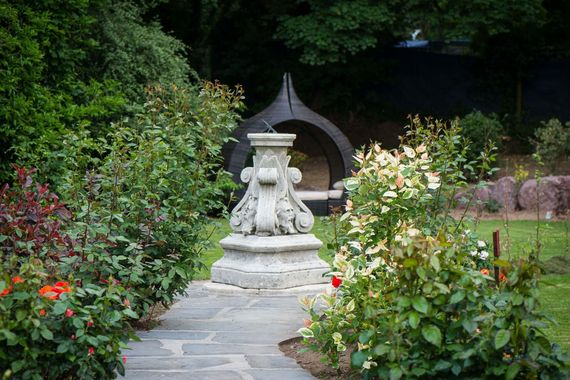 4
Delicious meals, mindfulness and meditation, wonderful lodgings, being surrounded by beautiful gardens and animals, and taking a brief exit from your day-to-day life is what Ballinwillin is all about. Even mobile phones are collected when guests arrive so they can concentrate on themselves for the weekend.
Read more: Fill your heart in Ireland with a mindful, restful yoga retreat
The residential two or three-night stay sees participants enjoying excellent quality food sourced from Ballinwillin Farm, venison and wild boar, of course, other produce from local suppliers, and wines from Ballinwillin's sister vineyard. Meals are served within the warm farmhouse kitchen or the formal dramatic dining room. They even bring in music entertainment and celebrity chefs to cook for guests on their final evening.  
Practicing with The Mindful Farmer
The weekend RetrEAT includes mindfulness workshops guided by Pat who shares his knowledge and expertise, often in the outdoor setting of his beautiful gardens.
His holistic garden was designed in 2018 in response to the challenges posed during the harsh 2017/2018 winter.  Just next to the main house there are areas dedicated to meditation, wisdom, mindfulness, and forgiveness, as well as "The Thinking Path", which provides guests with thought-provoking messages.
4
Pat is a serial entrepreneur and aside from his own businesses also hosts, the annual music festival, Indiependence, on his farm. Despite the fact that he is clearly a busy man with jam-packed long days he holds his hours of practicing mindfulness to be sacred.
"Every evening for about an hour I just go off into a dark room or somewhere quiet, for about an hour and reconnect," Pat told me. "I find great peace and healing in it."
He even accredits his practice of mindfulness to having helped to heal his own knee and back injuries, sustained while laboring on the farm.
For Pat mindfulness and meditation came naturally to him and he believes he has been practicing it since he was eight-years-old growing up on a farm in County Limerick. He then went on to work as a police officer in Dublin city where he said having the reserve and ability to practice mindfulness really helped him but it was always nature and the countryside that was calling to him.
A great deal of Pat's practice has to do with his connection to earth and land itself as well as what he has learned from his animals.
During our morning mindfulness session in the woods off the Thinking Path, Pat suggested that I take off my boots and dig my feet into the grown to truly feel its energy and reconnect with the earth. He said "I started mindfulness by just being in the fields, watching the animals and their rituals. Like the boar, you'll see them burrow down into the ground, into the earth. It's about finding that connection."
He added "I spend a lot of time out in the fields just watching the animals. It brings a lot of peace and you learn a lot".
There is no question that The Mindful Farmer has created a true haven in his beautiful and peaceful farm and the new addition of the RetrEAT to their business just makes Ballinwillin Farm House all the more special.
When I arrived, Pat said "I hope you leave feeling rested and armed with some tools that you can remember and use whenever you need. That you can always reconnect and remember being here and your practice with me."
Mission accomplished.
Read more: The Irish famine village which is now an artist's haven
To purchase Ballinwillin Farm House's organic meat, book a B&B stay and learn more about their RetrEATs visit BallinwillinHouse.com.