Cill Rialaig in Ballinskelligs, County Kerry, is a one-in-a-kind retreat for artists, poets, writers, and composers.
It's been described as the best-kept secret in the art world. It involves the rescue and redevelopment of the pre-Famine village of Cill Rialaig in Ballinskelligs, County Kerry, as a retreat for artists, poets, writers and composers of national and international repute.
"This place is indescribably beautiful; before me lies ocean, islands, sheer
cliffs, stone upon stone, grass and wind, flights, sounds and silence. At night, from
small window above my bed, I can see sky and sea and, when I close my
eyes, can sense their presence from sounds they make. But at times, in moments
of calm, there is nothing. I am completely alone here."
So wrote an Italian artist visiting Cill Rialaig in 1997. Luisella Carretta could (if it had not been for her gender) have been writing from great Skellig Michael itself in the sixth century. She went on to personally "excavate" the interior of an abandoned cottage (or cabin) ruins next door.
Having met elderly previous inhabitant, Mary Kelly, (since deceased) Carretta engaged her help in creating an art installation based on memories of home. Mrs. Kelly identified pieces of willow-decorated plate found in rubble – "my mother's best plate." The artist went on to tour her book of poems, including "Within Mary Kelly's House," all over Italy.
Read more: Mayo and the Cliffs of Moher tours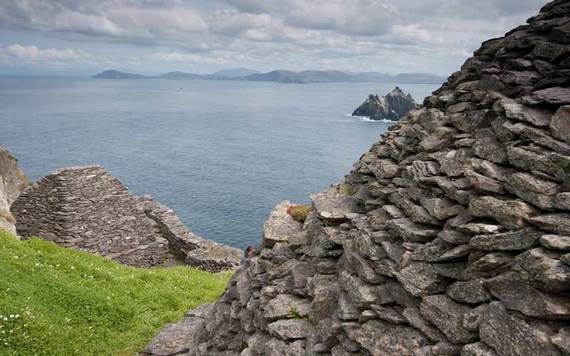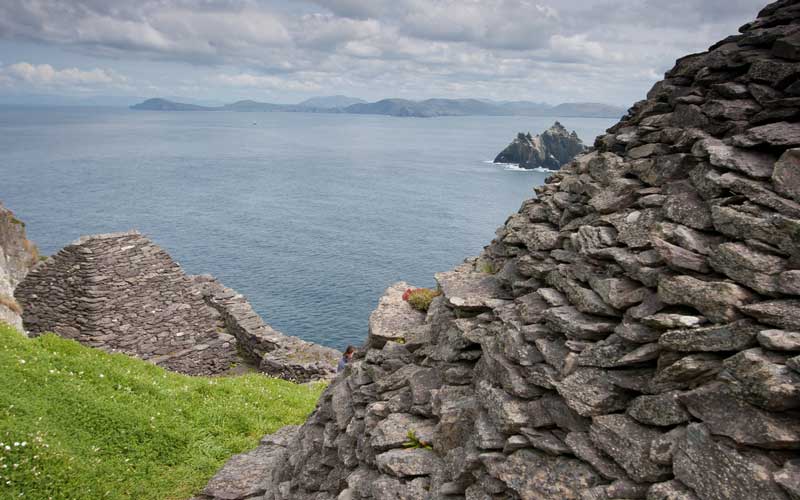 3
The village or "clochan" of Cill Rialaig (Kildreelig) was built in 1790 after the severe climatic change made an earlier seaside habitation further up Bolus Head Road impossible.
It is easy to imagine a great "meithil," or gathering of people, working feverishly with stone and thatch, scraw (a layer of turf on rafters), straw and reed to house these homeless people. Locals are proud that little fishing/farming community was "only half annihilated" by effects of Great Famine – some families clung on for another century, only finally abandoning village (Mrs. Kelly last to go) in 1950s.
Left to fierce ravages of storms and great winds, houses soon lost their roofs, many gables tumbling in until the arrival of two strong competing forces in 1989. There was a plan to demolish old ruins to make way for a new Ring Road.
"As a newcomer to this extraordinary place I couldn't believe that people would countenance, for sake of progress, destruction not only of a historic pre-famine village but also evidence of our past, if not nature itself," said former publisher Noelle Campbell-Sharp.
Read more: The top Irish artists you need to know about
Noelle (later to receive a doctorate at National University of Ireland) encouraged a group of local business people to join her in buying the village site, effectively closing the entrance to a "cul de sac" of Bolus Head and forming the community project of Cill Rialaig with the purpose of using it as an artist and writers retreat.
The Taoiseach (Irish Prime Minister) of day, Charles J. Haughey, visited and unveiled a plaque heralding the rebirth of Cill Rialaig as a sanctuary for artists of Ireland and world in September 1991. He said of it: "new Cill Rialaig will make a great sound in world one day".
Twenty years later the project, despite not having a website, has grown in stature and respect throughout international artist community. Partly funded by the Arts Council, there is still a major requirement for annual funds. Cill Rialaig means "church of regulars," according to Irish writer Desmond Fennell, owing to its early connection with Canon Regulars who made Skellig Micheal their home and haven.
Seven houses have been rebuilt there, by award-winning architect Alfred Cochrane, as self-catering artist studios, their exteriors remaining faithful to earlier vernacular architecture, stone and thatch and some slate coming from nearby Valentia quarry.
Read more: Dublin and surrounding areas tours
3
A meeting or communal house called Tig An Comhrá (house of conversation) was unveiled by President Mary McAleese in 2009. Over 2,500 free of charge residencies has been given to Irish artists and artists from across the globe. More than 150 U.S. based artists have already found their way there.
Founder Dr. Noelle Campbell Sharp wants the non-commercial ethos to remain, as she feels that "creative spirit soars in that environment, a place to escape to for tranquility and away from stresses of society".
That's one reason why she and some of her colleagues from Cill Rialaig visited New York in June 2013 with help of Culture Ireland to invite leaders of philanthropic organizations with a specific interest in culture and arts to listen to the story of Cill Rialaig and join with her in securing future of its project.
As it happens, the visit under Imagine Ireland umbrella coincided with an impressive New York exhibition entitled "A Desert in Ocean- a View from Cill Rialaig" at Lesley Heller Gallery. This unique exhibition was the result of the visit of 12 U.S.-based artists to remote Irish retreat last year. There they met, lived and worked alongside six Irish artists. All of them made an etching at Cló Cill Rialaig – the project's fine printmaking studio in Ballinskelligs.
These were also shown at the Heller gallery with half the proceeds going to the project. 
Read more: Galway and the West tours
* Originally published in Ireland of the Welcomes in 2013.