Carlow is fast becoming the chill-out capital of Ireland as burnt-out executives and under-pressure millennials from across the globe flock to one of its most tranquil hideaway retreats for a break from the chaos of modern living
Stargazing in the Blackstairs Mountain, County Carlow, is Blackstairs Eco Trails latest digital detox offering and the early feedback is nothing short of phenomenal, according to sustainable ecotourism champion and former Green Party Minister, Mary White.
"Our guests are coming from all over the world to switch off from everything," White explains. "We had guests here recently from New York and Berlin. One man came to us, just before he left, to say he hadn't slept as well since he was 10 years of age. It simply is that peaceful, that restful here.
Read more: Ireland's most beautiful landscape - Beara, West Cork
"The Blackstairs is perfect for stargazing. There's no light pollution here. People have a clear view of the sky– just like our ancestors had. We've put a lot of thought and effort into giving our visitors the perfect stargazing experience. We offer our guests in our shepherd's huts a calendar of the night sky. And they can sit back in our new, specially commissioned, hand-carved recliners and watch the stars, wrapped in a comfy rug, sipping cocoa.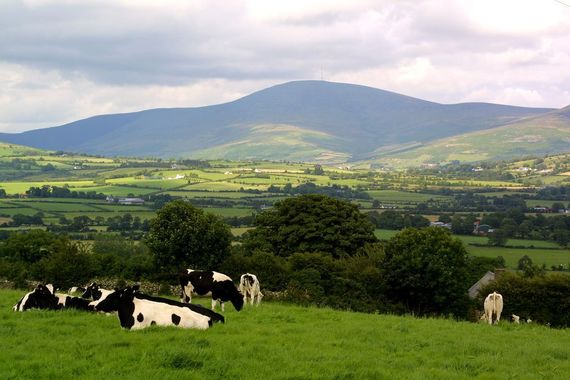 3
"We dug up a flagstone from the haggard which dates back on 1831. We've placed it at the optimum viewing point so people can view the night sky stretched over it too if they so wish. They can lounge there as long as they want, looking at the stars and listening to the calling of the foxes and deer in the surrounding fields.
"It's a very simple offering, a very natural experience. There's also an app that people can use on their phones if they want to be a bit more technical. But most people who come here want to turn back time. Their phones and other technology are the last thing they want to use.
"I think the lack of noise and the peace and quiet is what people like. It's a restful and peaceful experience. We're so used to the solitude and the magic of the Blackstairs that we sort of take it for granted. But it's an experience that many types of accommodation can't replicate. The experience is a free add-on to guests who stay overnight in our Shepherd's Huts. But there is potential for us to market this down the road as another experience."
White grew up in the Wicklow hills and has a deep connection with nature. Her mother was a botanist and zoologist and a successful anti-mining campaign in the Blackstairs led into a career in local and later national politics, which would see White hold a series of prestigious portfolios for an entire decade.
Read more: After living in Ireland for almost one year, this is what I've learned
When she lost her Dáil seat in 2011, Mary White went right back to her roots and founded Blackstairs Ecotrails with her husband, Robert and with support from Carlow Local Enterprise Office (LEO) and Carlow Development Company.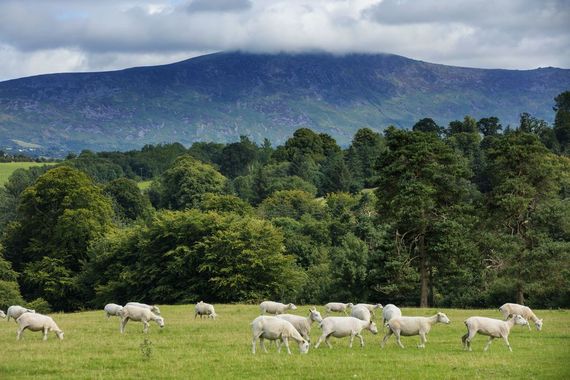 3
Today, the Blackstairs Ecotrails offering includes walks, talks, foraging, hiking, unique Foraging Hen Parties and so much more. They added a Celtic Tree Trail with a 16-minute film on Irelands Native Trees and Shepherd's Huts in recent years.
"Our cozy Shepherd's Huts are situated among trees and close to woods around an area which is just 50 meters from our Barn, along a floodlit Old Beech Walk. The showers, kitchen facilities etc. are all located within the barn. Each of the Huts is centrally heated and cozy, with a double bed in each.
"Each Hut has three windows, including a half door, to look out onto a completely natural wooded area set beneath the Blackstairs Mountains. All you will hear is the soft cooing of wood pigeons. We've even added a fast-charging car point for guests with electric vehicles."
The grounds immediately around the Barn and the Shepherds Huts include a wildflower meadow and a classical old rose garden, with a stream running through it. "When people arrive, very often they are tired from traveling or from work. But after a good night's rest they are rejuvenated," Mary revealed
"When it's time to leave, we've even had people asking if we might consider adopting them, the stay is that transformative," Mary quipped.
Robert White is a geographer and shares Mary's passion for their growing tourism offering. "We have led walks organized by Carlow Tourism, Youth Clubs and visiting groups from abroad. Team Building events are very popular. All have been amazed by the wealth of wildflowers, ferns, birds, butterflies, mushrooms, and toadstools in this part of South Carlow. It's about looking in our hedgerows, pools, bogs, and streams, about taking in what's flying overhead and what's living underground," Robert concluded.
Read more: New Aer Lingus package helps travelers discover their Irish roots in Ireland
Blackstairs Eco Trails is supported by Carlow County Council – Local Enterprise Office – promoting innovation, the ambition of success in Carlow. The huts are available for rent at €75 per night. Each accommodates two people and the fee includes an organic breakfast.
Head of Enterprise with Carlow County Council, Kieran Comerford, said Carlow is a great county for visitors looking to de-stress, plug out and get back to nature. "We're delighted to support Blackstairs Eco Trails and a host of other accommodation and service providers across county Carlow. The Blackstairs Mountains, the River Barrow, our unique garden attractions, walks, and peaceful places make it a mecca for families, for groups and individuals who want to get back to nature, to celebrate and embrace the region's fabulous biodiversity.
"We've fantastic artisan food producers, great accommodation providers across hotels, guesthouses bunkhouses and more and a growing food offering that includes amazing cafes, restaurants, and bars. The motorway infrastructure means we're also within easy commuting distance of Dublin but can offer a totally different experience to the normal hustle and bustle of everyday life."
Traveling to Ireland in 2019: Are you hoping or planning to travel to Ireland this year? Join with other travelers, adventurers and lovers of Ireland in our dedicated travel group, where you can find top tips, great recommendations, and air out any of your concerns and questions.