Station featured in Maureen O'Hara, John Wayne classic will be major tourist attraction by St. Patrick's Day 2018
The crumbling railway station which featured in the opening scenes of classic movie "The Quiet Man" is on course to be opened up as a major tourist attraction by St. Patrick's Day next year, following an unexpected $95,000 (€80,000) grant from the government.
Just over three months ago the iconic but abandoned station in Ballyglunin, County Galway, was saved from almost certain collapse when a community-led crowdfunding campaign raised $35,000 (€30,000) to secure the building.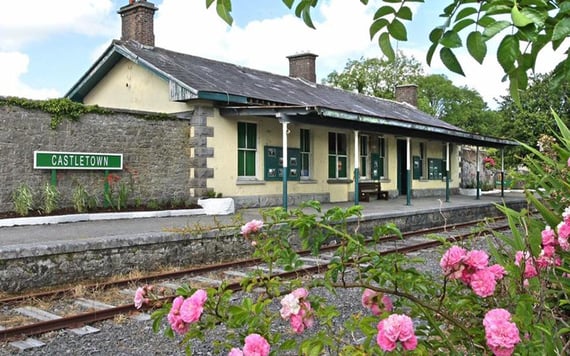 2
Campaign chiefs, who were backed in their efforts by Hollywood heavyweights Liam Neeson and Gabriel Byrne, had faced a tense race against time as strict crowdfunding rules would have meant that all funds would have to have been returned to their donors had they not met their deadline.
But those behind the project now have even more reason to celebrate, after learning that the famous landmark is to receive a further $95,000 cash injection following a successful application to the Town and Village Renewal Scheme, which is run by the Department of Culture, Heritage and the Gaeltacht.
Project chiefs said the first stage of the renovation work – which is primarily the building of a new roof and securing the structure – will get underway early next week and last for about six weeks.
But after that the second stage of works will begin that will be funded by the $95,000 grant and will involve restoring the interior of the landmark, which closed in 1976 after more than a century of service.
Campaign spokesman Mark Gibson also said there were plans to open up a cafe and, in time, an interpretative center with tour guides in place to fully capitalize on the station's link with the enduring 1952 movie, which starred Maureen O'Hara and John Wayne.
Here's the famous opening scene of "The Quiet Man" featuring the station:
Gibson said:  "It's been a very good few months in terms of securing the future of the station.  Our first priority is to secure the building and to prevent further deterioration and that will happen from next week when building work on the new roof starts.
"The second step will be then to look at the interior, with plans to open up a cafe and other facilities and have tour guides in place, so we can really make this a major tourist attraction.
"We've been applying for years to the Town and Village Renewal Scheme, so it was a fantastic and surprising boost in recent days to hear about the €80,000 grant.  That will be a massive help and our hope now is to be able to open up to tourists by St. Patrick's Day of next year."
Gibson said the whole community in the small village of Ballyglunin is behind the project, which has been further boosted by improved access from the new M17 motorway.
He added:  "We want the station to look just how it did in The Quiet Man, so all the renovation work will stay as faithful as possible to the movie.  It will look authentic when it's finished."
Read more: The Quiet Man premiered 65 years ago! Here's what people thought of it
Here's a video, posted two years ago, on the train station: