Foynes Flying Boat & Maritime Museum has launched a GoFundMe crowd funding campaign with the aim of building a Maureen O'Hara Wing to display her personal possessions bequeathed to the Limerick tourist attraction.
The museum hope to raise $500k in order to extend their current exhibits and to establish the new Maureen O'Hara wing. This wing would house the late, great Dubliner's film costumes, personal clothing and memorabilia, including her Oscar, which were donated to the museum by her grandson, Conor Fitzsimons.
7
In October 2016, a year after her death, the exhibition of O'Hara's personal artifacts opened in Limerick. Fitzsimons bestowed almost all of O'Hara's memorabilia on the museum.
7
For the most part The Foynes Flying Boat & Maritime Museum celebrates the romantic era of the Flying Boats when Pan American and BOAC pioneered transatlantic passenger flights. And is now one of the most popular visitor attractions in the Shannon region.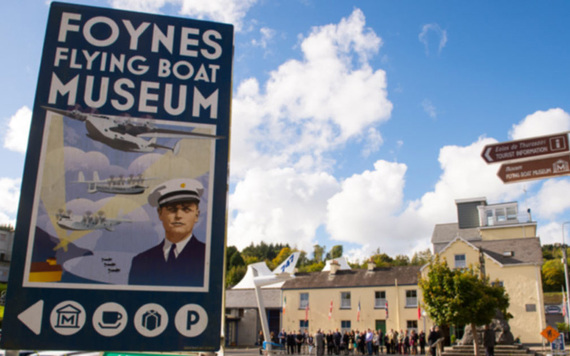 7
US-based Director David Brown told IrishCentral that visitor numbers are expected to continue to rise.
He said "With 60,000 visitors expected this year, and in view of our anticipated continued growth rate, we had already begun plans for an expansion, and they now include a new wing in her honor to display this collection.
"The Irish government and many other organizations have been tremendously supportive throughout our history, and we are more than grateful for their help.  But we will need more in order to fund this new growth, so we have embarked on a fundraising campaign to support our plans."
7
For more than a quarter of a century the life of Maureen O'Hara and the Foynes Flying Boat and Maritime Museum was intertwined.
The Hollywood star was first introduced to Foynes by her late husband, pilot and airline owner Captain Charles Blair. He flew in and out of Foynes during the Flying Boat days, 1939 to 1945, and it would be more than 30 years later before his wife would join him in Foynes when he landed in his own Sandringham Flying Boat in 1976, and returned in 1978.
7
In 1988 when the idea of a museum for Foynes was first reached O'Hara, who by then had a residence in Glengariff County Cork. The star was suggested as a potential supporter of the project and it was Founder and Manager of the Foynes Flying Boat and Maritime Museum Margaret O'Shaughnessy who was tasked with contacting the feisty Dubliner.
"I was given her telephone number in Glengariff so I called her, I was terrified.  But I needn't have been. She was wonderful and fully supported the idea and promised to do all she could to promote it, O'Shaughnessy said.
7
"When it was built she officially opened it on July 8th 1989 – the 50th anniversary of the first commercial passenger crossing of the North Atlantic.   She became the museum's patron and remained so until her death on October 24th last year."
O'Shaughnessy continued "Each summer she would join us in Foynes for the Irish Coffee Festival which coincided with her birthday, so she would also celebrate her birthday in Foynes.  We had a special celebration at the Dunraven Arms Hotel in Adare for her 80th birthday.  All her family flew in for it.
"And in 1991 we hosted the European Premiere of her last major movie "Only the Lonely" with John Candy, Ally Sheedy, Milo O'Shea and Anthony Quinn, here in Limerick at her insistence," she added.
"When Maureen died… I was invited by the family to attend her funeral in Washington DC, which I did.
"Now the family have decided to donate almost all her memorabilia to the museum and we are honored to house it in a new wing of the museum which is currently being designed," O'Shaughnessy concluded., Director
To donate to the project visit their GoFundMe page are also offering sponsorship opportunities to any large donors who may wish to sponsor the new wing or any of our exhibition areas.