What is it that draws millions of visitors to Ireland each year? The stunning landscapes, the friendly people, the charming towns and cities with their centuries of history, certainly. For the 70 million people around the world who make up the extended Irish diaspora, it's also the promise of a long-lost home and the discovery of an ancestral connection. It's no coincidence that so many first-time visitors to Ireland have talked and written about the startlingly wonderful feeling of belonging they get when they first set foot on Irish soil.
Whether you're looking to do a deep dive into your Irish heritage and reconstruct your family tree, or hope to get a more historic understanding of the journey your ancestors took as they bravely departed from Ireland, there's an abundance of meaningful ways to connect with your roots as you travel throughout the Emerald Isle.
Witness where they came from
9
For such a relatively small country, Ireland has a long and robust history of emigration, born at times out of tragedy and necessity. During the worst of the Great Hunger years from 1845 – 1855, for instance, a massive 1.5 million people fled Ireland to begin new lives in America. As many as 4.5 million Irish arrived in America between 1820 and 1930.
Throughout those decades, whether you were rich or poor, there was only one way to go about leaving Ireland – by boat (though the difference between a well-appointed vessel and a dangerously crowded coffin ship was, of course, vast) . Today, this means that it's easy to re-trace your Irish ancestors' last footsteps in Ireland by visiting the point from which they began their journeys.
Cobh, Co. Cork
9
Today Cobh is famous as one of Ireland's most delightful seaside towns, drawing visitors with its gourmet food scene and gorgeous harbor views. But for many decades in the 1800s and 1900s, Cobh – then known as Queenstown – served as Ireland's major emigration port. Approximately 2.5 million adults and children left Cobh during those years.
In fact, one of Ireland's most famous and symbolic emigrants departed from Cobh. When 17-year-old Annie Moore set sail from Cobh aboard the S.S. Nevada on December 20, 1891, her two younger brothers in her care, little did she know that when she stepped off the ship she'd be walking into history. But that's exactly what she did. Moore was the very first immigrant to come though Ellis Island on the day it opened, January 1, 1982.
A statue honoring her and her brothers can be found in Cobh, and you can also learn more about her journey, as well as Cobh's fascinating history as a port of emigration, at the Cobh Heritage Centre.
Belfast
9
Emigration from Belfast to more distant ports in America experienced a signficant uptick from 1750 – 1800, particularly among the Scots-Irish population. During the famine years, as was the case all throughout Ireland, thousands of people departed from Belfast for America and Australia, in addition to closer destinations like Liverpool and Glasgow.
The ship-building industry played a major part in Belfast's development. In fact, one of the most famous ships in the world, the Titanic, was built there by the Harland and Wolff Company. Today, you can tour the revitalized Titanic Quarter and learn about Belfast's vast shipping history – particularly that of the Titanic – at Titanic Belfast, which was voted Best Tourist Attraction in the World in 2016.
New Ross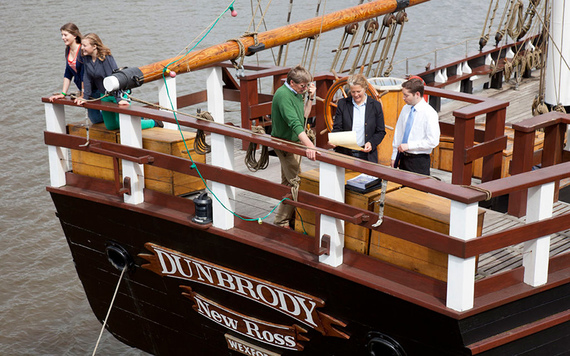 9
The riverport town of New Ross in Co. Wexford was one of Ireland's secondary hubs of departure, sending Irish on their way to England, Canada, and the US – to Georgia in particular. It was from here that Patrick Kennedy, the great-great-grandfather of President John F. Kennedy, began his journey to America.
New Ross has embraced its Kennedy connection and place of importance in the history of Irish emigration with the Dunbrody Famine Ship and Irish Emigrant Experience. Visitors can climb aboard the Dunbrody, an authentic reproduction of an 1840s famine ship that was commissioned by a merchant family in New Ross and shuttled many desperate emigrants to new lives. Alongside the harbor, the visitor center re-creates the history of Irish emigration and honors some of Ireland's most famous immigrants to the US in the Irish America Hall of Fame.
Trace your roots
The internet now allows practically anyone to be a genealogical sleuth from the comfort of their own home, and websites such as the government-sponsored irishgenealogy.ie or ancestry.com that enable you to connect with distant relatives are great places to start.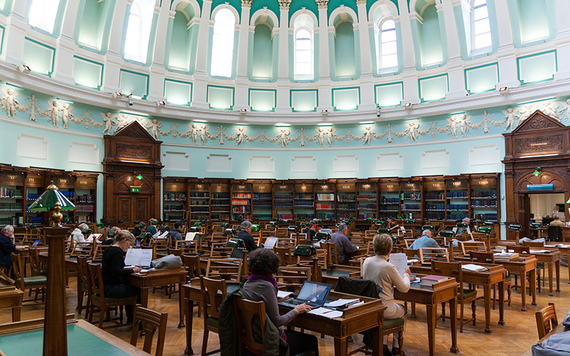 9
However, there's nothing quite as fulfilling as going to Ireland to trace your roots at the source. To cast the widest net for your search, in Dublin you can visit the National Archives and the National Library, both of which have free walk-in advisory searches and census records, while additional records can be found at the General Register Office.
In addition to being a stunning monument to Dublin's history, Glasnevin Cemetery is also home to over 1 million records. In Belfast, there is free access to public records such as birth, death, marriage and adoption registers at the General Register of Northern Ireland and the Public Record Office of Northern Ireland. The Ulster Historical Society is also a valuable resource.  
9
Many of Ireland's counties have their own genealogical resource centers, which can be found through rootsireland.ie if you're looking to do a more localized search. Or, if you have more preliminary research done, you can take the old school approach and head right to the town or parish where your ancestor came from in hopes of learning more. Some of the most astounding and moving genealogical adventures have started simply by reaching out to locals and asking questions. Irish-American Gerry Britt's emotional search to uncover his ancestry is just one such example.
Take pride in your story
There's never been a better time to be interested in the story of your Irish heritage, as Ireland's first major museum experience solely dedicated to the Irish diaspora just opened in Dublin last year. EPIC The Irish Emigration Museum, located under Dublin's Docklands, tells the story of the 10 million journeys that resulted in the 70 million worldwide who claim Irish descent, commemorating and celebrating the story of Irish emigration.
9
Organized into the themes of migration, motivation, influence and connection, the exhibition is spread throughout 20 immersive galleries telling the stories of Irish communities overseas – past, present and future. Visitors learn the stories of Irish immigrants and descendants both famous (Barack Obama, Michael Flatley) and lesser known or recognized as Irish (Billy the Kid, Dr. James Barry). The museum's aim is to "reflect the past, and to invite visitors from across the globe to discover heretofore unknown connections."
What other resources or attractions would you recommend to someone going to Ireland to connect with their heritage? Tell us in the comment section.
This post is proudly produced in partnership with Tourism Ireland. Find out more on Ireland.com
9