Stories and Storytellers is the theme of Ireland's capital city's family friendly St. Patrick's Day Festival running from March 14 to 18, 2019, right across the city
The St. Patrick's Festival returns to Ireland's capital city of Dublin this March with a spectacular five-day family program, celebrating the very best of Irish traditional and contemporary storytelling. This year's Festival theme is "Scéalaíocht Agus Seanchaí" (Stories and Storytellers). From Irish mythology and defining historical moments of our past, Ireland's rich storytelling tradition is world renowned.
Read more: Best ways to enjoy being Irish in NYC on St. Patrick's Day
This year's theme of storytelling will be interpreted across five days of family-focused events, such as the Festival Parade (which will be streamed live on IrishCentral) and new for 2019, the three-day Festival Village at Merrion Square to inspire family fun for all ages.
Festival CEO, Susan Kirby said "Through storytelling, life's rich stories are passed from generation to generation. Using the spoken word, music, visual art, literature, film, theatre, street performance and circus, this year St. Patrick's Festival will celebrate our world-renowned connection with Storytelling and bring to life ancient tales and contemporary narratives."
Dublin's St. Patrick's Day Parade
Would you like to be part of Ireland's biggest annual
celebration?
We're looking for enthusiastic and motivated volunteers to help with the organisation of the Parade 2019 on March 17th.
If you or someone you know is interested in taking part, apply here: https://t.co/rM6XSAOIcY pic.twitter.com/X36iL5dLyo

— St. Patrick's Festival (@stpatricksfest) February 25, 2019
The world-famous Festival Parade on Sunday, March 17 will start at noon on Parnell Square, Dublin before weaving its way through the city in a bold spectacle of color, performance, and music. Community groups and pageant companies from across Ireland and the world will join together, unearthing Irish legends and whimsical tales through creative performances.
St. Patrick's Festival Village
Dublin's Merrion Square will be transformed into a bustling Festival Village, running from March 16 to 18, offering three days of fantastic events, fun adventures and glorious food. The jam-packed program will feature a Gaeltacht, a Céilí Mór, circus and science shows, children's readings and discos, live music, village hall talks, street theatre, world food stalls and much more.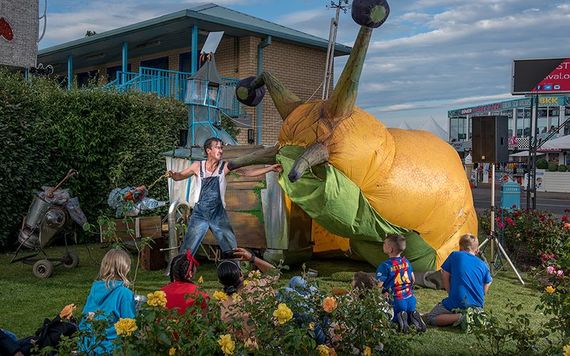 2
Discover the enchanting world of science with workshops, explosive shows and enthralling exhibitions in the Science Foundation Ireland Science Zone. Dig for ancient treasure at the Village Big Dig; take on the machines at the Actual Reality Arcade, a life-size interactive zone for gamers young and old; explore large scale mathematical exhibits that encourage the wonder of discovery and investigation at the Lifetime Lab; and marvel at extraordinary feats of circus, acrobatics and street theatre with a host Irish and international performers including Pif Paf and Le Bistro.
After all the fun, kick back and relax with a smorgasbord of delicious global flavors at the World Food Market, open daily at the Festival Village.
St. Patrick's Day Festival Dublin's City at Play: Funfair
A firm Festival favorite, the Funfair will light up the city with colorful carnival fairground attractions. From waltzers and bumper cars to old-time carousels, there's something for everyone at the City at Play: Funfair.
Situated at Custom House Quay, the Funfair begins on Saturday, March 16 and runs until Monday, March 18, from 11am to 9pm.
Dare to be suspended upside down or whisked through the air at amazing speed! Suitable for all the family, enjoy the thrills and spills of the Funfair experience!
*To see the full program of events at www.stpatricksfestival.ie. Or follow them on Facebook @StPatricksFestivalIreland, Twitter @stpatricksfest, or Instagram and YouTube @stpatricksfestival.
Do you have St. Patrick's Day news you'd like to share with the global Irish community? Why not join IrishCentral's contributor's platform Irish Voices? You can learn more about it here IrishCentral's Irish Voices contributor's platform here and sign up here