For such a small village in County Mayo, with a population of just 928 according to the 2011 Census, Cong is most certainly on the global map. What put is there is most certainly "The Quiet Man", the 1952 movie starring John Wayne and Maureen O'Hara much loved, especially by Irish Americans. From its ancient history to his iconic Hollywood backdrops. Here's just some interesting facts about Cong, County Mayo.
"The Quiet Man"
6
John Ford's 1952 movie, "The Quiet Man," starring John Wayne, Maureen O'Hara and Barry Fitzgerald (to name but a few) was set in the village of Cong. Now from its bronze statue of Mary Kate Dannaher and John Thornton to its Quiet Man Cottage Museum to its guided tours, the classic movie continues to bring visitors into town.
Very little has changed, on the outside, in this picturesque town and the locals are happy to revel in the old movies popularity.
IrishCentral was live from Cong, County Mayo, home to The Quiet Man! Read more about the village here: http://irsh.us/2pparl4

Posted by IrishCentral.com on Sunday, April 30, 2017
What's in a name?
The word "Cong", which is Irish (as Gaeilge) is Conga, from Cúnga Fheichín meaning "Saint Feichin's narrows".
Water, water everywhere…
6
Cong is located on the isthmus connecting Loughs Corrib and Mask, near the towns of Headford and Ballinrobe and the villages of Clonbur, the Neale and Cross. Essentially Cong is situated on an island formed by a number of streams that surround it on all sides.
Not surprisingly the town is known for its underground streams that connect Lough Corrib with Lough Mask to the north.
"I have nothing to declare…"
6
Cong was home to Sir William Wilde, the historian and also father to one of Ireland's most beloved playwrights, novelists and wits, the great Oscar Wilde.
Fit for a King!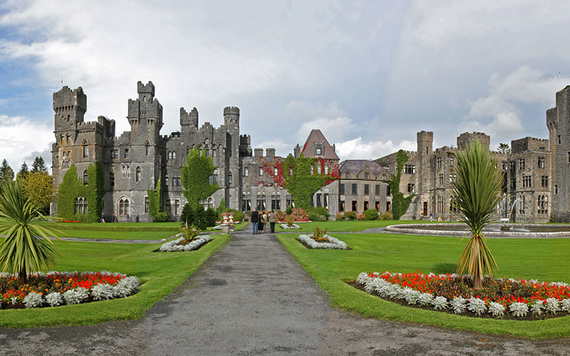 6
The village is home to Ashford Castle, which has been dubbed one of the "best hotels in the world"! The luxury hotel was converted from a Victorian faux lakeside castle, by the Guinness family.
Most recently the Castle hosted Rory McIlroy's wedding. In the past it's played host to guest such as John Lennon, Brad Pitt, Ted Kennedy, Ronald Reagan and King George V of England.
The Abbey
6
Cong is home to a ruined medieval abbey, Cong Abbey, where Rory O'Connor, the last High King of Ireland, spent his last years.
It also is the origin of a piece of Celtic art in the form of a metal cross shrine called the Cross of Cong. The 'Cross of Cong' is now held in the National Museum of Ireland, Dublin.
What to do!
According to the public (via Trip Advisor) the best things to do and see in the area are:
- Ashford Castle
- Royal Abbey of Cong
- Walking Tours / Nature & Wildlife Tours
- Monk's Fishing House
- The Quiet Man Museum